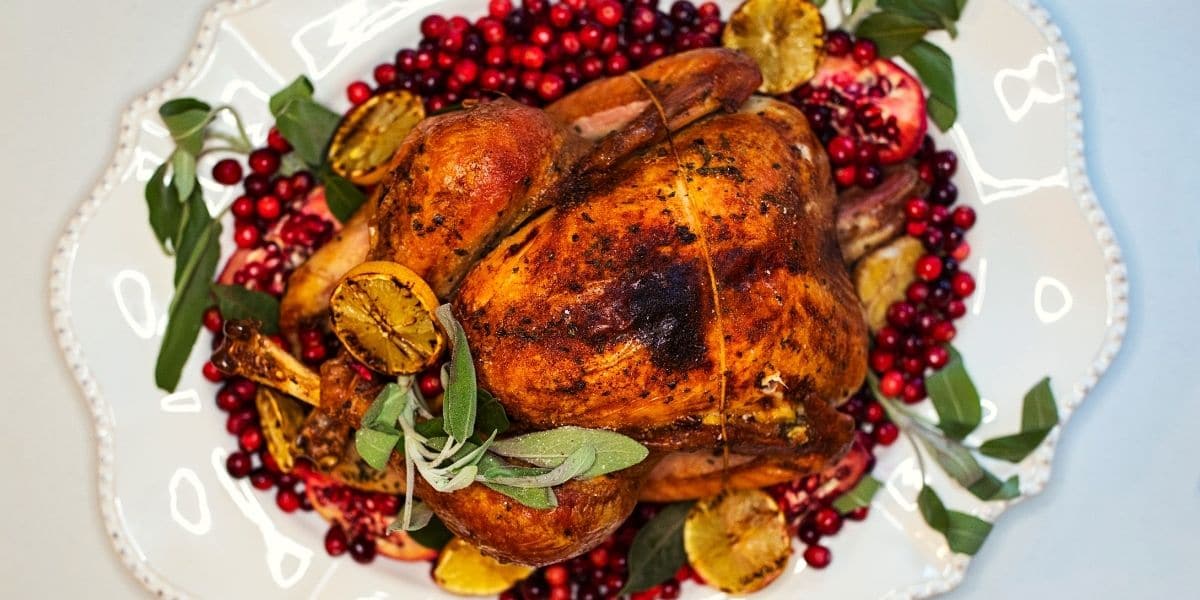 We are in the midst of November and we can no longer say that it's too early to think about Christmas! For home cooks, now is the time to give serious thought to planning the Christmas dinner. And it doesn't get more serious than ordering the bird and other meats for the big day. 
View Our Christmas Gifts
WHICH TURKEY
For Christmas Dinner, turkey is the most popular choice in Ireland. This favourite roast bird is a crowd-pleaser.  When it comes to ordering, size matters! A 4.5kg – 5kg turkey will serve 8-10 people.  If you have 12-15 people, you'll need a 6-6.5kg bird.
Once you know the size you want, you need to decide what sort of turkey you prefer. Here's a quick guide:
• Fresh and local
Fresh and local is always best.  Frozen turkey may be cheaper, but not as good quality and not always traceable back to Irish farms.
• Standard or Free Range?
There's a difference in price and farming methods for fresh standard or free-range turkeys. The standard white-feathered turkey is raised indoors on deep bedded straw.  These birds are generally known as farm-fresh turkeys and are the common choice in many households.
A free-range turkey has been allowed to roam outdoors, pecking and nibbling on the goodies in the pasture. These birds move around a lot and as such, are generally more slow-growing than a barn-reared farm-fresh turkey. Exercise and fresh air mean the flesh takes on a more developed flavour and firmer texture.
• Bronze Age
Bronze feathered turkeys are often considered to be the Rolls Royce of turkeys, descended from the wild turkeys of North America. Bronze turkeys are mostly reared free-range, and some are organic. They have dark feathers which sometimes leave little black stubs in the skin after plucking – a good sign you've got the genuine article! Bronze feathered turkey flesh has a well-developed and slightly gamey flavour. A superlative choice, but more expensive than farm-fresh or free-range turkey.
• Black Magic
Black feathered turkeys are often referred to as Norfolk Blacks, because they were favoured by turkey farmers in Norfolk in the UK, after being introduced to England probably via Spain. Norfolk Blacks are available here in some butchers, and like the Bronze feathered turkeys, are generally reared free range to give slightly gamey flesh and firm texture. Probably the most expensive choice of turkey, but worth it if you want a talking point that tastes absolutely delicious on Christmas Day!
GOOSE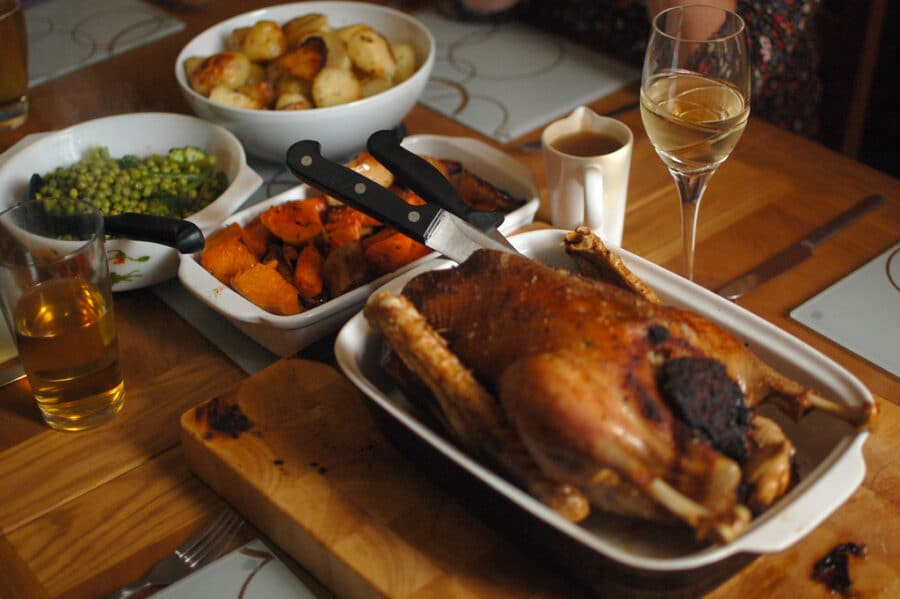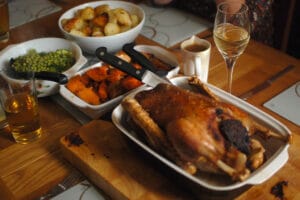 Goose was the original bird of Christmas in Ireland until the turkey became popular. In days gone by, every smallholding would rear a goose for the festive table. These large birds look like they will feed the five thousand, but they have boney skeletons and heaps of fat on their skin.
A goose will feed fewer people than a turkey of the same weight. As a guide, a 4.5kg goose should serve four people comfortably but there won't be too much leftover for additional meals. Not a cheap choice, but certainly a stunning centrepiece, if you want something different and still traditional this year.
• Cooking
You don't need to add fat when cooking your goose. Just prick the skin all over and season, before popping it onto a wire rack in a roasting tray. You will need to pour off the fat during cooking, which you can reserve, then cool and refrigerate. Goose fat makes the best roast potatoes ever!
• Stuffing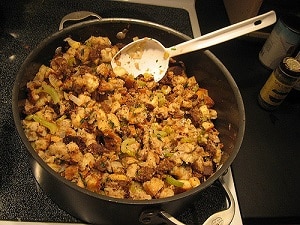 Potato stuffing is the traditional stuffing for geese in Ireland.  Very easy to make with mashed potatoes, flavoured with onion herbs and seasoning. Most recipes tell you to stuff the cavity of the bird, but you will need to weigh and calculate the cooking time once it has been stuffed.
Be extra careful if stuffing the cavity to make sure the bird is thoroughly cooked through and there is no sign of pink juices when you prick the thickest part of the thigh with the point of a sharp knife.
DUCK AND PHEASANT
If you have a small gathering, you might consider a duck or pheasant. Both birds make flavoursome Christmas feasts, served with all the traditional accompaniments. An average-sized duck or pheasant will serve two comfortably and three with no second helpings.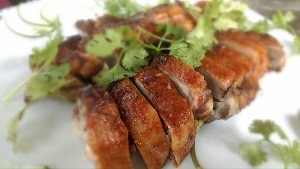 • WHERE TO BUY BIRDS
Good Food Ireland butchers are waiting to take your orders for Christmas birds and home-cured hams. Place your orders early, particularly if you fancy goose, free-range turkey or the ultimate bronze or black feathered turkeys, all of which are in limited availability. To find your nearest butcher check out the list of Good Food Ireland-approved Butchers here. 
Tullow, Co.Carlow, Murphy's Craft Butchers. 
Ranelagh, Dublin, The Village Butcher.
Sutton, Dublin, Higgins Family Butcher.
Lismore, Waterford, McGraths of Lismore.
Roscommon, Castlemine Farm Shop.
Clare, Market House Ennistymon.
New Ross, Co. Wexford, Butcher's Best.
Athboy, Co. Meath, Brogan's Butcher.
Co. Mayo, Kelly's of Newport Artisan Butchers.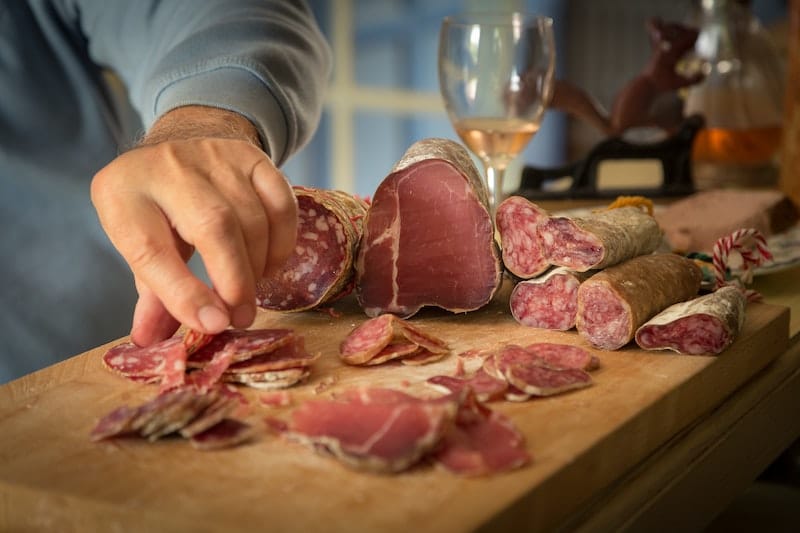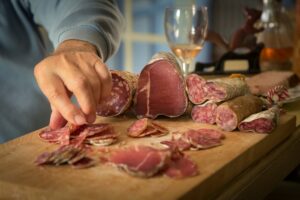 SPICED BEEF AND CHARCUTERIE 
Spiced beef is also traditional Irish meat of Christmas, especially in Co. Cork. Tom Durcan of the English Market, Co. Cork is an award-winning producer of this Cork City speciality. To learn more about Tom Durcan Meats and how to contact them, have a look at their review page.