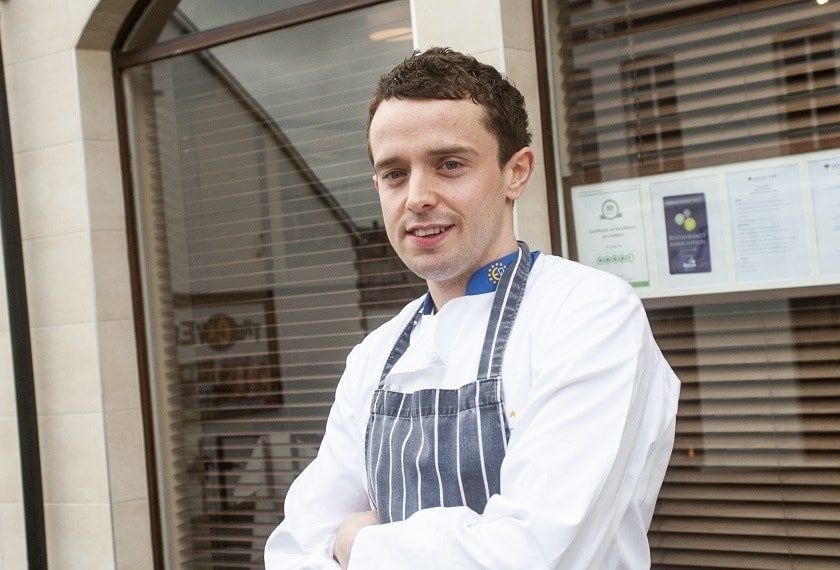 Chris Molloy, is a Chef at this truly family-run restaurant, The Lemon Tree Restaurant in Letterkenny, Co. Donegal along Ireland's Wild Atlantic Way. The unique hands-on touch and personal attention add a special element to the offering of good local food. Chris works alongside his two brothers Gary and Thomas in the kitchen and his sisters Linda and Trudy in front of the house. This really is a Good Food Ireland Experience not to be missed!
THE NITTY GRITTY
What type of training did you have?
I started in the restaurant when I was 13 years old, working with my brothers doing the washing up for two years while attending secondary school. As I got older, sometimes the boys would ask me to clean the mussels, prep the veg, bone the chickens, and so on, so I learned the basics but never did the cooking.
I took a year out when I left school to work in the restaurant, then when I was 19 I attended Killybegs Catering College (Letterkenny IT)  full time and worked in the Lemon Tree at weekends. I would get home from college at 4 pm on a Friday, and be in the kitchen at 5 pm, work all day Saturday and Sunday lunch, then get back on the bus to Killybegs on Sunday evening. After I qualified I went back to work in the restaurant full time before going to Oz for a while. It was mainly a travel break but I did cook a little there as well.  I spent a few weeks working in one restaurant where they did kangaroo and crocodile meat and bush bugs, very authentic bush food, and that was fascinating! Read more on learning to cook.

What were the challenges along the way?
Being a chef is a challenging job every day. The biggest challenge we've faced at The Lemon Tree is the economic downturn. During that time we had to start offering better value menus to keep people coming through the doors. Things are definitely getting better now, but we learned a lot during that time, so we've kept our eye on offering value.
Were there any major positives or crucial turning points in your career?
Ten years ago, I was offered a job in Dublin, but I decided to stay in Donegal and work harder to promote the food of the region. I wanted to focus on what we have here, to make a restaurant that people would travel to for an authentic taste of Donegal. So that was a huge turning point, deciding against getting experience in Dublin in favour of staying here in the family business, but it was the right decision.
I love to promote what we have in Donegal, we have fantastic quality ingredients. That has also spurred me in more recent times into getting involved with the Letterkenny Artisan Farmers Market which takes place in the town every Saturday. It has been operating for a few years and is run by a friend of mine. I'm just a volunteer who helps to promote the market on social media, and I also do cookery demos every so often, using the produce from the stalls to make simple dishes.
It makes a massive difference to people shopping in the market and the last one I did was one of the busiest days they've had since they launched. People will buy food at the market when they learn about it and can see what to do with it. I will be doing another demo soon.
Which people influence your cooking?
When I was young, Jamie Oliver was a bit of a hero! He was just a young lad having fun cooking and he made it look cool and easy. I was only 19 or 20 at the time so that was a big thing, I was very impressed. I had one of his cookbooks. But in modern-day Ireland, we are lucky to have people like Neven Maguire and fellow Good Food Ireland member, JP McMahon who do so much to promote Irish produce. They are innovative, they are pushing the boundaries and raising awareness of Irish food outside Ireland, which is such a great thing. It gets people talking about Irish food and ingredients in a way that they didn't before.
Which food styles/trends interest you or influence your cooking as a professional chef?
We don't follow trends really at the Lemon Tree. Local food is a trend, but we've been cooking local food for years so it's not a trend to us! Good food starts with local produce. We have seasonal veggies from a farm down the road, local fish and meat, and local craft beer. We think of ourselves as just a local restaurant cooking local food for local people, and we want the visitors who come here to experience that.
Why do you love your job as a professional chef?
It's exciting! I don't really see it as a job because it's what I love doing. Footballers get paid to play football and I am lucky I get paid to cook! I love when we get new products in or new ingredients just coming into the season, it's a challenge to work out what to do with them. Also, this job is a great rush when you are busy when everything is going smoothly and you have customers coming up to us to say it's the best food they've eaten. That makes all the hard work worthwhile.
What's the worst thing about your role as a professional chef?
There's nothing I don't like about cooking or working in the kitchen. But missing out on all the personal events and family gatherings is tough. It's part of the job and you just have to deal with it. I am going to a wedding soon, so that means that I will be in the kitchen in the evening on the day of the wedding, so I'm hoping the lads will let me off a bit earlier! This means I will be leaving the restaurant around 9 pm to get changed and go to the wedding then. This is what you have to do in this job, your social life fits around whatever time you have when you're not working!
Describe a typical day in the kitchen
Every day is different. Fridays, Saturdays, and Sundays are long days where I would start around 9 am. Monday to Thursday is less busy so I start at around noon. First thing is to fire up the ovens and bake the sourdough which has been proving overnight. And also to make our bread for the next day. We do all our own bread including a Donegal Porter bread which is absolutely delicious.
After the baking is done I will get on to sorting out any orders that have arrived and put them in the fridge, then I start prepping for the menu. Although I can do everything, I work mainly on the starters section as a general rule. I literally go from day to day with these, depending on what we get in. Our menu changes regularly so I can use even small amounts of ingredients. At 4.45 pm you'd be ready for a coffee! Then we open at 5 pm and go through service to last orders at 9 pm. Depending on the time of year we could close a bit earlier, but in summer we would be working till well after 11 pm most nights.
What are your strong points? 
Good management of ingredients. There's very little waste in the kitchen because every bit of the ingredient is used. We are very innovative with even the smallest amounts of ingredients. Also, I don't over-order, preferring to work with ingredients on a daily basis. For example, large amounts of fish are not ordered and frozen to use at a later time, it's ordered day by day as it's needed. That goes for everything that is used. I think it's a huge strong point as a chef to be able to handle your ingredients well and make the most of every part of them.
Would you change anything about your journey so far?
Not much really because I made a decision to remain part of a family restaurant. But I suppose if I had not had a family business to work in, I would probably have travelled more and worked in different places. That's always a good thing for a chef. It's not likely to happen now because I am building a house here so that's taking up what time I am not in the kitchen!
Who does the cooking at home?
There's very little cooking goes on at home, to be honest with you! I share a flat with other chefs so we are very rarely there together and when we are, we don't really cook! But I would cook for them or for myself on the odd occasion.
Any advice for anyone who wants to become a professional chef?
For me, learning the basics before I ever started cooking was a major plus. I think it's important for any chef to learn the basics of food preparation because it's not just about cooking. If you want to work with whole ingredients, like fish or meat on the bone, you have to learn how to handle them, prepare them and make the most of them. The other thing I would say is to do a good cookery course, like the one I did at Killybegs Catering College, run by Letterkenny IT which offers some great courses. But before any of this, you have to know you want to be a chef. It's not for everyone. Once you decide it's for you, then I would say travel if you can, take notes, and create your own style of cooking.
What's your favourite dish or recipe?
I've had a dish on our menu for quite a long time, it's a kind of Signature Dish at this stage, but it changes according to the season. It's a very popular Slow Cooked Belly of Pork with Monkfish. In the summer, it's served with a garnish of fresh peas and beans, during the autumn it's served with a mushroom pate, which is breaded and fried, and a buttermilk foam, which makes it very autumnal. It's my favourite dish to eat, no matter what the garnish, because it's just so tasty and you can make it different in every season.
Read what we have to say about The Lemon Tree Restaurant here. 
Buy a Cookbook