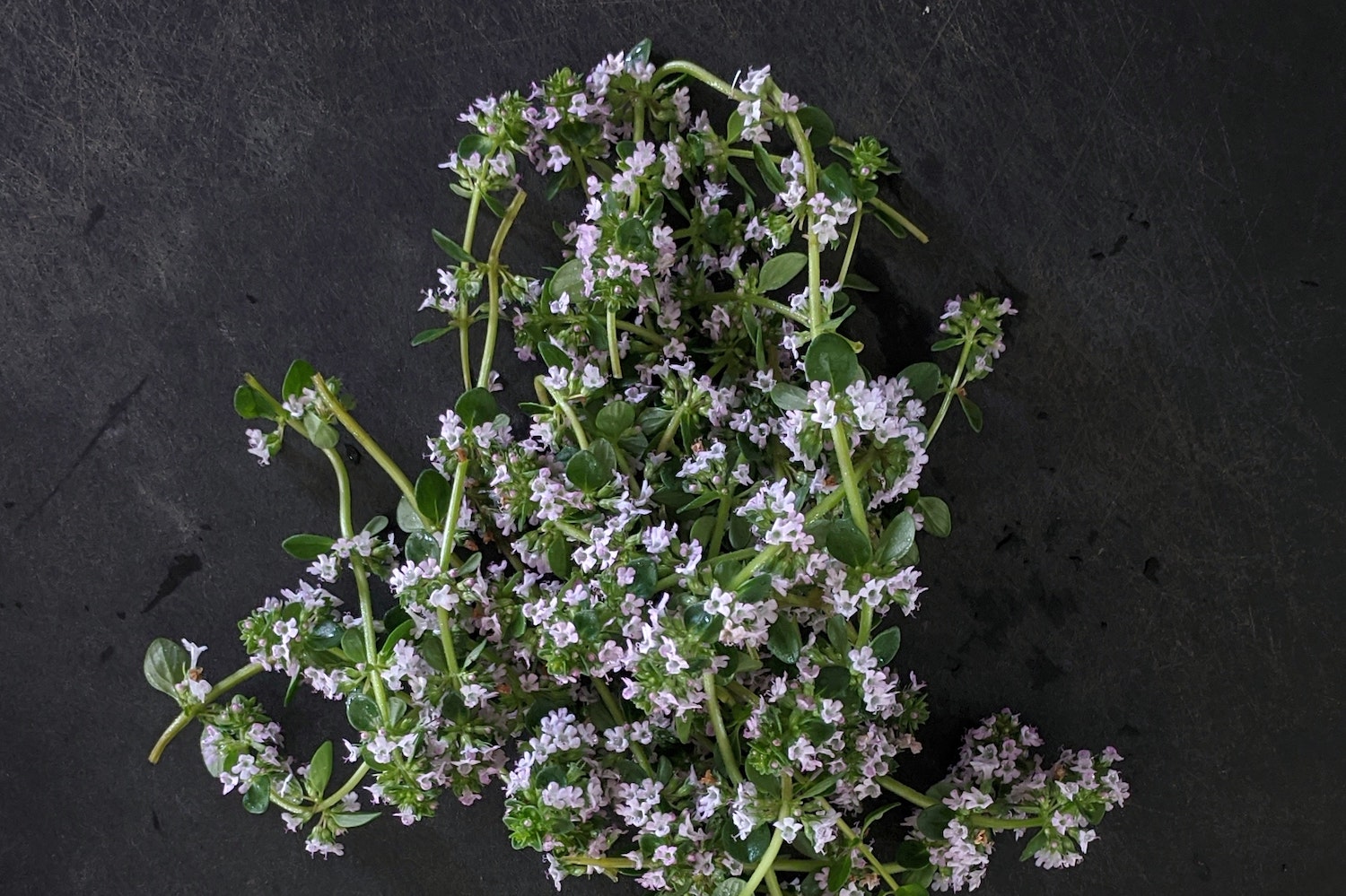 Thyme has a long history. Used by the ancient Greeks and Romans. It is thought to be down to the latter that the popularity of thyme spread throughout Europe. The Romans used it as an aromatic fragrance, for everything from room fresheners to scented baths. Thyme is easy to grow at home, a perennial plant that grows year on year. It can also be found in the wild,  growing with heathers and other wild herbs in hilly or mountainous regions.
Visit Our Shop
Fresh thyme is a kitchen essential. Far from being herbaceous flavouring only for winter stews and casseroles, it has a role in summer cooking too. Summer sprigs of new growth thyme are not like their woody winter cousins. Some types of this herb in spring and summer produce delicate stalks with soft leaves,  scented with the familiar pungent flavour but in more subtle tones.  Lemon thyme is particularly suited to lighter dishes. It has that lively brush of citrus summer palates loves.
Thyme works superbly in marinades with fish and chicken. Young stems can be tossed into a fresh leafy salad in small amounts, to give a burst of flavour to the mix.  Use it in fresh fishcakes with hake or salmon. Also in potato cakes – a good way to use up cold leftover cooked potatoes, mashed to a pulp and flavoured with grated onion and thyme – lots of it!
If you have a prolific patch of thyme in the garden, it's as well to hang up a few sprigs to dry. Choose a nice dry airing cupboard that is not too hot, tie the sprigs together and hang to dry slowly. Dried thyme takes on a more intense flavour than fresh thyme and is normally used in lesser amounts. Unless you're a thyme freak. This writer was once advised by a Cork man, in relation to using dried thyme,   to 'throw in a longer load…'. For your information –' langerload' is a Cork slang term of measurement for a large amount!
Buy Gift Voucher