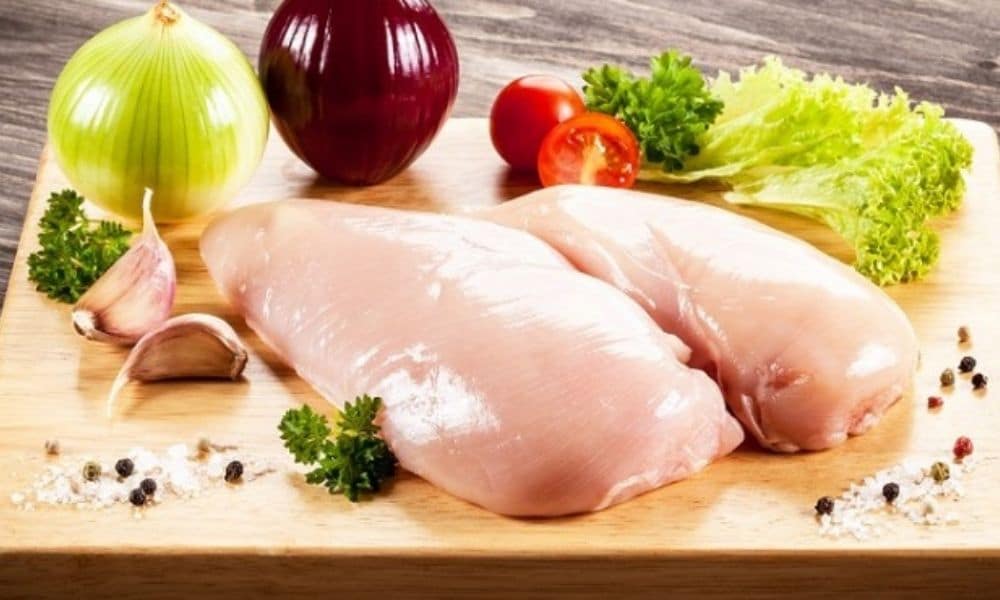 'Organic' has been the buzzword in food for quite some years now. Among shoppers, the cry out for 'organic' has outweighed the demand for 'local'. Which means some people would rather eat organic produce that has been flown halfway across the world, than buy Ireland's locally grown produce which may have been in contact with chemicals. The fear of chemicals and what they do to the body is now a bigger concern for many Irish shoppers than how their local farmer makes his living. 
Visit Our Shop
WHAT IS ORGANIC FOOD?
In simple terms, organic food is any food or food product that has been made without the use of chemical fertilisers, pesticides or other additives. Basically, organic produce is that which is grown naturally, with farming practices monitored. For the normal shopper on the street, organic equals healthy clean food which is safe to eat. 
WHO CERTIFIES OUR ORGANIC FOODS?
There are several bodies throughout Europe that certify organic foods and produce.
The Irish Organic Farmer's and Growers Association (IOFGA) was established here in 1982. There are several steps to organic certification through IOFGA. Farmer's and Growers who are interested must first make an application and then will be inspected before the Certification Panel Approval and an organic licence is issued. These licences must be renewed annually and IOFGA will inspect licenced premises each year by arrangement. Unannounced inspections and/or product samplings may also take place during the year. 
The Organic Trust, founded in Ireland in 1991,  is another Irish organic certification body for professional producers of organic foods. Again, the process to become a member is fairly rigorous. Membership depends on inspection and an in-depth standards manual keeps members up to date with legislative amendments. Back up services are also provided. The Organic Trust prides itself on high standards of production and a trusted inspection system that relies on what they describe as a 'detailed knowledge of organic production'.  The Organic Trust is approved by the Department of Food, Agriculture and the Marine in Ireland, with the organic control code IE-ORG-03. Membership stretches across the board to growers, farmers and food producers. Aquaculture, mushroom production and food processors are covered under this certification system. 
CHEMICAL-FREE FOODS
When you are travelling around your local farmer's market and you see local growers displaying signs that their produce is grown 'chemical free' this means they have adhered to organic practices but they have not got official certification from an organic body, so they cannot label their products 'organic'. Some growers choose not to jump through the hoops of officialdom, for very many reasons. That doesn't mean their product is not as healthy and wholesome as that which has an organic certification stamp on it. In some cases, it can be more stringent in production since dedicated smallholders have chosen this as a way of life and often have a passionate and extensive 'earth-friendly' knowledge in using traditional horticultural practices which may not be so easy to incorporate in large scale organic farming.
SUPPLY AND DEMAND
In 2015, as reported on the Bord Bia website, data calculated by Mintel valued  Ireland's organic food market at €104 million, with demand for natural or no additive products doubling from 13% to 28% between 2005 and 2014. 
A recent article this summer in the Farming Independent from Grace Maher, IOFGA's Development Officer, states that Ireland currently imports 70% of the organic fruit and vegetables sold here. A figure which does not make for happy reading. 
The desire to purchase home-produced organic produce is on the rise. Which is very good news indeed for Irish farmers. But demand is currently outweighing supply, with just not enough Irish homegrown organic produce to go around. 
WHO ARE GOOD FOOD IRELAND'S ORGANIC GROWERS AND PRODUCERS?
Home produced food grown without the aid of chemical intervention is the ultimate in fresh produce. It feels good to eat Irish food that we know has been produced conscientiously and as naturally as possible. Check out these producers in our network: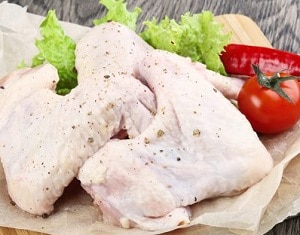 REGAN ORGANIC 
Regan Organic Farm in Co. Wexford is one of Good Food Ireland's members, producing organic chickens, pork, ducks and geese since 2006. The farm is certified by The Organic Trust. The farm supplies to the trade and direct to the home consumer. The reputation of this farm gets around mainly by word of mouth. Anyone who has ever tried Regan Organic Free Range Chicken is only too happy to crow about how good it is!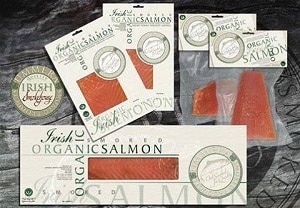 UMMERA SMOKEHOUSE
Anthony Creswell switched from using wild salmon to organic farmed salmon at Ummera Smokehouse in West Cork, in the run-up to the commercial wild salmon fishing ban of 2007. His reasons for doing so involved conservations of river stock as numbers had been severely depleted.  Whilst a change was almost forced upon him, he has embraced it with open arms, continuing to make a superlative and award-winning product in the decade since. Ummera Smokehouse produces Organic Smoked Salmon using organic salt and raw cane sugar in the cure.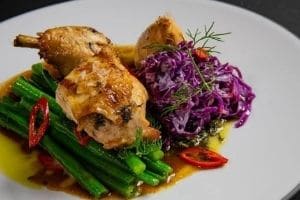 ELY 
The fabulous people at Ely wine bar and Ely bar and brasserie have known how important organic food is to customers for over 20 years. The Ely menus feature meat from the family's own organic farm in Co. Clare. Hugh Robson of Ely family farm says 'Our farm, Glencarn, is situated in the middle of the "Burren" near the village of Carron and has been organic for over 20 years.'
What does this mean for Ely customers? Without entering into the company's official book of rules, otherwise known as 'Organic Standards', which Hugh describes as is a 'daunting tome', here's a list of the main principles of organic farming at Ely.
1)    No chemical fertilizers, herbicides or pesticides are ever used on our farm.
2)    No conventional medications are used.
3)    No G.M. feeds are used.
4)    We farm extensively (very low stocking levels).
5)    All animal feed is produced organically, either by us or other organic farmers.
Hugh goes on to describe the details of farming livestock in one of Ireland's most hostile areas, where limestone creates the unique landscape and pastureland is hard to come by. 'We live in the "Burren", a unique geographic area of some a hundred square miles in north Co. Clare, a lunar-like limestone landscape left behind by the last ice age (lots of rock!!) and farmed for some 6,000 years. Traditionally an area that produces "Weanlings" i.e. young beef cattle, sold in the autumn to farmers in the more luxurious parts of Ireland, like Tipp, Cork, Meath etc. However, we have been "finishing" our animals for over 20 years.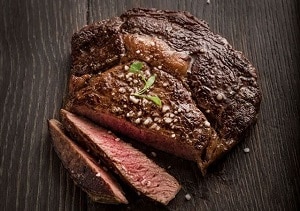 Our organic herd of some 100 cattle are predominantly "blacks" – that is Aberdeen Angus X cows and a purebred Angus bull, officially known as Elvis.
Our organic pig herd was originally "Saddle back" and "Gloster old spot" is now a mixture of both which leads to colourful offspring. We farm 400 acres, which sounds a lot but which consists of large amounts of limestone rock as well as "good" land and a vast area of "bog". Not really a bog but part of the largest 'Polge Turlogh' in Europe, actually a disappearing lake.' 
For those of us who don't understand Burren geology, a turlough is a lake that appears after heavy rainfall and can disappear again just as quick as the water soaks through the limestone bedrock. All these factors Hugh describes plus stringent organic methods produce unique tasting meats for which Ely is famous.
Buy Gift Voucher