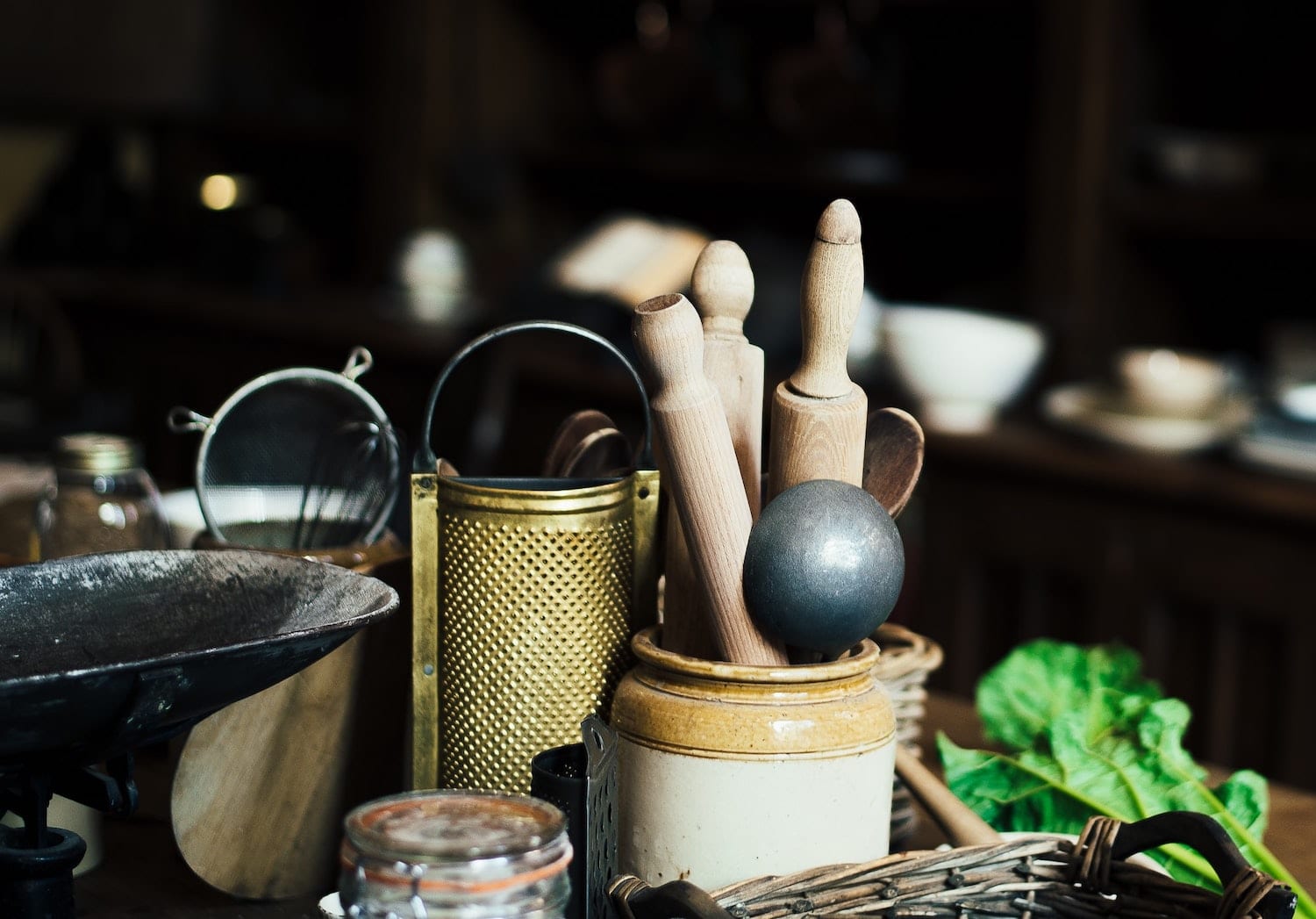 We all have that moment in the kitchen when we are searching for the right tool for the job. Nothing else will do apart from our favourite little gadget that does the required task perfectly. So we got to thinking about what our fave kitchen tools are, and we've put this list together. If you have more to add, we'd be delighted to hear from you!
Visit Our Shop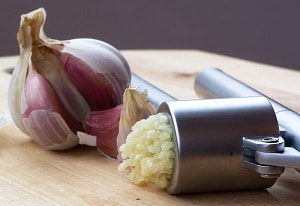 Garlic Crusher combined with cherry/olive stoner.
This is a double whammy gadget! The trad garlic crusher thingy is at the top. But halfway down the handle, you will also find a little round cup with a hole in the bottom, and opposite that on the other handle, a little metal prong. You sit your cherry or olive in the cup, then squeeze, and the prong pushes the stone out.  So flipping handy!
Microplane grater
A fine grater with a handle that comes in various grating options. You can buy a wide one to grate traditional strips, one with narrower openings for curls, and then one with really tiny openings for finely grated hard cheeses and citrus zest.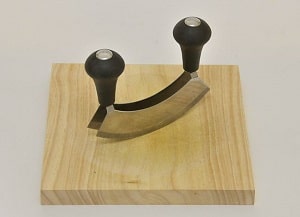 Mezzaluna
The perfect implement for chopping herbs. Its name means 'half moon' because it has a curved blade with a handle on both sides.  Easy to use, just hold the handles and rock the blade over your chosen herbs to chop roughly or finely.  No chance of getting the ends of fingers in with the herbs when you use one of these!
Pestle and mortar
Yes,  we know you can do your blending and puree in a processor, but if you want small amounts of proper pesto, roughly cracked black pepper or freshly ground spices, the old fashioned pestle and mortar is the way to go. Usually made from stone, marble or granite, the bowl should have a rough-textured interior and the mortar should be comfortable to hold and use. Comes in various sizes.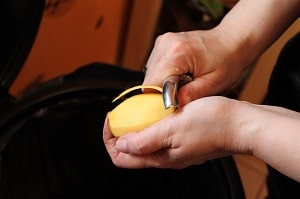 Vegetable peeler
Not just for peeling the spuds, but for shaving thin strips from raw courgettes, carrots,  cucumbers and other veggies to pop in a salad. Try to get one that looks like a catapult and has a swivelling blade – it's easier to use than a traditional veg peeler and the moveable blade can glide better over rough surfaces.
Tongs
Brilliant for turning hot food in a frying pan. Just pinch and grab your steak, pork chop, lamb chop or chicken joints between your tongs and flip them over – easier than chasing them around the pan with a fish slice and reduces the risk of getting splashed with hot oil. Also, a must-have for the barbecue.
Gravy Separator Jug
This is an odd-looking jug that has its spout situated near the base. The idea is that you pour in your hot gravy, let it stand for a few seconds for the fat to settle on the top, then pour the gravy through the spout, leaving the fat behind. Genius.
Meat Baster
Looks like an implementation a gynaecologist might use in an examination, but don't let that put you off! It's a sort of large pipette with a squeezy bulb on top. You compress the bulb then dip the spout end into the roasting tray, release the bulb to suck up the juices in the tray, then squeeze them again to pour them over the meat. So much safer and easier than trying to baste big joints with a spoon.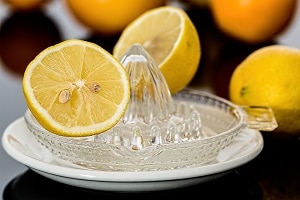 Manual citrus squeezer
The old fashioned lemon squeezer is probably the best we know. Dish shaped, this has a ridged point in the middle which when you pop your halved citrus fruit on top and twist,  extracts maximum juice. The serrated rim has little teeth to catch the pips, and there's a little spouted bit for pouring. Simple and effective and will not break down or run out of batteries.
Where to Buy Kitchen Gadgets with Good Food Ireland 
These shops in our network stock all the handy necessities you need in your kitchen. Have a browse!
Urru Culinary Store.  Sells everything from peelers, graters, knives and cake tins, to a top of the range kitchen bin or a cheesemaking kit. And all the little knick-knacks you need in between. If it's not here it's probably not worth having.
The Ballymaloe Shop.  This is where we found our garlic crusher/cherry stoner. Little invaluable things like this are lurking on the shelves, plus there are cake tins for every occasion, wooden spoons, ladles, knives galore, and more extravagant kitchen gadgets and tools if you want to splash out. A gem to browse.
Enjoy White Gables.  A beautiful shop where you'll find lots of lovely bits and pieces, from handy kitchen tools to tea towels you want to frame and put on the wall.
Buy Gift Voucher