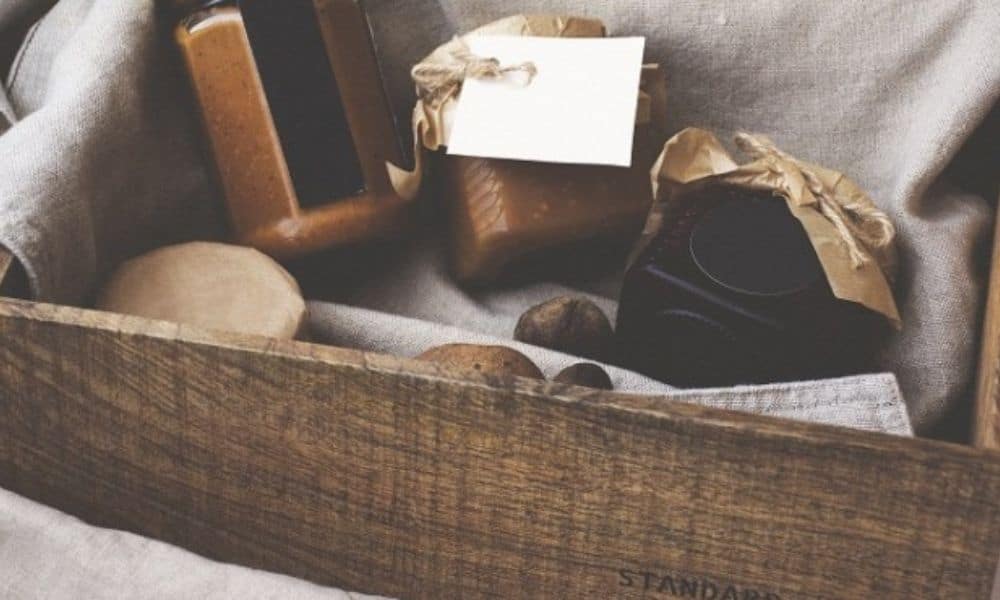 The way to a man's heart is through his stomach, as the old saying goes. We reckon that works for the ladies too! What better way to woo your loved one this Christmas than with a  hamper full of edible goodies?
Visit Our Shop
We know some folks who excel at putting together the perfect selection of items in a basket or box. Santa's Elves in real life. Look no further.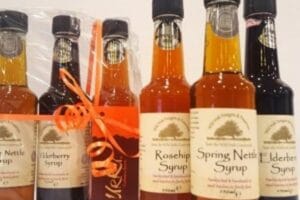 URRU CULINARY STORE, CO. CORK 
Ruth Healy of Urru Culinary Store loves nothing more than sitting down early in the year and planning what hampers she will be offering at Christmas. As she says, 'The Urru Hamper Range is updated seasonally to reflect what's happening in the world of Irish food and deliver an up to the minute taste of Ireland.' She recently unveiled her Hamper selection for Christmas 2017. There's absolutely no doubt her imagination has run a creative riot with this year's collection.
To make things easy for customers, Urru hampers can be ordered online or in the shop in Bandon.
Elegance Giftbox for a Relaxing Multi-Sensory Christmas includes Nigel Slater's new book "The Christmas Chronicles", plus Modern Botany Essential Oil and a bottle of Moineir Irish Fruit Wine.
The Best of the Year Hamper is an annual delight, bringing together the very best of new products and existing items from the ranges of Ireland's consistently top producers. New, Emerging and Established feature in a cream of the crop selection of luxury foods.
The updated Made in Cork Collection contains foods solely from the county of Cork. This is the ideal gift box for a true Corconian or someone who totally loves the Rebel County. Sure, why wouldnchya, Boi?
Choose from these and other selections, or personalise your own hamper in store.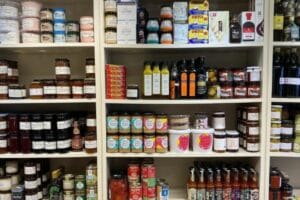 COUNTRY CHOICE, NENAGH, TIPPERARY
The horn of plenty that is Country Choice is the perfect spot to browse for food gifts to make up a hamper this Christmas. With products like Mary Ward's sensational homemade jams, chutneys, sauces and preserves, traditional goods like Macroom Stone Ground Flour and Oatmeal,  The Apple Farm cider vinegar, superb Italian oils, olives and Balsamic vinegar, best chocolates from Chez Emily, cheeses, wines and other specialities, you can't go far wrong picking up a few bits for a hamper here. Pop along to the shop and get lost in wonder as you browse the shelves.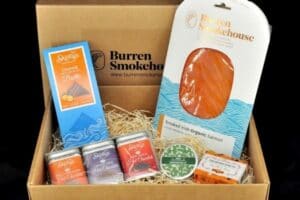 BURREN SMOKEHOUSE, CO. CLARE
A great selection of superb gift hampers is to be found at Burren Smokehouse this year. Including all things fishy, and treats for those who don't like fish at all!
Choose from The Clare Hamper, perfect for someone patriotic to Banner County. Packed with Burren smoked salmon, smoked cheese and chocolates from Clare, plus a bottle of Port to wash it all down!
The Indulgence Breakfast Hamper has Burren Hot and Cold Smoked Salmon, Burren roasted coffee, Connemara Breakfast Tea, Crossogue Preserves Jam, local Gouda cheese and an Irish Soda Bread Kit. That all makes for a seriously fabulous breakfast this Christmas.
The Irish Whiskey Hamper marries the all-time classic partners of Irish Whiskey with Burren Smoked Salmon. Whilst The Big Cheese Hamper is for those who really love good Irish cheese!
These and other selections are available to order online at the Burren Smokehouse website.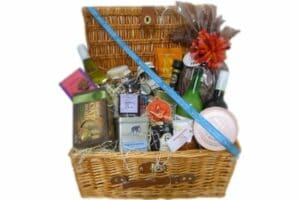 CAVISTON'S FOOD EMPORIUM, DUBLIN
Caviston's bespoke food hampers come perfectly packed in a handmade wicker basket complete with a leather strap. Not only does your recipient get a hamper of great Irish goodies to scoff over the Christmas hols, but they will also have a beautiful wicker basket as a keepsake of your generosity afterwards.
Two birds with one stone! Caviston's hampers selection includes the Fireside Snacks Hamper, Winter Wonderland Hamper, and the indulgent and decadent Winter's Night Hamper, among others. Or visit Caviston's, peruse the shelves and select your own items for a special bespoke hamper made to order.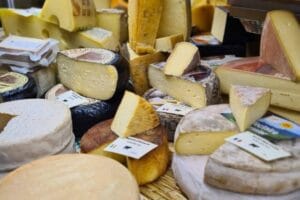 ON THE PIG'S BACK, CORK 
Fans of Irish food living in Cork will be aware of On The Pig's Back which has locations in both the famous English Market and a Café and Deli in Douglas, Cork. This wonderful food business is run by Isabelle Sheridan who married perfectly her love of Irish Food with that of her home country of France. From award-winning pates and pork rillettes to the best Irish Artisan products from across the country, there is much to enjoy from this Cork eatery. On The Pig's Back are gearing up for the busy festive period with their lovely Christmas hampers.
The range includes some of the most popular own made products along with delightful cheeses and chutneys and so on from other food companies around Ireland. A perfect gift for food lovers!
KELLY'S OF NEWPORT, CO. MAYO
Kelly's of Newport Artisan Butchers have a longstanding reputation for their excellence in producing great tasting meats. This family business has been in operation for over 85 years and has seen generations of family butchers running this Butcher shop on Main Street in Newport. Seán Kelly heads up the operation and has seen vast success including many awards during his tenure.
This festive season Kelly's are giving you the chance to sample their award-winning range of products from anywhere on the island of Ireland.
Enjoy the breakfast favourites on Christmas morning with Kelly's range of Christmas hampers. Ranging from reasonable prices of between €30 and €70, these hampers contain some of Kelly's most popular products including their famous black pudding, dry-cured and smoked bacon and the most delicious cheddar and red onion sausages. Yum! Orders can be placed directly with Kelly's Butchers.
Buy Gift Voucher