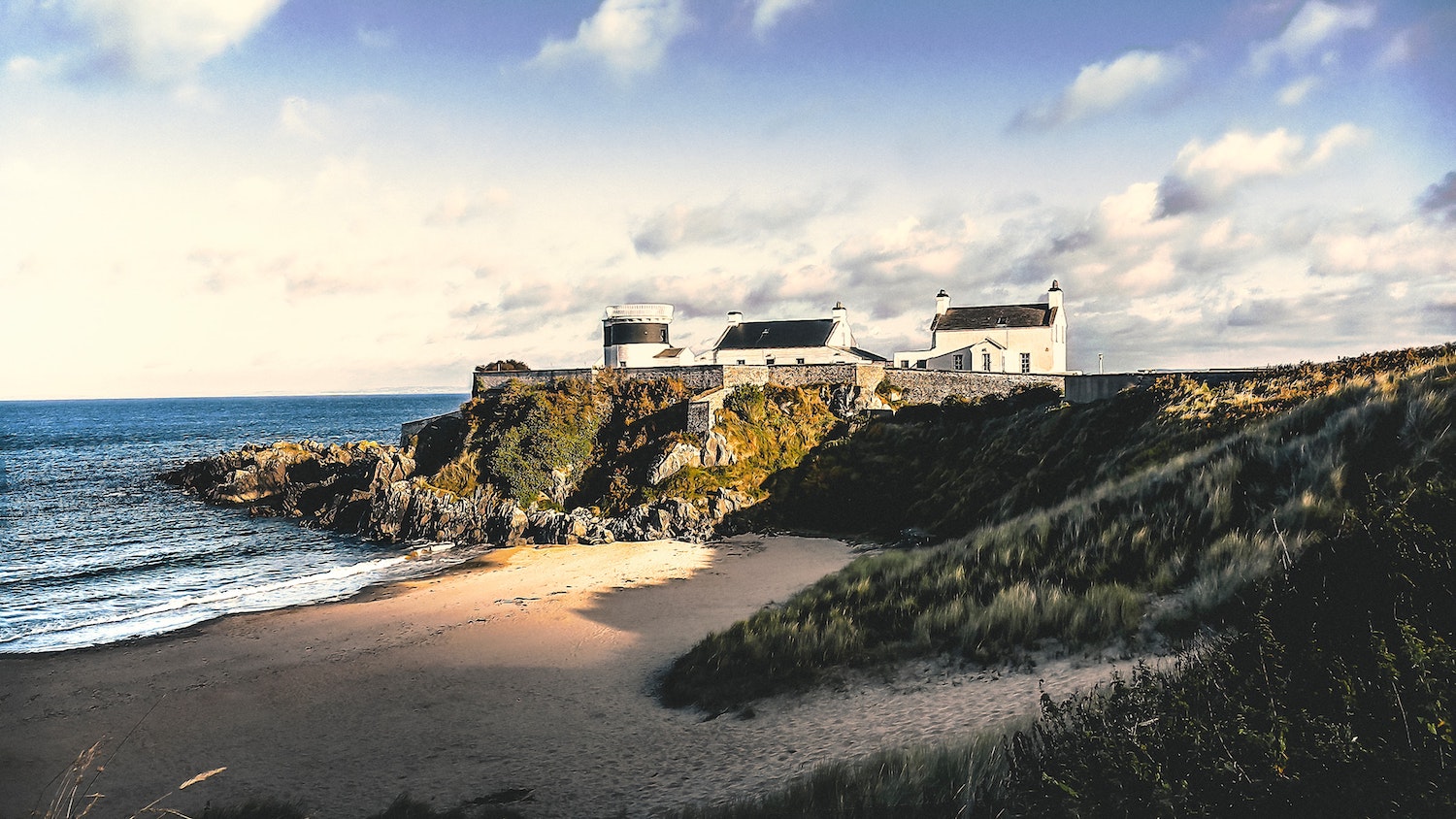 As part of our series on the places to see and visit on the Wild Atlantic Way, we travel the section of road between Donegal Town and the village of Muff, where this epic road journey ends. This final northwest corner of our Emerald Isle has its own distinct personality, reflected in its terroir, in the ever-changing temperament of the ocean, and in the friendly and resilient people deeply rooted in their region. 
Donegal is part of the Gaeltacht region and Irish is spoken fluently and regularly in homes, shops and businesses. This is a county that preserves the Mother Tongue of Ireland and cherishes its use in everyday life. You may even learn a few words for yourself while you're here. 
Turf and Tweed 
On this journey, the fragrant, peaty smell of a turf fire burning will never be far from your nostrils. Donegal has managed bogs where traditional turf cutting is a heritage skill. You may see turf cutters at work, or stacks of freshly cut turf blocks drying out, depending on the time of year.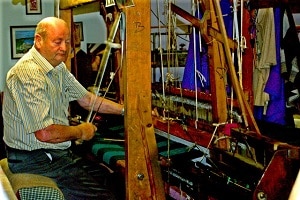 These boglands have also inspired the hues of famous Donegal Tweed, handwoven for centuries from the wool of Donegal's mountain sheep, and dyed with natural pigments from wild fruits and flowers like blackberries, fuchsia, gorse and the many species of moss that thrive in this area.  Donegal Tweed isn't just a twee souvenir of your trip. It's an heirloom piece that truly reflects this part of Ireland. Be it a waistcoat, a hat or cap, a jacket or a full suit, your Donegal Tweed will last a lifetime and bring back memories of its origin each time you wear it.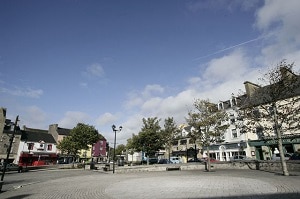 Donegal Town to Rathmullan
Embark on your northward journey of the Wild Atlantic Way in lively Donegal Town, where the legendary welcome is extended to every creature great and small! Explore the little streets with their many shops, boutiques and galleries. Find a real Irish pub with a warm turf fire, where you can prop up the bar with a pint of stout and get the local gossip while you're at it. You never know, you may get caught up in a live music session.
Wherever you are in Ireland, if there is a fiddle or an accordion,  a tin whistle or a guitar, and a local or two with fine vocal cords,  there's always the chance of a spontaneous gig! Nowhere is this more likely than Donegal, where music and song are embedded in the culture.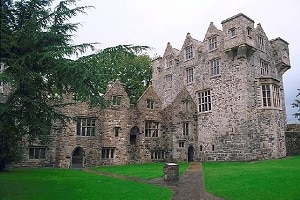 If you like a bit of history, you'll love the historical Donegal Castle on the River Eske in the centre of Donegal Town. Built-in the 15th Century by the Chieftan of the O'Donnell clan, this castle has centuries of heritage.  The story is charted as you wander the rooms, laden with fine examples of antique furniture, luxurious Eastern rugs, original art and handwoven tapestries. Guided tours available.
Rossnowlagh is a seaside village located just 20 minutes south of Donegal Town and is renowned as one of Ireland's main surfing beaches.
In terms of food, Rossnowlagh is the home of  The Bakery Shack,  a 'go-to destination' for fresh-baked sweet and savoury treats, homemade soups and main courses. This artisan bakery uses many local and Irish suppliers and the menu includes an extensive offering of vegan, vegetarian, GF and lactose-free options available.
If you want to upgrade your trip you can order the delicious Afternoon Tea By The Sea from The Bakery Shack online!
Southwest Donegal 
As you depart Donegal Town for your journey signposted north on the Wild Atlantic Way, you'll begin to see this amazing ocean open out in front of you in Donegal Bay. You'll pass the coastal town of Killybegs, home of Ireland's largest commercial fishing port. Thousands of tons of fish are landed here every year and the port is always bustling. Boats range from the smallest brightly painted day boats and lobster potters to trawlers which can stay at sea for several days or weeks. Needless to say, fish and seafood are a speciality in these parts!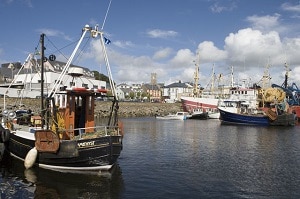 From Killybegs, before you round the headland, you will come to Teelin, home of the Slieve League Visitor Centre. The Slieve League cliffs are actually three times taller than the Cliffs of Moher in Co. Clare, but not quite as famous. These are some of Ireland's tallest sea cliffs, which drop majestically into the ocean from a high point of over six hundred metres.
From Teelin, you can start the walk along the cliffs to a viewpoint at Bunglass,  which gives breathtaking panoramic views of the ocean and headlands. One famous walk on these cliffs is known as 'One Man's Path,  only wide enough for one person at a time, as it meanders its way along the ridge of mountains for half a kilometre. This is probably one of Ireland's most exciting and exhilarating walks, suitable for fit adults. Care must be taken at all times, especially on breezy or damp days. Walking this path lends the feeling of being on top of the world, where you are the master of all you survey!
From Teelin, the road travels to Glencolmcille. An absolutely magnificent spot with cliffs, mountains and golden beaches.   Even regular travellers in Ireland agree that this place has the wow factor in every way. The village dates back 5000 years when Stone Age farmers settled here. They were followed by the Celts three hundred years before the birth of Christ,  then early Christian settlers. As a result, this is an area rich in archaeological sites,  ancient standing stones and monuments.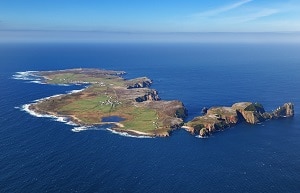 A glimpse of life in early Ireland in this remote part of the country is offered at the Glen Folk Village at Glencolmcille. A little cluster of thatched stone cottages typifies the dwellings of the 18th, 19th and  20th Centuries. Feel the goosebumps tingle the back of your neck, as you picture the gatherings round the warm turf fire in the hearth, with storytelling long into the night as the gale raged and rain pelted outside, in a place on the edge of Ireland, abandoned to the mercy of the elements.
North West to North East Donegal 
From Glencolmcille, the road takes a wavering path through little villages and ocean vistas to Dungloe and The Rosses, bordering Glenveagh National Park. Tory Island lies off the north-western coast of Donegal.
You will find a real live King on Tory Island, 14.5km off the mainland.  Artist Patsy Dan Rogers is the current Ri Thorai (King of Tory), elected by the islanders, and one of the original famous Tory Island artists and painters. Although he has no formal authority or power, the King's duties involve being an ambassador for the island and welcoming visitors to his kingdom!
Tory Island is famous for painters and artists, some of whom are the originals who learned their skills from English painter Derek Hill.  Hill visited the island regularly from the 1950s and began to supply islanders with art equipment. A rich creative streak was soon discovered among the islanders, and Tory's reputation for great art is now legendary.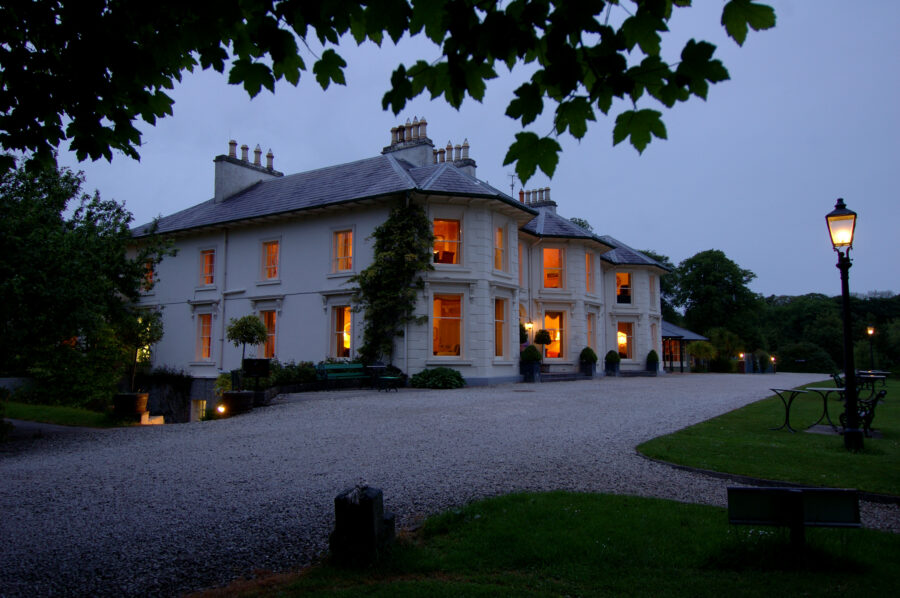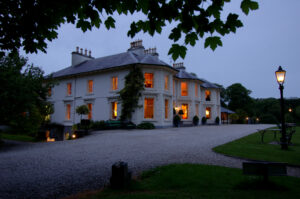 En route to Rathmullan, pass spectacular viewing points at Horn Head and Fanad Head, before taking the gentle coastal drive via the banks of Lough Swilly to Rathmullan House. Here you can rest for a night or two, enjoying this peaceful country house with The Cook and Gardener Restaurant, which uses much produce from the house's walled garden. If you stay a second night, you might want to travel to Letterkenny to have dinner at the Lemon Tree Restaurant where the Molloy family siblings run a fine show in the kitchen and front of the house.
Letterkenny to Muff 
From Letterkenny, the road travels around the wonderful Inishowen Peninsula. At its northernmost tip, Malin Head Weather Station faces the Atlantic ocean head-on. Perched high on the cliffs, the station issues weather and shipping reports, particularly measuring wind speeds. The station regularly records storm force 12 winds that rage off the water. This is a wild spot with far-reaching views of the ocean which batters this coastline.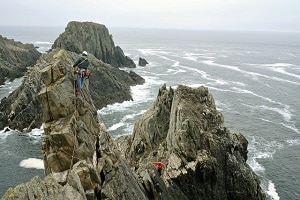 The last part of the Wild Atlantic Way winds around the banks of Lough Foyle, ending up in Muff, Co.Donegal. This is where the designated Wild Atlantic Way northward route ends. In its entirety, it spans 2500 thousand kilometres of seascapes, landscapes, historical towns and picturesque fishing villages, rugged mountains, rolling hills, windswept bogs, lush green valleys, lakes, rivers and streams,  from Kinsale in County Cork to Muff in Co. Donegal. What a journey in the company of all our Good Food Ireland® members who dot this very special coastal route, bringing unforgettable culinary memories to what is now well established as one of the best road journeys in the world.