Good Food Ireland® Approved Since 2021
We stand over our recommendations. With exacting selection and regular review processes, we ensure a rewarding local Irish ingredient-led experience. You can count on it!
Overview
And Chips is taking the traditional Irish chipper to the next level with their fresh and exciting take on delicious Fish & Chips and everything in between. This gourmet chip shop was founded in 2019 by Dungarvan native and well-known food businesswoman Eunice Power. Eunice wanted to provide her local area with a dining option that is all about affordable good food fast that doesn't compromise on taste and quality. From this And Chips was created and it has been feeding hungry locals and visitors to Dungarvan ever since!
---
Dining
And Chips is a chipper with a difference. Located on the waterfront of the coastal town of Dungarvan, they serve up locally caught fish with chips along with other chipper favourites across beef, chicken and vegetarian options.
And Chips is run by Chef & Proprietor Eunica Power who is well known in the food industry for her high-quality event catering business. Eunice may also look familiar to you as she often appears on television sharing her passion and knowledge of cooking with audiences along with providing fabulous recipes with readers of The Irish Times.
Eunice wished to share her exceptional food offering with the wider public and decided to open her own take on the Irish Chip Shop in her hometown.
So what makes And Chips stand out from the crowd? Eunice has put considerable time into the menu and the ingredients which feature. Fish is locally caught and meat is sourced from local suppliers. If it's not fresh then it doesn't appear on the menu. Thus creating a lovely sustainable food option for visitors and locals alike.
Furthermore, Eunice has carefully cultivated, tried and tested each and every option on the menu making sure that taste and quality prevail throughout.
€
A visit to And Chips is well worth the trip to Dungarvan. When you enter the front door you'll be greeted by a modern and warm atmosphere. The rustic pine service counter is the centrepiece for this space, where friendly staff on duty are ready to take your order.
Behind the counter, you'll be able to catch a glimpse of the kitchen which is alive with activity as the Chef is busy preparing the next order. Over this window into the kitchen, you'll also be able to see the menu to order from.
Just inside the door is a cool customer waiting space with a set of school bench seats that will immediately take you back to your childhood.
The all-important menu at And Chips is straightforward and will not disappoint. The day we visited, the Chef was busy making fresh tartare sauce and as the orders were flying in the fish portions of wild haddock and cod were being dipped into fresh house-made tempura batter that was immediately cooked for service to the waiting customers.
For us, Chef prepared a tasting of a fresh fish medley and chips served with house-made sauces. What an experience it was! The golden crunch of the batter was just right and complemented the fish perfectly. Both fish and chips were cooked to perfection leaving a lasting impression that will be hard to top!
While Fish and Chips is a popular choice at And Chips, there are also plenty of other options. Dig into a juicy beef or chicken fillet burger that's so satisfying. These are served on fellow Waterford and Good Food Ireland® Approved member Walsh's Bakehouse's famous Waterford Blaas.
The recent Irish favourite spice bag also makes an appearance. And Chips offering features fresh chicken served up with chips which is mixed with the And Chips special spice mix. Vegetarians will also enjoy the spiced falafel wrap option that's bursting with flavour. Choices also include; fish tacos, a steak sandwich, taco chips and many more mouth-watering options.
No visit to And Chips is not complete without a sip of their tasty milkshake range. All the favourite flavours are available. Furthermore, in keeping with the local ethos, And Chips stock tubs of ice cream from a Waterford producer. Yum! There is also a selection of wines to choose from if you want to go all out.
When it comes to Chip Shops, And Chips is the cream of the crop. The quality of food and excellent service make this a great dining option when visiting Co. Waterford. A must visit and a great recommendation if you're hungry after journeying on the famous Waterford Greenway!
---
Sustainability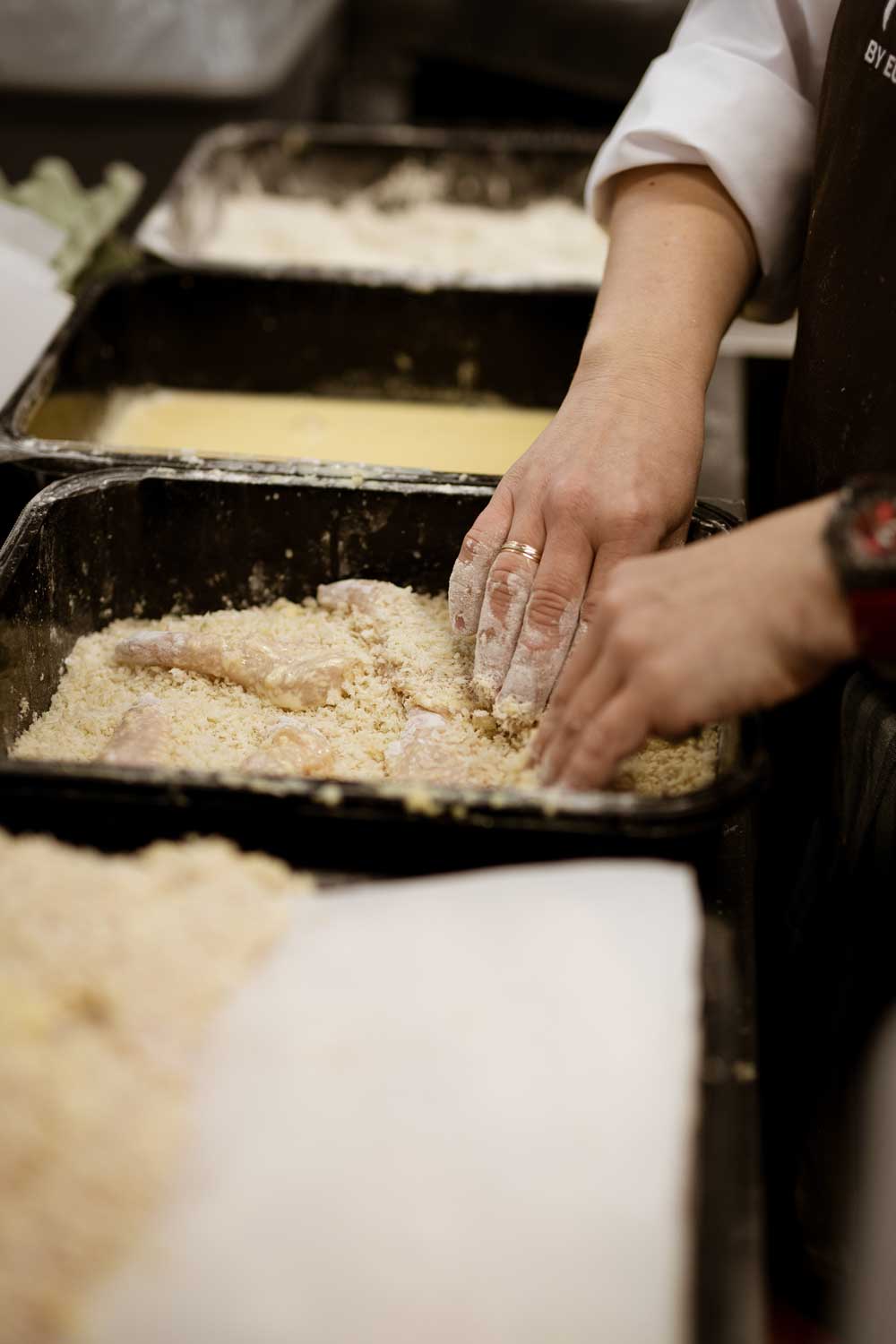 At And Chips, sustainable food sourcing is of paramount importance. And Chips exclusively use locally caught fresh fish along with meat and vegetables from local suppliers and producers.
Furthermore, their range of takeaway packaging is fully compostable.
---
Leave review
WHAT CUSTOMERS VALUED AND ENJOYED
There are no reviews yet. Be the first one to write one.
---
Nearby Experiences
Experiences

Accommodation

Dining

Cook & Shop

Meet the Makers