Good Food Ireland® Approved Since 2021
We stand over our recommendations. With exacting selection and regular review processes we ensure a rewarding local Irish ingredient led experience. You can count on it!
Overview
Founded in 2015, DropChef is a meal delivery service that is changing the way in which we dine. Time stretched food lovers who wish to create healthy and nutritious meals are now given the opportunity to cook and savour a weekly selection of recipes. The best part is that all your essential ingredients are enclosed in a food box delivered right to your door.
---
Dining
DropChef is a fun dine at home activity that takes all the hassle out of home cooking allowing you to savour the culinary experience and enjoy the delicious spoils of your hard work. With an easy to follow recipe card and all the ingredients right in front of you, you'll be whipping up a wholesome and satisfying meal in no time at all.

€
Have a love of cooking with top quality healthy ingredients but find yourself with little time for cooking at the end of a busy day? Well, DropChef just might be the perfect solution to all your cookery woes. This dynamic and exciting food business specialises in a Boxed Meal-Kit delivery service that's available nationwide.
More and more we find the pace of life is quickening up, between work and family, this leaves little time for anything else including creating a tasty meal. The DropChef service aims to solve this in an environmentally friendly and convenient way.
Co-Founder of DropChef Roman Grogan excitedly tells us about their offering stating, 'Our service is solving a problem for the time poor consumer, there is a demand out there for cooking and eating healthy food.'
DropChef offers a weekly subscription plan for 1-5 people and you can choose from 2-4 recipe meals each week. If you're weary of a contract subscription service then fear not as the DropChef service can easily be paused or cancelled at any time.
The Good Food Ireland® team happily tried and tested the DropChef service and we can say for sure that it's a great way to get healthy meals cooked and eaten in a timely manner. The ambient ingredients are packaged in a colour coded bag matching the recipe card. The fresh raw ingredients are vacuum packed with the matching colour code and stored in a thermal wrap with a frozen ice pack to ensure the ingredients arrive to you in optimal condition.
What's even better is that all the core ingredients are there for you, so there'll be no need for a dash to the supermarket to pick up the lone ingredient you forgot in your weekly food shop. Moreover, the DropChef service does away with that food waste guilt you get when clearing out the fridge. Portions are measured in such a way that you've plenty to eat for the meal plan you choose, with no waste leftover.
This holistic approach to food and dining is also seen in DropChef's conscientious sourcing of local ingredients. Irish producers of meat, fish, dairy and vegetables are prioitised, helping to deliver a healthy and authentic food experience.
DropChef features a menu that changes weekly. Recipes include some familiar mealtime favourites but also introduces you to some new exciting flavours across a range of stews, curries, baked dishes and pasta dishes. There's also plenty of vegetarian options full of flavour.
DropChef's Boxed Meal Kit service is empowering and educating food enthusiasts to enjoy and interact with the food they eat in a fun way, along with allowing the cooking of healthy food more accessible to the public.
---
Sustainability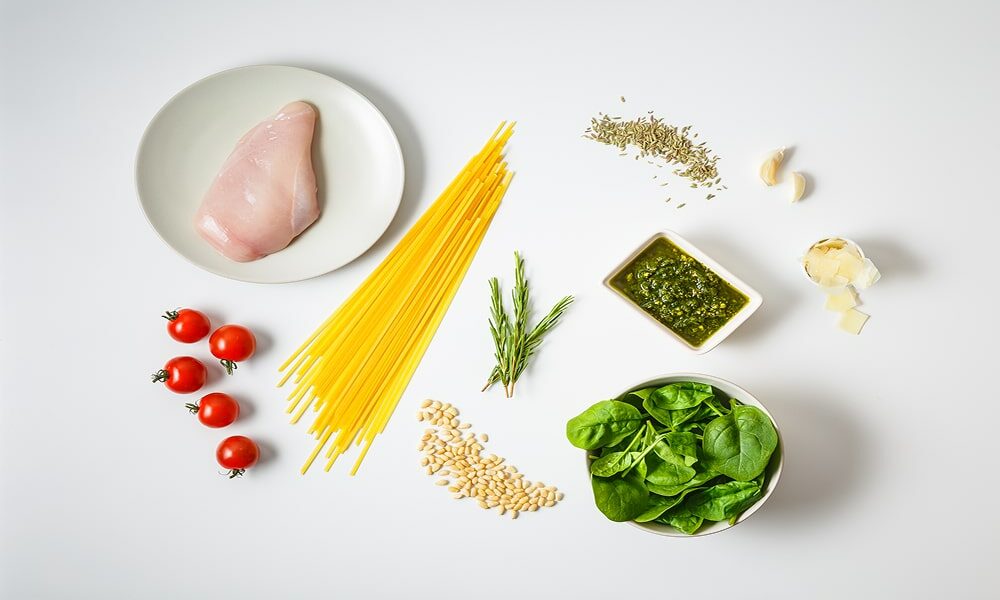 Sustainable practices are a key component to the DropChef operation. The service runs on the basis of zero waste food. The recipes that you receive in your food box are designed to use up all the ingredients for your meal meaning no excess food is wasted.
All the packaging including the box is suitable for recycling. Moreover, DropChef can organise a 'collect and return' facility for the silver foil, thermal packaging and ice packs.
DropChef also priortise the use of Irish ingredients in their boxes ensuring you get that authentic Irish food experience.
---
Leave review
WHAT CUSTOMERS VALUED AND ENJOYED
There are no reviews yet. Be the first one to write one.
---
Nearby Experiences
Experiences

Accommodation

Dining

Cook & Shop

Meet the Makers