Good Food Ireland® Approved Since 2021
We stand over our recommendations. With exacting selection and regular review processes, we ensure a rewarding local Irish ingredient led experience. You can count on it!
Overview
Gourmet Food Parlour is a group of 6 family-style restaurants that provide their guests with delicious food and drink offering in a casual and relaxed setting. Food is produced using the best local ingredients and this is combined with stellar customer service. Their latest restaurant is located in Salthill in Galway close to the seafront, a popular spot for locals and visitors to the city of Galway.
---
Dining
A dining experience at Gourmet Food Parlour in Salthill is all about enjoying good food and drink in a lively and relaxed setting. You can be assured that every bite you eat has been expertly prepared by the culinary team at Gourmet Food Parlour. Ingredients are sourced where possible from local suppliers and everything is made from scratch in house, including their range of fresh bread, sweet treats and desserts.

€€
Gourmet Food Parlour is a selection of 6 restaurants located across Dublin along with the restaurant in Salthill, Galway. The 1st restaurant was founded in 2006 by businesswoman Lorraine Heskin who had a vision of creating adining experience that was high quality, family friendly and affordable.
The look and feel of the restaurant were based on Lorraine's experience of living in New York City, where she found dining to be all about top quality ingredients and exceptional customer service. This dream was realised through the Gourmet Food Parlour and its collection of restaurants.
One of the latest editions to the company is Gourmet Food Parlour in Salthill. Located close to the seafront, this 2 story restaurant was first opened in 2018 and is a popular spot for locals, families and visitors alike. The perfect place to enjoy a delicious meal after walking the nearby promenade and taking in that rejuvenating sea air.
It can accommodate 90 guests indoors and they also provide an outdoor dining facility through a marquee adjacent to the restaurant.
Gourmet Food Parlour is open 7 days a week throughout the day, serving breakfast, lunch and dinner along with a tempting brunch menu available at the weekends. The food ethos at Gourmet Food Parlour is centred around producing top quality fresh food using the very best local ingredients. Everything is made in house each day including freshly baked breads and decadent desserts and baked treats.
No matter the time of day, you'll enjoy a fabulous dining experience with plenty to offer at this restaurant. Breakfast items include mouthwatering eggs benedict with hollandaise sauce along with the traditional full Irish breakfast done in a Gourmet Food Parlour style.
Throughout the day there's also an impressive selection of made to order sandwiches filled with delicious ingredients. You'll feel on top of the world after sampling their superfood wrap or add a bit of spice with a Louisiana chicken wrap. There's also a tasty selection of salads if you're looking for something lighter to eat.
Hot dishes featuring a choice of staple favourites such as a pan roasted chicken supreme along with a choice of crispy chicken burger or a Hereford beef burger. You'll also find a tasty selection of pasta and curry dishes. The menu also features vegan and vegetarian options to savour too.
Junior guests are also easily catered for with a dedicated kid's menu along with half portion sizes from the full restaurant menu. Gourmet Food Parlour ensures that the whole family are well looked after.
---
Facilities
Throughout their collection of restaurants, Gourmet Food Parlour makes it easy to enjoy their delicious food & drink offering in a number of ways. One such facility is their thriving catering service.
€€
Gourmet Food Parlour has cultivated a supreme reputation for their catering service which covers everything from small family gatherings and weddings to corporate and sporting bodies such as Google and Dublin GAA.
Their extensive catering menu covers every eventuality and can be created to suit all budgets and tastes. Choose from light bites, teas & coffees, tray bakes and desserts to hot dishes and more.
---
Sustainability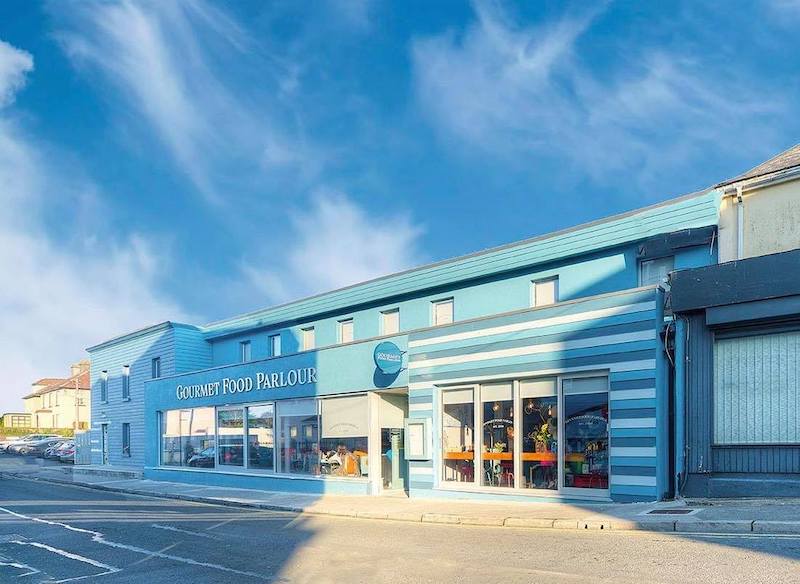 Gourmet Food Parlour has a very proactive attitude to sustainability, investing considerable time and attention into reducing its carbon footprint.
Their Galway location is leading the way with this,  as it's 100% powered by renewable energy. Furthermore, takeaway packaging is recyclable and takeaway cutlery is wooden. You'll also find paper straws instead of plastic and you can also buy reusable coffee cups and water bottles within the restaurant. These items are provided to new staff upon starting.
The company also tries to work paperless as much as possible during their day to day operations.So far they've successfully reduced their emissions by an impressive 40%.
Gourmet Food Parlour also has a holistic approach to staff well being and training. Staff are given comprehensive training across a number of sectors from customer service to food safety and health and safety, team management and GDPR.
Management also undertakes regular training to ensure an even better work culture within the company.
---
Leave review
WHAT CUSTOMERS VALUED AND ENJOYED
There are no reviews yet. Be the first one to write one.
---
Nearby Experiences
Experiences

Accommodation

Dining

Cook & Shop

Meet the Makers