Good Food Ireland® Approved Since 2021
We stand over our recommendations. With exacting selection and regular review processes, we ensure a rewarding local Irish ingredient led experience. You can count on it!
Overview
Gourmet Food Parlour is a collection of 6 restaurants across Dublin and Galway which bring together a top quality dining experience and the very best customer service. Gourmet Food Parlour in Santry is one of the collection's largest restaurants offering a fabulous food & drink experience both for indoor and outdoor dining.
---
Dining
Providing their customers with exceptional food & drink experience that uses the very best local ingredients is at the very heart of the Gourmet Food Parlour. Open 7 days a week, guests can enjoy a meal at Gourmet Food Parlour in Santry throughout breakfast, lunch and dinner. Everything is made fresh each day in house, including fresh bread, cakes and desserts.

€€
Gourmet Food Parlour was founded in 2006 by businesswoman Lorraine Heskin. Lorraine had just returned to Ireland having worked in the hospitality industry in New York City. This experience provided her with the inspiration to open a 'High Street' family style restaurant with that New York City vibe, offering quality fresh food and exceptional customer service. After the success of the Dun Laoghaire restaurant, subsequent restaurants followed including Gourmet Food Parlour in Santry.
Gourmet Food Parlour Santry is a landmark property located in the attractive parkland setting of Santry Demesne, just off the Old Airport. Opened in 2016, Gourmet Food Parlour in Santry stretches over two floors and can comfortably sit 150 people. For those who wish to take in some sunshine, there's a stunning restaurant garden out the front for outdoor dining.
Arriving at the restaurant by car is not a problem, there is ample free cark parking available.
Gourmet Food Parlour Santry is open 7 days a week through breakfast, lunch and dinner, ensuring you get plenty of opportunity to enjoy a dining experience here.
The dining experience encompasses a fabulous local food ethos that goes hand in hand with the excellent service you'll receive from dedicated staff. Meals are prepared in house fresh each day using local ingredients along with freshly baked breads and mouth watering desserts. The menu features an eclectic selection with something to suit all tastes and appetites.
Visiting during breakfast? Indulge in a stack of fluffy pancakes or a breakfast ciabatta featuring bacon, sausage and tomato relish. At lunchtime choose from a selection of fresh salads or a hearty sandwich. Options include grilled halloumi, goat's cheese and a club sandwich featuring all the trimmings.
For something more substantial, hot meals include everything from burgers to pan fried salmon to curries and pasta. There's also a fantastic charcuterie board for two, add a glass or two of wine and you've got a great tapas style meal right there.
Gourmet Food Parlour Santry is also a very popular spot for families. Plenty of space, parking and a specially created children's menu, ensures the whole family is well looked after.
---
Facilities
Gourmet Food Parlour provide their delicious food & drink offering across a number of settings and requirements including a fantastic catering service.
€€
Gourmet Food Parlour has a thriving catering service that caters for both private and corporate customers. Their catering offering has gained quite a reputation with clients including the Irish Olympic team. They cater to both small and large events, the perfect choice when you've got an upcoming family event or celebration.
The catering menu features the very best of the Gourmet Food Parlour's offering, including breakfast dishes, sandwiches, salads, hot dishes, desserts and more.
---
Sustainability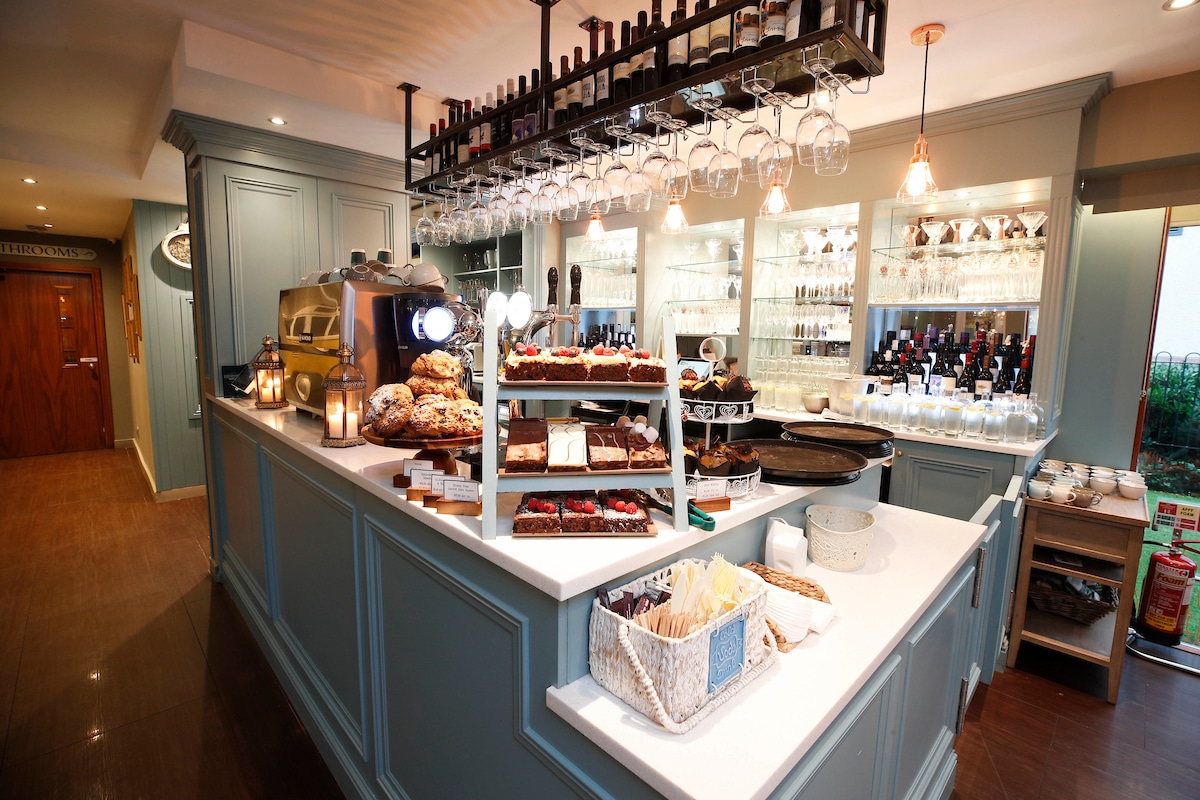 Gourmet Food Parlour plays an active role in promoting sustainable practices across their restaurants. Throughout each location, you will find recyclable materials across their takeaway packaging.
Furthermore, paper straws are used instead of plastic. Coffee cups are also recyclable and cutlery is wooden. Customers can also purchase re-usable coffee cups and water bottles. Staff are also gifted these upon joining the Gourmet Food Parlour Team. So far, the company has reduced their carbon emissions by an impressive 40%.
Staff wellbeing and training is also a key part of the company's operation. They run a number of training sessions centred around customer service, health and safety, food safety and more, ensuring that staff get a well rounded working experience.
---
Leave review
WHAT CUSTOMERS VALUED AND ENJOYED
There are no reviews yet. Be the first one to write one.
---
Nearby Experiences
Experiences

Accommodation

Dining

Cook & Shop

Meet the Makers