Good Food Ireland® Approved Since 2021
We stand over our recommendations. With exacting selection and regular review processes, we ensure a rewarding local Irish ingredient-led experience. You can count on it!
Overview
Leaf & Larder Delicatessen & Bakery is a fresh addition to the town of Killorglin, serving up a tantalising range of fresh gourmet sandwiches, salads, mouthwatering bakes and ready to go meals. This newly opened deli and bakery is a sister and sister business and has a can-do vibe about it, a real demonstration of a Sister Act if we do say so ourselves. Leaf & Larder is in a prime location within Killorglin, which is on the Ring of Kerry tourist route. A one-stop shop for a fresh Irish food experience while you explore this beautiful region!
---
Dining
Leaf & Larder Delicatessen & Bakery is the culmination of hard work, dedication and a dream that has come alive for sisters Selina O'Connor and Monica Walsh.
Recognising the growth in recent times for take-home food and desire for high quality locally sourced products that can be enjoyed from home, Selina and Monica took that brave leap and brought together their considerable talents to form the lovely Leaf & Larder, which since its opening in December 2020 has become a stand out business in the town of Killorglin.
Prior to opening, Leaf and Larder's co-owner & Chef Selina O'Connor had a celebration cake business, Selina's Cakes, which she operated from a home-based kitchen.
Selina is now the chef, baker and cake designer in this business having brought her cake business into the new family startup. The new setting has allowed Selina to grow the cake business and to engage with a larger selection of customers. While the cakes are on the go, Selina also uses her impressive creativity in the day to day food offering at Leaf & Larder.

Selina partners with her sister and co-owner Monica Walsh who runs the front of house of Leaf & Larder.
Monica brings her administration skills and connection with customers to the business as well as having the takeaway service, deli service and retail range running like a well-oiled machine.
€
Upon entering Leaf & Larder you'll be greeted by the amazing aroma of fresh bakes, something that this business excels at producing. Co-owner Selina has an affinity with everything baking and delights in producing freshly baked cakes each day.
The selection of cakes changes quite frequently and is in keeping with the seasons. During summertime expect to see a riot of fresh summer berries such and strawberries and raspberries being the centrepiece of the dessert offering while in autumn you'll find it hard to resist a slice of pear or apple tart. Just delicious!
Leaf & Larder also produce a range of fresh-baked bread to enjoy at home. These include traditional Irish brown soda bread, treacle bread along with hot savoury options such as everyone's favourite sausage rolls and a daily quiche special.
---
Facilities
A special service within Leaf & Larder is the creation of celebration cakes. Co-Owner and Chef, Selina has a love of baking and creates the most amazing cakes for customers. This gives Selina the opportunity to flex her baking skills and bring in all of her fantastic creativity.
Selina will work closely with you to bring your imagined cake to life and will make it the exciting centrepiece of your special event.
To arrange, simply call direct to start the process!
---
Sustainability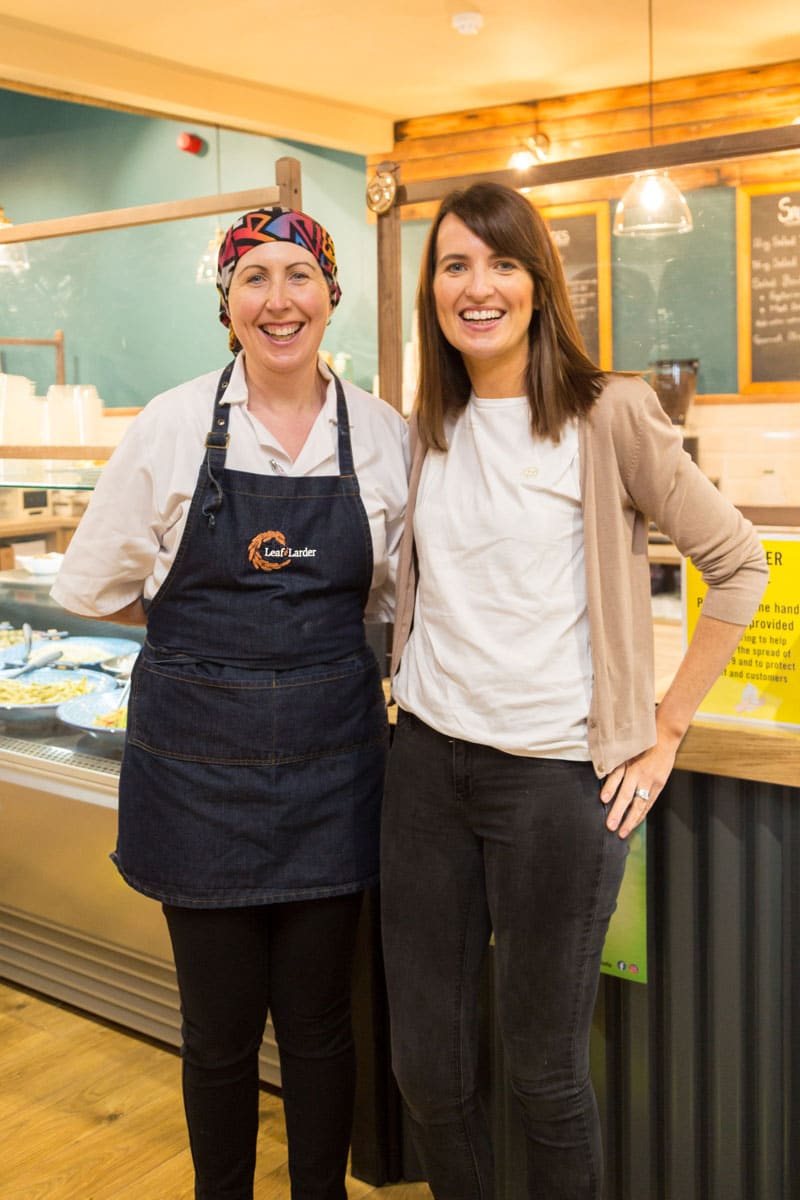 In terms of sustainability, Leaf & Larder play their part in reducing their impact on the environment. With a business mainly focused on 'to-go' and takeaway items, all takeaway packaging is fully compostable.
Furthermore, Leaf & Larder sources where possible from local producers and suppliers throughout their deli, bakery and retail offering. This all leads to having a positive impact on the local economy.
---
Leave review
WHAT CUSTOMERS VALUED AND ENJOYED
There are no reviews yet. Be the first one to write one.
---
Nearby Experiences
Experiences

Accommodation

Dining

Cook & Shop

Meet the Makers