Good Food Ireland® Approved Since 2021
We stand over our recommendations. With exacting selection and regular review processes, we ensure a rewarding local Irish ingredient-led experience. You can count on it!
Overview
Close to Naas and Donadea Forest Park is one of Ireland's most unique Gastro Pubs. Known locally as 'The Sinking Pub', The Grill Shack at Roche's Pub is famous because the premises is sinking into the local bog land, even if you are sipping on a soft drink, you will be forgiven for thinking you have had too much alcohol consumed. While you enjoy the novelty of this traditional Irish Pub, make sure to taste the wares of The Grill Shack, a tasty dining spot at Roche's Pub brought to you by Chef & Proprietor Aidan Kelly.
---
Dining
This is truly a Traditional Irish Pub, established in the 1800s and made popular by the local community of turf cutters and workers. Roche's Pub has always been known for a great traditional Irish music session.
When the Ryder Cup was held at the K-Club in 2006 the entire American Team made a special visit to Roche's to sample the atmosphere of a 'Real Irish Pub'.
In more recent times Roche's has developed a reputation as a smart and unique food destination with the arrival of The Grill Shack.

The Grill Shack at Roche's Pub opened for food service in 2017. It's owned and managed by Chef & Proprietor Aidan Kelly.
This exciting eatery quickly developed a loyal following of customers from far and wide. Located to the side of the pub, the dining area opens out to the garden and outdoor space. It's unique in so many ways, check out the large tree growing through the floor and roof of the restaurant.
When you arrive at The Grill Shack you're greeted with two stand out first impressions, the fresh aroma of food on the open rotisserie and the centrepiece to this restaurant is the open plan kitchen showcasing the chefs on duty. Take in the skill that is before you, which gives you a great appreciation of the expertise involved in producing restaurant-quality food.
The menu here is straightforward and the food is delicious. The Grill Shack give local Irish ingredients that smoking touch, introducing their customers to new flavours and ways to enjoy Irish meat, poultry and vegetables.
The day we visited, The Grill Shack Chef prepared their famous Smoked Chicken wings served with a house-made Irish Whiskey Hot Sauce. For those who fall in love with the dish, you'll be delighted to know that Chef Aidan has the hot sauce on sale in the restaurant and on The Grill Shack online shop.
While there, we also tasted the Slow Roasted Pulled Pork and homemade nachos with melted cheese on top. What a tantalising food experience that is all about fun and exciting flavours.
The Grill Shack also specialises in an 'On a Stone' range which invites you into witnessing your meal being cooked right at your table. This range features Fillet, Striploin, Rump and Rib Eye steaks, along with Irish Halloumi and mixed vegetables cooked at your table on a stone.
Living up to its name, Chef Aidan also has his own smoker oven on-site to smoke his own chicken, duck, fish and ribs. The practice of smoking in a dining setting continues to grow in popularity in Ireland, providing our favourite meats with that unique and delectable taste that is so delicious.
An outdoor garden area is another option for diners with shelter and heaters provided. In keeping with their eclectic setting, The Grill Shack have adapted 2 horse boxes located in the outdoor garden. Each box is set up with a table and seating for 6 guests and features festoon lighting and heaters.
€€
The Grill Shack is renowned for its unique "On the Stone" steaks, a truly sizzling experience. Choose from Fillet, Rib Eye or Irish Rump, but they also serve an extensive menu of Chicken, Seafood, Burgers and Ribs.
Finish off with a selection of mouth-watering desserts, which includes the classic Eton Mess and many others.
For those who are looking forward to a quiet night in,  The Grill Shack also offers a comprehensive range of delicious Takeaway options from Burgers to Chicken and Ribs.
Don't forget your choice of The Grill Shack's mind-blowing in-house Hot Sauce. Pick up a few jars on the way out and take them home with you.
A visit to The Grill Shack promises to be a memorable experience, you'll feel right at home in this eclectic setting which serves up an exciting range of dishes all with local in mind.
---
Sustainability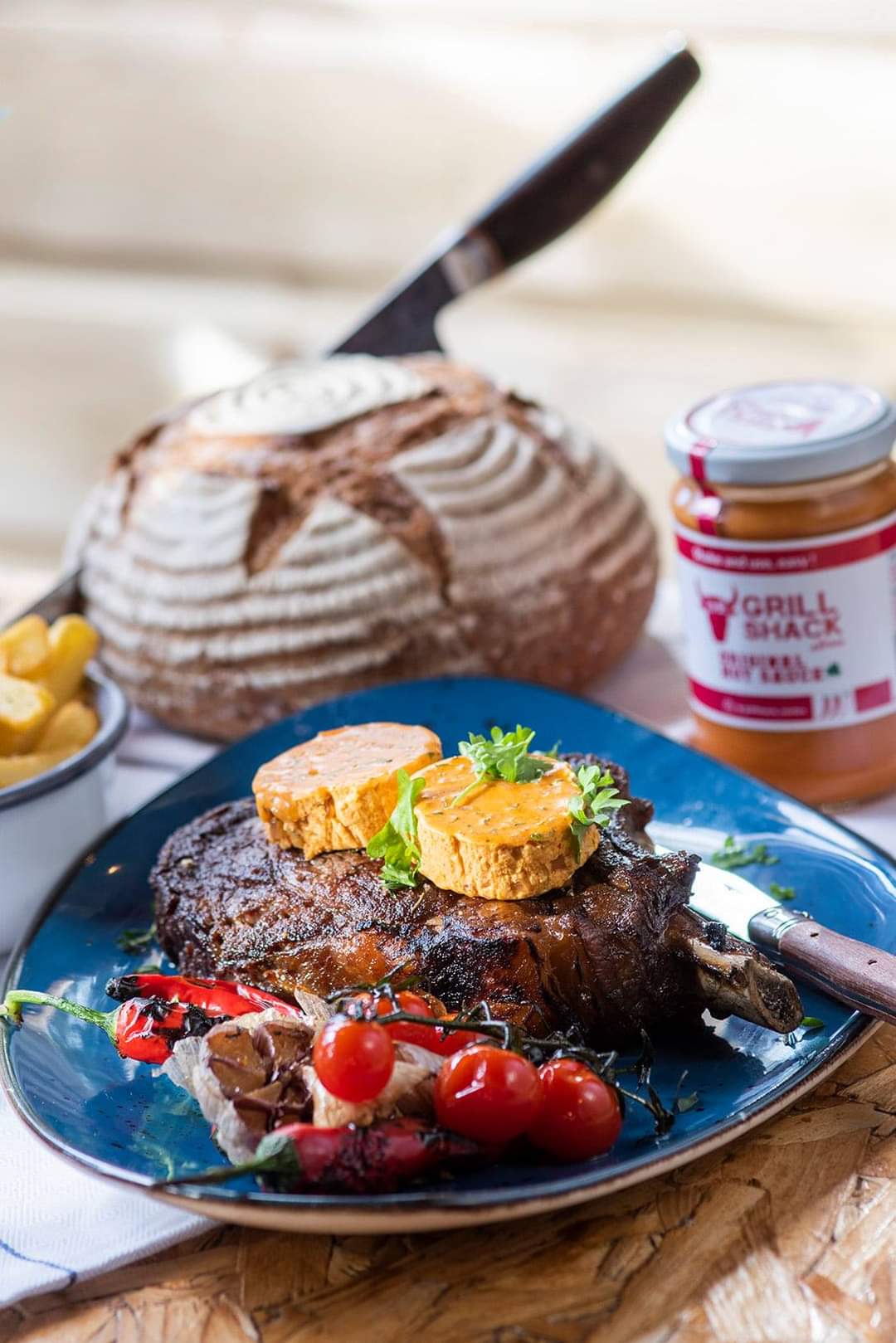 BUSINESS OPERATIONS:
The Grill Shack are committed to improving their environmental performance and are practising a number of robust sustainable methods. These include using LED Lighting and low energy electrical appliances for energy efficiency. Water and waste consumption is also being closely managed in co-operation with their suppliers.
Furthermore, there is a great practice of recycling and upcycling in the business as furniture and appliances are recycled where possible.
Measures are also in place for pollution prevention along with garden maintenance and development.
Employee Actions:
Through communications and training, all the team at The Grill Shack are made aware of the impact that each team member has on achieving the business environmental objectives.
Social Responsibility:
The Grill Shack invest in the local community to their business, including working with nominated charities with a planned schedule of fundraising events. Chef & Proprietor Aidan Kelly started The Grill Shack Hot Sauce as a fundraising project for a local charity, an Irish sporting hero dining in the restaurant bought one jar for €800.00 to kick start the fundraiser.
---
Leave review
There are no reviews yet. Be the first one to write one.
---
Nearby Experiences
Experiences

Accommodation

Dining

Cook & Shop

Meet the Makers