Good Food Ireland® Approved Since 2021
We stand over our recommendations. With exacting selection and regular review processes, we ensure a rewarding local Irish ingredient-led experience. You can count on it!
Overview
Toast is Co Cork's newest exciting food endeavour founded by Sebastian Thommen. In 2020, Sebastian and his sister Theodore, elevated the all-round favourite toastie to new levels as they combined this popular sandwich with the very best of Cork's local ingredients. Toast travels around Cork serving up these tasty toasties in a fully refurbished horsebox turned mobile food truck/cafe.
---
Dining
Toast Founder & Chef, Sebastian Thommen started this new business venture in early 2020 during a period of big upheaval for the Irish food & hospitality industry. When diners were restricted to how and where they could dine, Sebastian rose to the occasion and created a dedicated food truck that allowed visitors to enjoy a delicious meal in the great outdoors.

This simple concept of creating a dedicated product such as Toasted Sandwich but meshing it with high-quality local ingredients has been a massive success. Food lovers come from near and far to get their hands on a Toast toastie!
Sebastian's personal background in the Arts helped get the creative juices flowing when developing his idea for the business. This creativity and the necessity to pivot his work because of government restrictions came together to create Toast.
€
There existed for Toast Founder & Chef, Sebastian Thommen a passion for food, and in particular quality Irish food. The menu each day is peppered with fresh local bread, cheeses and much more.
When Sebastian set about starting his business, he collaborated with a number of people who helped him to develop and test his business idea.
Two chef colleagues and friends who assisted Sebastian at the start were David Rice and Mark Ahearn. They helped him develop his food concept, tested the menus and came up with a process for operating the units. He then ordered and commissioned the unit with a professional coachbuilding company that specialised in converting trailers into food units.
The company got to work on the brief, the style and the look of the unit was all coming from Sebastian. Sebastian had a clear vision for Toast and his creative talents really came to the fore in how the unit was presented and finished. The menu centres around a selection of freshly made speciality toasted sandwiches.
A very simple business idea, but the concept is a classic.
The Toast food truck is located in the car park area of the Ballinlough Community Centre, it's off a very busy road in the centre of a local community, so he's built up a following from local businesses, of passing business footfall and also customers that are travelling to the unit for return visits.
Sebastian and Theodore often also take Toast on tour, popping up at popular scenic spots around Cork. If you're enjoying a road trip around the Rebel County, make sure to keep an eye out for the Toast food truck.
It's going very, very well, and Sebastian has a definite ambition as to where he wants to take it. In addition to the toasted sandwich specials that he produces, he also serves an absolute classic barista coffee, offering a full selection of different coffees with different fresh kinds of milk on offer. He also has a selection of homemade brownies, cookies, almond croissants and Danish pastries on offer.
Toast is open from Thursday to Saturday, and from 11 am in the morning until 4.30 pm.
Talking to Sebastian about his ambitions.
He very much has his eyes set on opening unit number two in a different location with exactly the same business idea the same principles of what he is offering in Toast.
He also has identified a niche in the market for special events where his trailer evenings are availably for special appointments, he can provide a service based around his toasted sandwich idea.
Sebastian's already done a number of events, such as that, and sees that as a business development opportunity, and he is about to launch his new website, which will feature more information on this special service.
That's Toast Cork.
---
Sustainability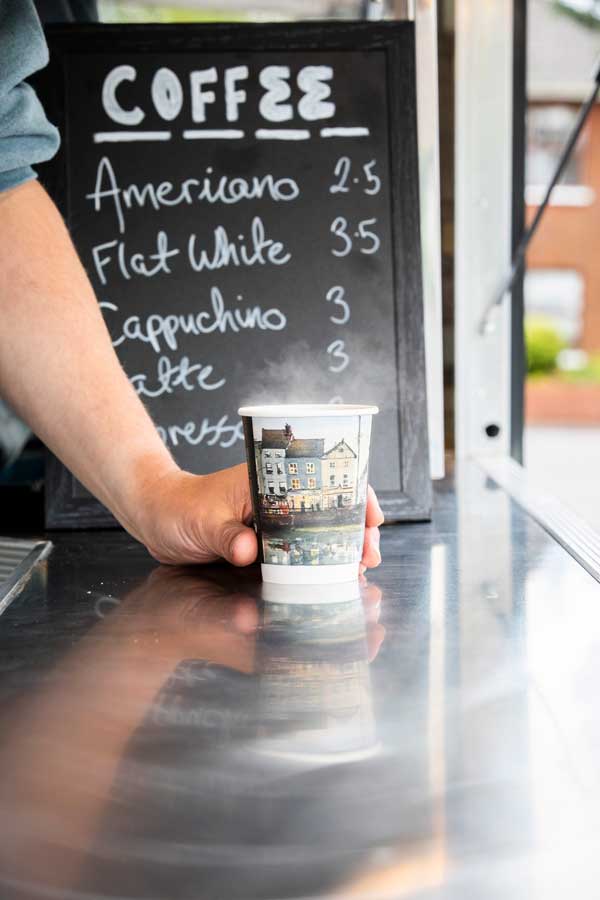 Along with sourcing ingredients from local producers, Toast has a robust sustainability plan in place.
The Toast coffee cups are fully compostable and the food cartons the toasted sandwiches are placed in are "full eco version – sustainably sourced paper board with a water-based coating".
---
Leave review
WHAT CUSTOMERS VALUED AND ENJOYED
There are no reviews yet. Be the first one to write one.
---
Nearby Experiences
Experiences

Accommodation

Dining

Cook & Shop

Meet the Makers