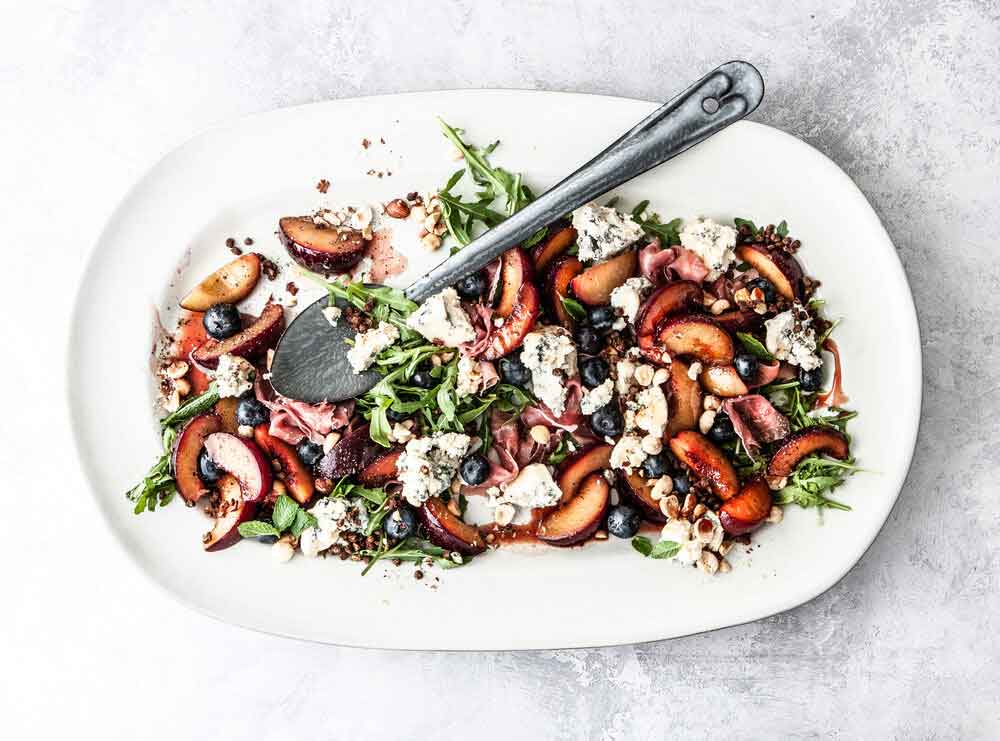 Image of Salads by Katie Quinn
She photographs food. Develops recipes. Styles shoots. Writes cookbooks. Meet award-winning photographer and food stylist, Katie Quinn, who shares the secrets of her international, award-winning career with Jillian Bolger.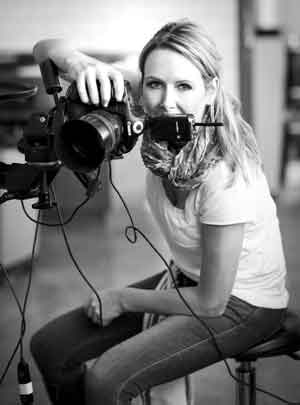 Katie Quinn may be the only Irish photographer to win a coveted James Beard Award for her work, but her talents don't stop there. The internationally renowned photographer and food stylist also works as a recipe developer, art director and has written three acclaimed cookbooks.
Hailing from Dublin, she studied graphic design at Dun Laoghaire College of Art and Design before working in Chicago and Dublin. Falling for an Australian, Katie moved to Melbourne in 2006 where she worked in design studios for a few years. "But I began losing interest in the work," she recalls, remembering a key moment in her career that would alter her course. "During my time as a designer in Dublin, I was art directing a photo shoot. I noticed that there was a food shoot taking place in the adjoining studio, and I became fixated on the food stylist who was sitting at a table with about 60 sausage rolls." Katie recalls being mesmerised, watching as she meticulously scored the sausage rolls with a scalpel. "I've always been classed as someone who has a very fine eye for detail, and I am a bit of a perfectionist, so witnessing what goes into the food prep on a food shoot really got me intrigued."
In Melbourne, after a year or two of trudging into her design job, she decided to take a leap of faith.
"I couldn't stop thinking about food styling and wondering whether there might be some other career in the creative field that might make me happier." 
She remembers throwing a party and spending a week preparing all the mini food and canapés. "I was standing in my kitchen, scalpel in hand, cutting out little triangles of lemon flesh to carefully place on top of the 30 mini lemon meringue tartlets I had made. I was thinking, "This is mad. Who does this?!" But it also made me realise that I loved it and might have a flair for food styling." 
Accompanied by memories of the sausage roll shoot from years earlier, she made a decision. "After receiving some inheritance money, I decided to take a year out and teach myself how to food style. There were no courses available, so I figured I'd give it a bash on my own."
For three months, Katie immersed herself fully in the art of food styling, working from her kitchen. Each evening she would go to the supermarket, buy a list of ingredients and start cooking the next morning.  She also splashed out on a good digital camera and lenses. "I was very lucky that Australia offered such a plethora of incredibly well-styled food mags. I'd seen nothing like them back in Ireland, so I found it very aspirational and that's the level I worked towards." She set herself a goal of mastering the art within six months or moving on to something else.
"I tried out my own trickery – perfectly searing scorch marks burgers with heated metal skewers, experimenting with things like using coloured mashed potato to mimic ice cream etc… I then spent the rest of the day photographing my best results."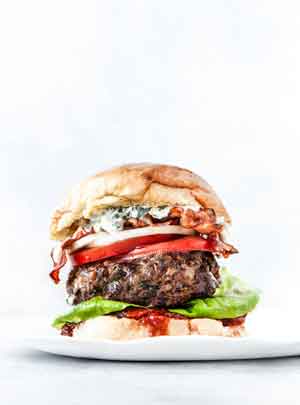 Katie researched which foods were the hardest to style, and discovered meat, and, more specifically, things like lasagne and burgers, so decided to start with these first.
Katie had studied film photography at art college, but decided to enrol in a digital photography course in a Melbourne Art College to hone her skills. It was there that she met tutor Mark Boyle who, upon seeing her work, advised her to start a blog. 
"I baulked at the notion initially, as I really had no clue about blogs and never saw myself as a writer. However, he persisted to encourage me and suggested I call it, 'What Katie Ate'. This was the clincher for me, as I had grown up with everyone always asking me 'So what did Katie do next?', referencing the popular Susan Coolidge kids' books from the 1980s."
Katie set up the blog, uploaded her photos each day and, over time, started creating her own recipes which began to garner international attention. 
Moving to Sydney in 2009, she approached publishing and magazine houses with her portfolio and within a month was offered a job to shoot one of Australia's leading celebrity chefs. 
From there, her career took off, and for the next 8 years, she would find herself in demand across Australia and New Zealand working on editorial campaigns for the likes of Vogue, Elle and Martha Stewart Living and advertising campaigns for clients including Jacob's Creek Wines, Masterfoods and Sainsbury's.
In 2011, Katie became a monthly contributor at Delicious magazine, alongside Jamie Oliver, Nigella Lawson and many preeminent Australian chefs. "For this role, I had to devise, develop, test, style and photograph six recipes per month for an eight-page monthly feature."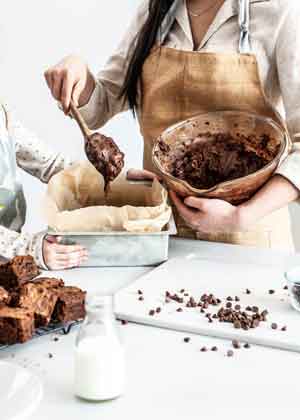 Soon after, she was offered a cookbook deal with Penguin Books, which, unusually, saw her writing, cooking, styling, photographing and designing the book herself. What Katie Ate – Recipes and other bits and bobs contained over 100 recipes and went on to be translated into 16 languages.
The following year, Katie was astonished to learn that her book was a finalist in two categories at the prestigious James Beard Awards in the US: What Katie Ate won the Food Photography award. "I was thrilled to accept the award for Ireland and Australia on a stage in New York in front of so many well-known American and international chefs and people heavily involved in the culinary world."
Katie's striking aesthetic is heavily influenced by her experience as a graphic designer. "Layering, muted tones, grittiness, realness and somewhat urban and slightly dark. Obviously, you need to evolve your style and as the years have gone, I have, but in essence, my preferred approach is one that would be related to these terms. I'd probably say the main photo inspiration, if only I had from the start, was a Danish photographer called Ditte Isager."
Katie likes to shoot in natural light, something she finds trickier in Dublin than in Sydney as our winter days are so short. "I never shoot purely with lights in fully blacked-out studios. No matter how good you think you are at lighting, I find it is extremely hard to replicate natural daylight with food."
She believes that most of what she has learnt was by failing. "I only learnt what cheese works best when you are styling and shooting a burger or what sort of cream to use on a pavlova through using totally the wrong ones, first time round. My motto is: "Fail to prepare, prepare to fail'. It has rung true for me every, single time."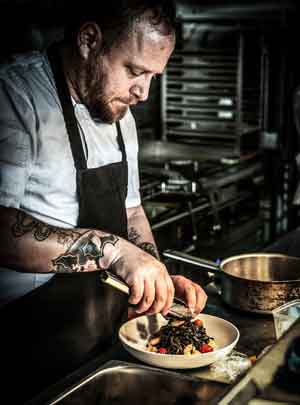 Katie emphasises the importance of preparation in food styling. "If I am doing a shoot where photographing, cooking and plating the food, I will do 80% of it the day before. Obviously, some things, like most meats, need to be shot on the day, but all garnishes, pasta, rice, some veg and other ingredients, can be cut, chopped, sliced, pre-cooked and prepared the day before and left in bowls of ice-cold water."
Most dishes take 20-40 minutes to photograph, after which time the food will have started to diminish in appearance. 
Katie's not a fan of too much trickery, opting to keep the food as natural as possible. "I might coat a burger patty with a little Worcestershire sauce or soy sauce mixed with a bit of runny honey," she reveals. This will bring dull-looking cooked meat back to life and make it look juicy and succulent. She refuses to use anything on food that is not edible.
"When we eat, we do so with our eyes and we are looking at the food from a 3D perspective. We also are able to smell it. When you photograph food, you are doing so to produce a 2D inanimate image, so you have to combine shooting angles along with the staging of the food to make it look as visually appetising in a flat photo as it would be when placed in front of the diner or reader."
She finds fillets of fish awkward to style and is not keen on wraps or anything wrapped in a tortilla. Katie prefers styling with her bare hands, although occasionally uses tweezers or cotton buds to clean up sauces. 
"I'm more a fan of loose style food and get a tad frustrated, where everything has to look too perfect. I like to throw pepper on the food! I have sort of become known for it with clients and even friends who, over the years, would always mess about and mimic me throwing sea salt and black pepper on their dinners."

Katie wrote her second book, What Katie Ate – at the Weekend the following year, and this was also a global success. 
Katie returned to her hometown of Dublin in 2017, and, most recently published wka – chopping board, a cookbook she wrote, styled, shot and designed on her own during Covid lockdown in 2020. 
This type of project differs greatly from commissioned work, where, as a food stylist, Katie would need a kitchen assistant to cook, style and photograph an average of six dishes per day. 
"If I'm working with another food stylist I can shoot more, as long as they are quick enough to get a dish out to me per hour or so." 
Depending on the shoot, she will have to source and buy all the food in advance and invoice the client.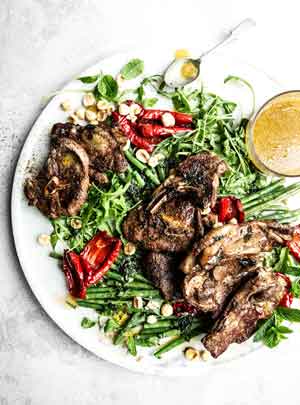 "This happens even if you are working on a large mainstream supermarket campaign." Katie has shot campaigns for Dunnes Stores, Sainsbury's and Tesco.
Katie has found props – all the beautiful tableware, linens, cutlery and cooking equipment you see in her work –  rather difficult to source in Dublin. "The market is just not big enough here to support the type of prop houses I regularly used in Sydney."  
Katie also owns a small collection, though cut down on these when moving. 
"I get bored of using the same stuff over and over. I tend now to buy the props as opposed to renting unless I need something very specific. I found vintage shops and a few markets were great in Sydney too and I pottered around them a lot looking for finds."
Her style has evolved since returning home, and she uses fewer props than in the past. "I like to focus more on the food itself and not allow other things to detract from it."

Explore & Book
Food & Drink Experiences
Vintage Afternoon Tea At Newbridge Silverware

What You'll Get The Good Food Ireland® Vintage Afternoon Tea at Newbridge Silverware with a Museum of Style Icons visit & a 20% Discount Voucher for Newbridge Silverware Shopping Included, and free car parking. Domo's restaurant in Newbridge...

The Gourmet Food Parlour Dinner Special Two Course

What You'll Get Your choice of two starters, two mains @€20.00 and two Coole Swan Coffees. Offer available Thursday to Saturday 5 pm – 9 pm and Sunday 5 pm – 8 pm Offer excludes the 10oz Ribeye – available for an additional €8.00...