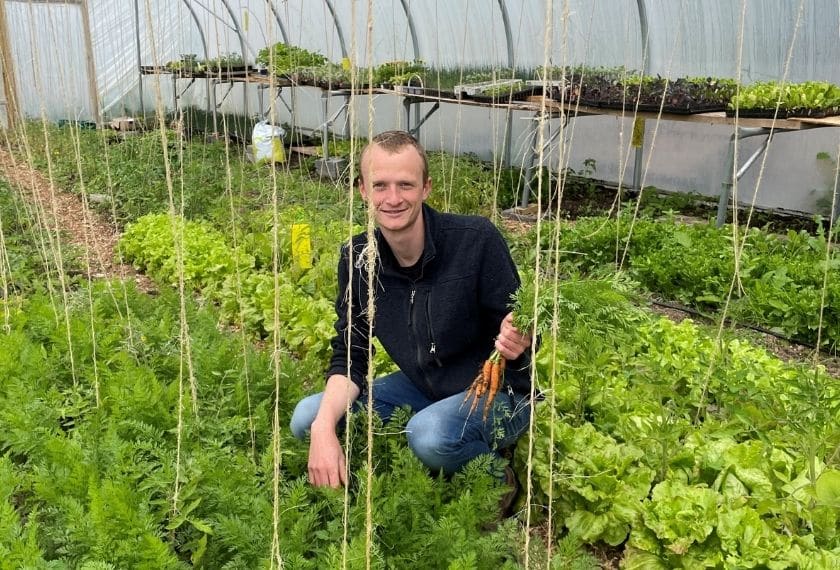 We are delighted to welcome Beechpark Eco Farm, Co. Dublin as an Approved Member of the Good Food Ireland® Collection.
Residents and visitors to Dublin City will be thrilled to discover that amongst our fair capital is Beechpark Eco Farm, a 20 acre farm that produces fresh seasonal produce throughout the year.
Located in Clonsilla, Beechpark Eco Farm is a progressive farm founded by the McDermott family and managed by David Taylor. Here David and his dedicated team cultivate fresh vegetable crops over a revolving 5 acres.
The cycle starts in the beautiful walled garden glasshouse where seeds are propagated in a temperature controlled environment. Once the seeds have developed they are transferred to the large polytunnel and brought on. Early-season produce is finished in the tunnel and the mid and late season is planted out in fields.
In order to keep pests away, David operates a natural system by encouraging ladybirds and planting household marigold flower which has a strong floral scent that helps to keep the pests off the fresh produce.
All these careful processes result in a bountiful supply of fresh produce that is available throughout the year.
Some of the fresh produce includes vine tomatoes, a wide range of salad, micro leaves, clearwater leaves, carrots, potatoes, parsnips, beetroot, brussel sprouts, broccoli, chard and much more.
So how do you get your hands on this supply of produce? Well, Beechpark Eco Farm runs a Farm Shop twice weekly on Wednesdays 4.30pm – 7pm and Saturdays 10am – 2pm. You've also the opportunity to avail yourself of their Vegetable Box service. This call & collect service features a box of seasonal produce priced at €15. Six items are included in the box and you can choose what's included from the list of available products. The collection takes place at the farm each Monday evening between 5pm – 6.30pm.
Why not grow your love of Irish produce with this fantastic offering from Beechpark Eco Farm.
Read More
Did you know that you can use your Good Food Ireland® Physical Gift Voucher in 200 Approved businesses across the island of Ireland, including Beechpark Eco Farm?
Buy Gift Voucher
Sign Up To Our Newsletter

Explore & Book
Food & Drink Experiences
Good Food Ireland® Picnic for Four – Co. Clare

What You'll Get The prelude to a great day out exploring the outdoors is having a tasty and satisfying picnic to enjoy on your travels. For families or small groups looking to explore the beauty of Co. Clare and enjoy some great local and homemade...

Mountain Lamb Farm Tour & Tasting on Achill Island – Co Mayo

What You'll Get Immerse yourself in the longstanding tradition of Blackfaced Mountain Sheep farming with an adventurous experience on Achill Island. The high hills and coastal splendour of Achill is home to this famous variety of sheep. You'll...

Unique Seafood Experience, Oyster Farm Tour & Tasting – Co Sligo

What You'll Get Enjoy a unique seafood experience when you tour a Sligo oyster farm with your guide Aisling. The experience offers an immersive guided tour and visits the working oyster farm on the shores of Sligo Bay, overlooked by the majestic...