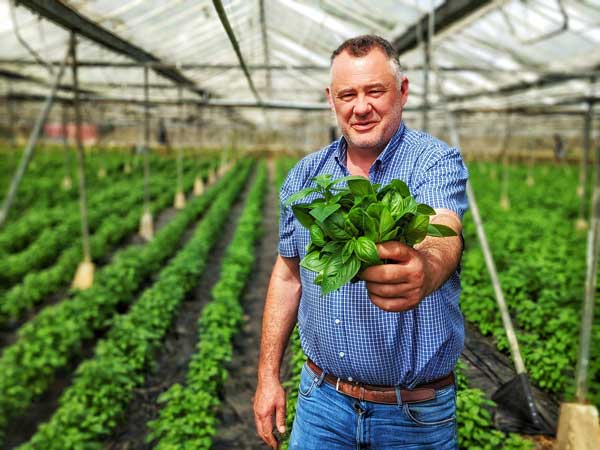 We are delighted to welcome McCormack Family Farm, Co. Meath as an Approved Member of the Good Food Ireland® Collection.
McCormack Family Farm is a father and sons family business that grows top quality fresh greens and herbs in Co. Meath.
The business was started back in the 1980s by Dad, Eddie McCormack who used his experience working in the agricultural industry to create his own range of homegrown produce. Since then the business has grown in leaps and bounds and now includes sons Stephen and Padraig.
The McCormack range is all about fresh top-quality greens served on your plate. They grow herbs, micro herbs, edible flowers and the most beautiful rocket and baby spinach that will elevate any fresh salad you whip up. We took a splendid tour of the new Spinach field and it would fill your heart to see the soft carpet of green velvet under a bright blue sky. Eating plant-based food is becoming mainstream but there's nothing ordinary about this farm or the McCormack family.
With more and more Irish consumers looking to Irish ingredients more so than to imported goods, Stephen McCormack has pioneered the new range of Micro Herbs that rival any imported product from France, Italy, the UK and beyond. McCormacks have the local & Irish solution to this massive wave of interest in Micro Herbs. The varieties are amazing and the quality is exceptional across the entire range.
McCormack Farm produce is available all over Ireland through local wholesalers and retailers – look out for the new Season Spinach.
Read More
Sign Up To Our Newsletter

Explore & Book
Food & Drink Experiences
Good Food Ireland® Picnic for a Family of Four – Co. Clare

What You'll Get The prelude to a great day out exploring the outdoors is having a tasty and satisfying picnic to enjoy on your travels. For families or small groups looking to explore the beauty of Co. Clare and enjoy some great local and homemade...

Mountain Lamb Farm Tour & Tasting on Achill Island – Co Mayo

What You'll Get Immerse yourself in the longstanding tradition of Blackfaced Mountain Sheep farming with an adventurous experience on Achill Island. The high hills and coastal splendour of Achill is home to this famous variety of sheep. You'll...

Taste the Atlantic with a Tour of a Sea Salt Visitor Centre – Co Mayo

What You'll Get Taste the essence of the Wild Atlantic Way with a tour of a Sea Salt Visitor Centre on Achill Island in Co. Mayo. This island has a long history of sea salt production which has been rejuvenated by a local family who have created...