CLOSED Win a Ballymaloe Foods Hamper with Good Food Ireland
---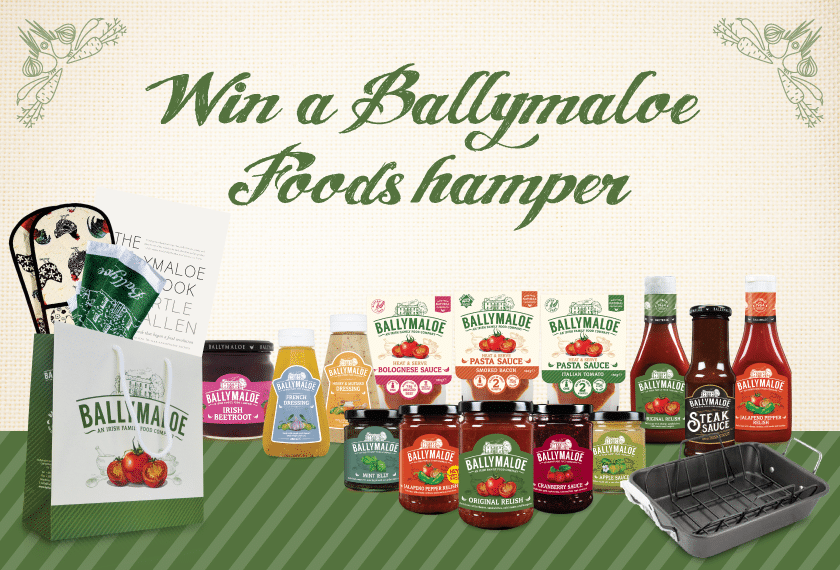 Be in for a Chance to Win a Hamper Packed full of Goodies from Ballymaloe Foods Including their Famous Relish and Range of Delicious Pasta Sauces
For many of us, the perfect addition to any good sandwich always includes a good dollop of Ballymaloe Country Relish, a great versatile product that can enrich many foods and dishes! Ballymaloe Foods has become one of Ireland's leading food brands creating something extra special for eager foodies.
The concept of the relish came to be on the Allen family Farm back in the 1930's, where Ivan Allen was planting tomatoes. To his dismay he found that there wasn't a big enough demand for tomatoes, so Ivan's wife Myrtle put on her culinary thinking hat and created a delicous tomato based relish recipe that went down a treat with all who sampled it!
Years later Ivan and Myrtle's daughter Yasmin used the recipe and created Ballymaloe Country Relish selling it to local shops and restaurants. The success of this venture is clearly evident in the large range of products that Ballymaloe Foods have since created. These include a range of pasta sauces, salad dressings and for those who like hot and spicy, a delicious Jalapeno Pepper Relish.
Good Food Ireland is now giving you a chance to sample this fantastic wide range of products from Ballymaloe Foods. Your kitchen cupboard or pantry will surely be the envy of friends and family!
Included in the hamper is:
Ballymaloe Original Relish
Ballymaloe Jalapeno Pepper Relish
Ballymaloe Cranberry Sauce
Ballymaloe Mint Jelly
Ballymaloe Apple Sauce
Ballymaloe Ham Glaze
Ballymaloe Steak Sauce
Ballymaloe French Dressing
Ballymaloe Honey & Mustard Dressing
Ballymaloe Bolognese Pasta Sauce
Ballymaloe Smoked Bacon Pasta Sauce
Ballymaloe Italian Tomato Pasta Sauce
Ballymaloe Foods Tea Towel
Myrtle Allen Cookbook
Arnott's Roasting Dish
Ulster Weavers Oven Glove
To be in for a chance to win this fantastic prize just answer the question below.
Competition Terms & Conditions
The prize entitles 1 winner to a Hamper of the Ballymaloe Foods Range

Please note this competition is open to E.U. residents only.

The promoters reserve the right to change any aspect of the prize
No purchase or payment of any kind is necessary to enter this competition
A valid entry consists of a correct answer entered in the online form below, accompanied by the entrant's name, email address, phone number and county of residence.
Entries not submitted in accordance with these rules will be disqualified.
This prize is not transferable nor may it be exchanged for cash
You must be aged 18 years or over to enter this competition
The winner may be required to participate in unpaid promotional related publicity undertaken by the promoter or its associated partners
The promoters' decision is final and binding in all matters and no correspondence will be entered into
The prize will be subject to any additional terms and conditions of the suppliers of the prize
Entry to this competition shall be deemed full and unconditional upon acceptance of the terms & conditions
The promoters are excluded from liability for any loss, damage or injury which might occur to the winner arising from his or her acceptance of the prize
These terms and conditions shall be governed by the laws of Ireland and subject to the jurisdiction of the Irish Courts
The winner will be notified by email and announced Good Food Ireland social media Facebook and Twitter
The competition is being run by Good Food Ireland
Competition Closes at Midnight June 28th 2017