NOW CLOSED WIN a Good Food Ireland Experience for Two at Wilde Irish Chocolates
---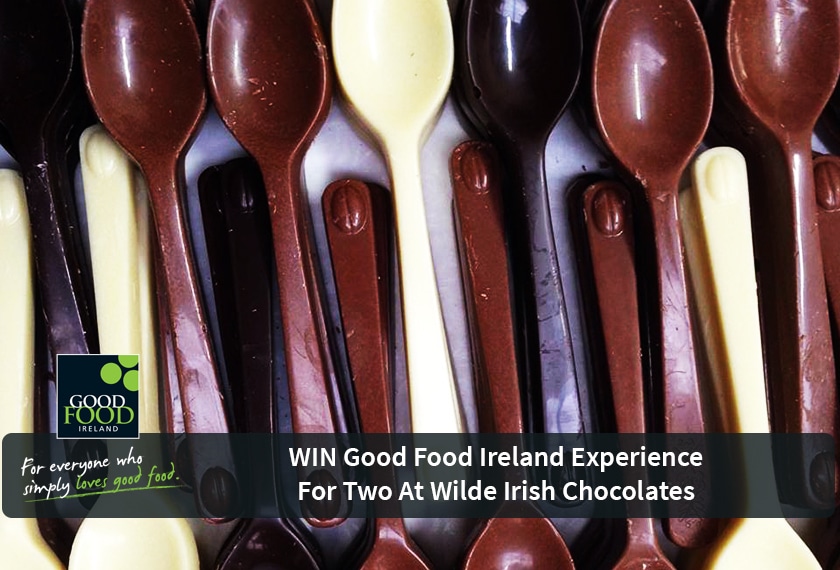 WIN a Good Food Ireland Experience for Two at Wilde Irish Chocolates
Ever wanted to really know what happens in a chocolate factory? We can't guarantee that you will see little orange dancing men but still it is something to behold! You can experience just this, as we are giving away two sets of tickets to Wilde Irish Chocolate's Taste & Make Sessions taking place on August 30th and September 27th.
Located in the wildes of Co. Clare (like our pun???) Wilde Irish Chocolates have been producing deliciously decadent chocolate for over 20 years. Headed up by Patricia Farrell and her husband Con, this food company knows how to put together a perfect bar of chocolate. Choose from a wide range of options which include Hazelnut Duet and Mindnight Mint to Peanut Butter and Mild Chocolate. Also available are a range of fudge, chocolate drops and chocolate spread… Heaven!
Over the coming months Wilde Irish Chocolates are celebrating the Taste of Lough Derg festival with a series of tours around their chocolate factory. The Taste & Make Sessions will give you the opportunity to see the ins and outs of a chocolate factory and how it works. You'll get to make your very own chocolate bars, choose what flavours to combine and pack them to take home, along with getting a taste of all the goodies that the factory produces. Also for those inquisitive minds, there will be ample opportunity to ask all your chocolate related questions. Sounds perfect right?
Discover more about Wilde Irish Chocolates on their profile page here >
To enter just answer the question below (top tip, the answer can be found on Wilde Irish Chocolate's profile page here)