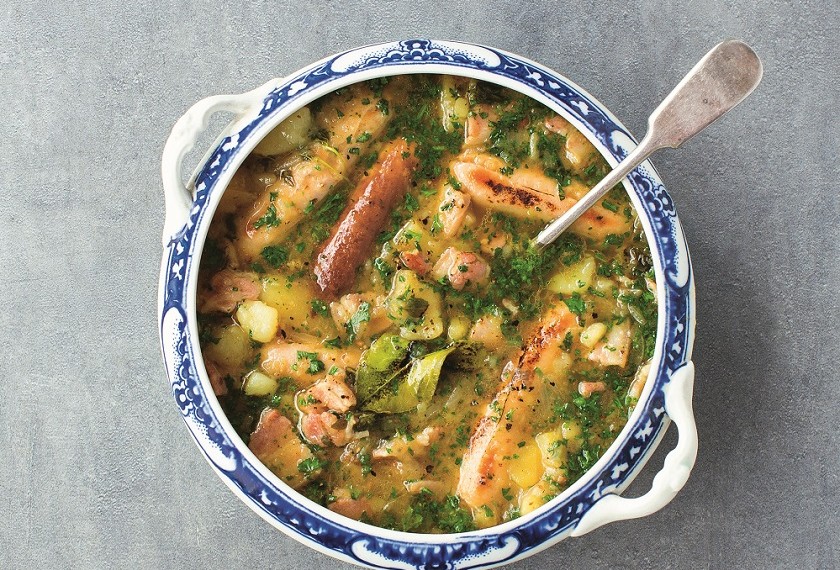 Ingredients
2 tablespoons rapeseed (canola) oil, plus extra if needed
500 g sausages, cut into pieces if preferred
500 g streaky (regular) bacon, cut into pieces
500 g onions, sliced
2 tablespoons chopped thyme
2 bay leaves
1 litre chicken stock1 kg (9 medium) potatoes, peeled and cut into chunks
4 tablespoons chopped parsley
freshly ground black pepper
Method
Warm the oil in a large pan over a medium heat. Add the sausages and bacon and fry for about 10 minutes until they have a nice colour. Remove the meat from the pan and set aside.
Add the sliced onions to the pan and a little more oil if necessary. Reduce the heat and fry for about 10 minutes so that the onions caramelize slowly.
When the onions have a nice colour, return the sausages and bacon to the pan and add the thyme and bay leaves. Cover with the chicken stock (broth) and return to the boil. Reduce the heat to a simmer and add the potatoes. Cook for about 30 minutes.
Add the chopped parsley and plenty of black pepper and serve.
Credit: The Irish Cookbook by Jp McMahon is published by Phaidon. Photography & Styling: Anita Murphy and Zania Koppe

You may also like
Simnel Cake

Ballymaloe House is home to the cooking dynasty of the Allen family, so you know you are in for a gastronomic treat when you dine here. This elegant country house has all the elements you will need to enjoy a relaxing full of great hospitality and of...

Traditional Roast Beef Dinner

The suburbs of Cork City are home to a little secret. Located near Douglas, just a short drive from the centre of the Rebel City, Maryborough Hotel and Spa is set in a private estate of mature grounds and gardens. You can sense the 300 years of history...