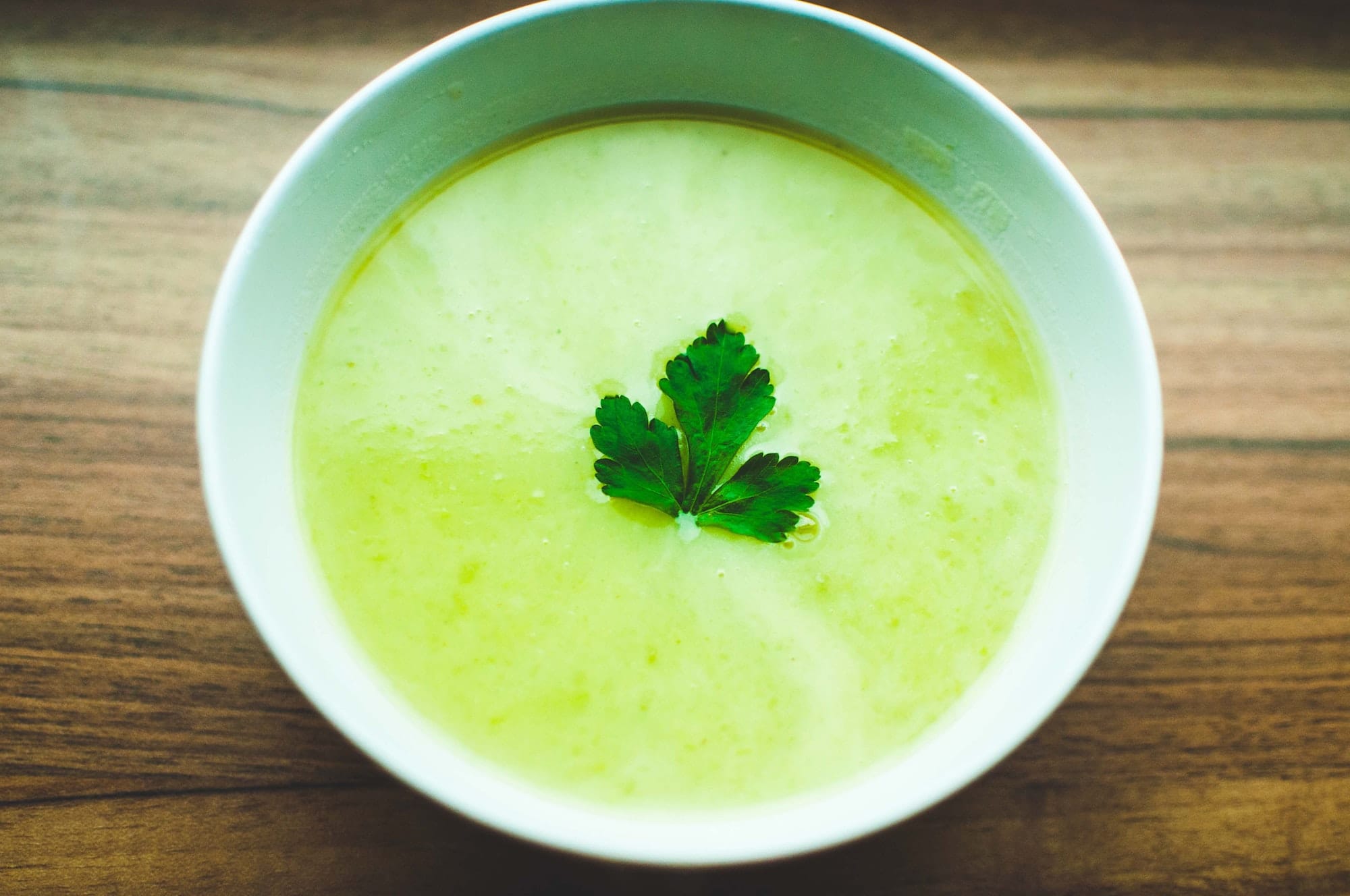 Ingredients
3 Tbsp. Donegal Rapeseed Oil
3 Shallots, finely sliced
 Thumb Sized Piece of Ginger, Grated
4 Garlic Cloves, finely sliced
1 Celeriac, peeled and diced
1.25 l Vegetable Stock
 Knob Butter
2 Sprigs Fresh Coriander, chopped
2 Sprigs Fresh Parsley, chopped
125ml Pouring Cream
Sea Salt
Black Pepper
Buy A Voucher
Method
1. Heat the oil in a large saucepan over low heat. Add the grated ginger, sliced shallots and garlic and lightly fry, stirring continuously. Cook until the shallots are soft.
2. Add the butter and allow it to melt before stirring in the celeriac and herbs. Pour over a generous gulp of the chicken stock and sweat the vegetables for 5 minutes, before adding the remaining stock. (Sweat the vegetables by adding a small amount of stock to prevent burning and seal with the lid of the saucepan to create as much steam and pressure as possible – this helps in tenderising the veg and releasing flavour)
3. Pour over the remaining stock and simmer with the lid on for 30 minutes, or until the celeriac is tender. Remove from the heat and allow to cool.
4. Pour in the cream and blend until smooth.
5. Season with salt and pepper to taste and serve with a teaspoon of fresh cream and a sprig of coriander.
Visit Our Shop

You may also like
Realt na Mara Oysters with Mignonette Sauce

Realt na Mara Shellfish was founded in 2015 by Micheál Sugrue and Emmet Casey. From their farm just outside of Killorglin Micheál and Emmet produce a range of high quality Irish Mussels and Irish Oysters. The unique environment lends itself to the...

Realt na Mara Steamed Mussels with White Wine Sauce

Founded in 2015 by Micheál Sugrue and Emmet Casey, Realt na Mara Shellfish produces a delicious range of Cromane Irish Oysters and Cromane Irish Mussels. Nutrients, taste and texture from the MacGillycuddy Reeks and the local Laune, Caragh and Maine...