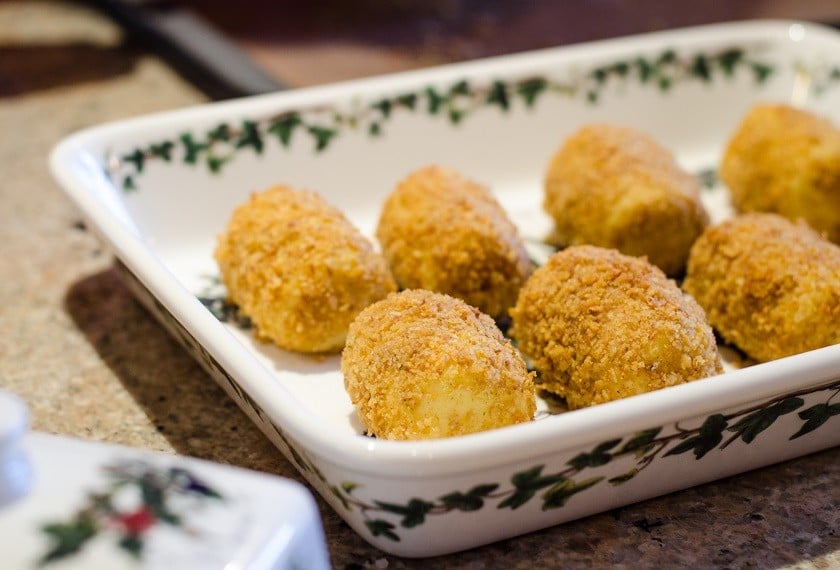 Ingredients
500g Keogh's Rooster, Maris Piper or Golden Wonder Potatoes (Peeling weight)
25g Butter
1 Large Whole Egg + 1 Egg Yolk
Salt & Ground White Pepper
A pinch of ground Nutmeg (Optional)
1 x 125g Keogh's Dubliner Irish Cheese & Onion
Crisps (Gluten Free)
Method
Wash and peel the potatoes then cut into even sized pieces. Boil or steam until fully cooked. Drain well then shake the saucepan over a low heat to dry off any remaining moisture.
Take one of the eggs; separate the yolk from the white, reserve the white for later.
Mash the potatoes while hot then mix in the egg yolk and the butter. Season well with salt and pepper and a little nutmeg. The consistency should be very smooth but not sticky.
Form the mixture into small cylinders each weighing approx 50g and measuring 5cms x 2.5cms. Place on a tray then refrigerate for 30-45 minutes.
Pulse the Keogh's Crisps in a food processor for approx 30 seconds until they form large crumbs. (Be careful not to over blitz) Remove from the processor into a dish.
Regulate the oven to 180°C /350°F /Gas Mark 4/Fan Oven 160°C.
Whisk together the whole egg and the remaining egg white.
Remove the potato croquettes from the fridge. Dip each croquette in the beaten egg to thoroughly coat the surface. Drain off any excess egg. Roll each croquette in the crisp crumbs then pat gently to secure the coating.
Place the croquettes on a baking sheet then bake for 15-20 minutes in the pre-heated oven; turn the tray around for even colour if needed.
Serve Immediately

You may also like
Simnel Cake

Ballymaloe House is home to the cooking dynasty of the Allen family, so you know you are in for a gastronomic treat when you dine here. This elegant country house has all the elements you will need to enjoy a relaxing full of great hospitality and of...

Traditional Roast Beef Dinner

The suburbs of Cork City are home to a little secret. Located near Douglas, just a short drive from the centre of the Rebel City, Maryborough Hotel and Spa is set in a private estate of mature grounds and gardens. You can sense the 300 years of history...