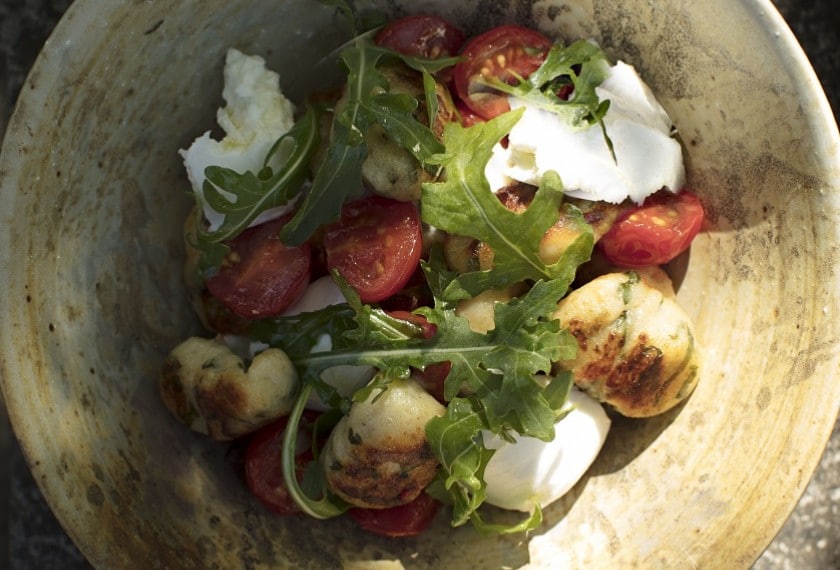 Ingredients
300g cherry tomatoes
about 40 gnocchi
olive oil
2 cloves garlic, finely chopped
2 tbsp baby capers, (rinsed)
1 bunch rocket leaves
4 tbsp olive oil
1 packet buffalo mozzarella
10 basil leaves, chopped f
freshly ground pepper
Parmesan, for grating
Method
The sauce that is served with the gnocchi here is similar to a warm vinaigrette. The capers provide the acidity and the saltiness which balances the softness of the potatoes, the freshness of the semi dried tomatoes and the lusciousness of the buffalo mozzarella. Add a handful of rocket and you have a dish full of textures and flavours.
Preheat the oven to 100˚C, 80˚C Fan, 225˚F, Gas ¼.
To make semi-sundried tomatoes: Cut each tomato in half and lay on a baking tray. Sprinkle with sea salt and drizzle over some olive oil. Bake for 1 hour or until the tomatoes are semi-dried. These tomatoes will hold in the fridge for a couple of weeks.
To pan fry the gnocchi : Heat 2 tablespoons of olive oil and add the gnocchi (you will probably have to fry them in two batches). Sauté until golden brown on both sides.
Remove them from the pan.
Heat another tablespoon of olive oil in the pan and add the garlic. Cook gently without colouring for about 30 seconds before adding the capers and oven-dried tomatoes. Warm over the heat and then return the gnocchi to the pan. Toss the gnocchi and tomatoes together gently. Break the mozzarella into chunks with your hands and add to the pan along with the basil. Remove the pan from the hob. The mozzarella will soften slightly with the residual heat but will remain in chunks. Spoon the gnocchi onto plates and sprinkle with a generous dusting of Parmesan. Finish with a grinding of black pepper.
Drizzle olive oil lightly over the rocket and scatter over the dish.

You may also like
Simnel Cake

Ballymaloe House is home to the cooking dynasty of the Allen family, so you know you are in for a gastronomic treat when you dine here. This elegant country house has all the elements you will need to enjoy a relaxing full of great hospitality and of...

Traditional Roast Beef Dinner

The suburbs of Cork City are home to a little secret. Located near Douglas, just a short drive from the centre of the Rebel City, Maryborough Hotel and Spa is set in a private estate of mature grounds and gardens. You can sense the 300 years of history...