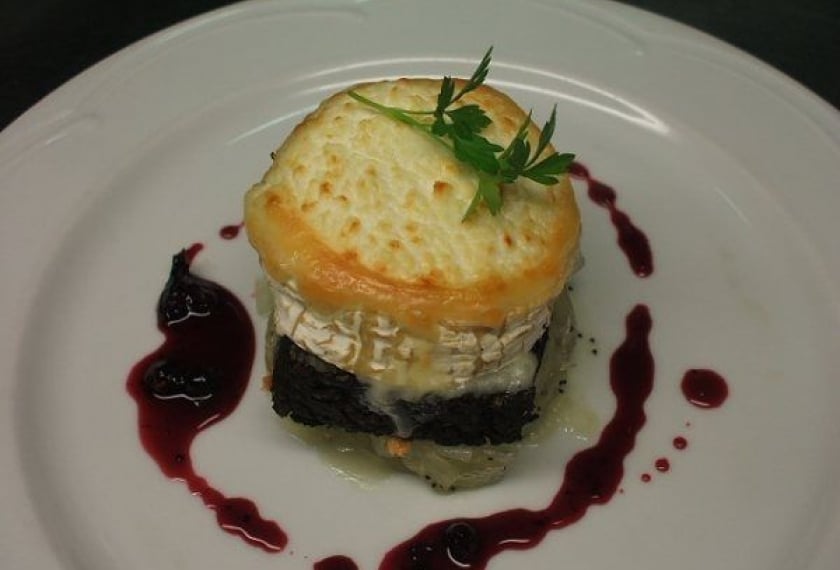 Ingredients
1 slice of Gortnamona Goats Cheese

1 slice of Inch House Traditional Black Pudding

1 Onion

3 oz Water

3 oz Sugar

Poppy Seeds

Sprig of Parsley

Selection of Seasonal Berries Sweetened & Softened
Buy A Voucher
Method
On the Hob Fill a large saucepan with water, and heat to just below simmering. Place the chocolate in a heatproof bowl, such as stainless steel, and place the bowl in the water. Gently and constantly stir the chocolate while keeping the water below simmering.
Microwave: Place room temperature chocolate in a microwave-safe bowl. Microwave at medium power. The chocolate won't completely melt, but it will turn glossy and soft to the touch. Remove from the microwave and stir to finish melting. Microwave 1 ounce of chocolate for about 90 seconds; 6 ounces for about 31/2 minutes, stopping halfway through to stir the chocolate. Since times are approximate, always start with the suggested melting time and repeat in 30-second intervals. Once you've melted chocolate, use it immediately. If necessary, you can hold chocolate over a bowl of warm water for a short time.
Visit Our Shop

You may also like
Realt na Mara Oysters with Mignonette Sauce

Realt na Mara Shellfish was founded in 2015 by Micheál Sugrue and Emmet Casey. From their farm just outside of Killorglin Micheál and Emmet produce a range of high quality Irish Mussels and Irish Oysters. The unique environment lends itself to the...

Realt na Mara Steamed Mussels with White Wine Sauce

Founded in 2015 by Micheál Sugrue and Emmet Casey, Realt na Mara Shellfish produces a delicious range of Cromane Irish Oysters and Cromane Irish Mussels. Nutrients, taste and texture from the MacGillycuddy Reeks and the local Laune, Caragh and Maine...