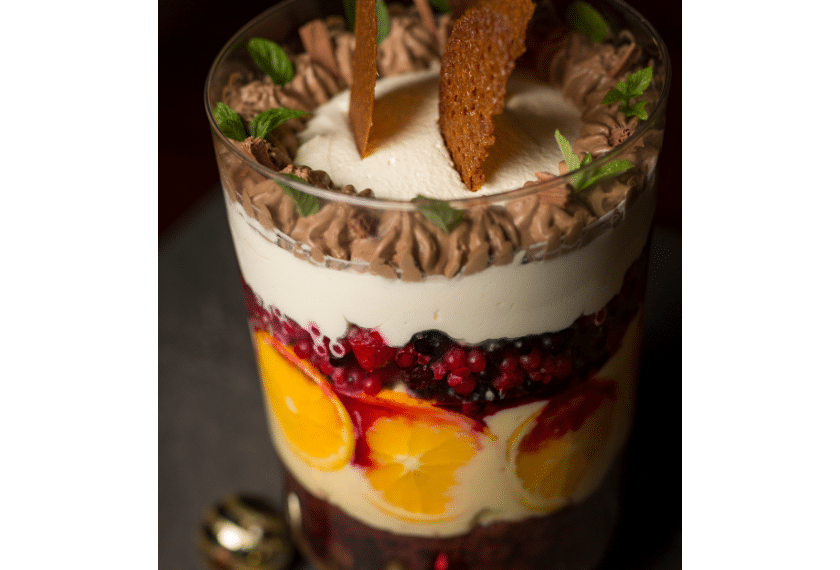 Ingredients
For the Jelly Base
1 large tin of black cherries strain and keep stock 400ml
A good pinch of ginger and mixed spice
1 clove and 1 star anise
300g chocolate sponge
3 leafs gelatine
For the Custard
1 Vanilla pod
600ml cream
150g castor sugar
4 large free range egg yolks
For the Topping
600ml freshly whipped cream
Fresh cherries
Chocolate shavings
Method
To make the Jelly Base
Allow the gelatine to bloom in ice cold water.
Warm the syrup with the spices.
Cube the sponge and put in the base of the trifle mould with cherries.
Put soften gelatine in the syrup, a little bit of sherry or crème de cassis can be added if you like it.
Strain over the sponge and allow to set in the fridge
To make the Custard
Boil the cream, beat the egg yolks, sugar and scraped vanilla pod together until light and fluffy.
Pour over some of the boiled cream continue whisking until all cream has been added then return to the heat and heat gently until coats back of a spoon.
Strain and allow to cool before pouring on the set jelly.
Whisk the cream and put on top of the custard.
Leave in fridge overnight to allow layers to set together.
Garnish with fresh cherries mint and chocolate.
This is a base of any trifle, if you don't like cherries as the base you can use strawberry or any fruit. Jenny loves cherries especially around Christmas, you can also add chocolate to the custard mixture. You have endless ideas with this one.

You may also like
Simnel Cake

Ballymaloe House is home to the cooking dynasty of the Allen family, so you know you are in for a gastronomic treat when you dine here. This elegant country house has all the elements you will need to enjoy a relaxing full of great hospitality and of...

Traditional Roast Beef Dinner

The suburbs of Cork City are home to a little secret. Located near Douglas, just a short drive from the centre of the Rebel City, Maryborough Hotel and Spa is set in a private estate of mature grounds and gardens. You can sense the 300 years of history...