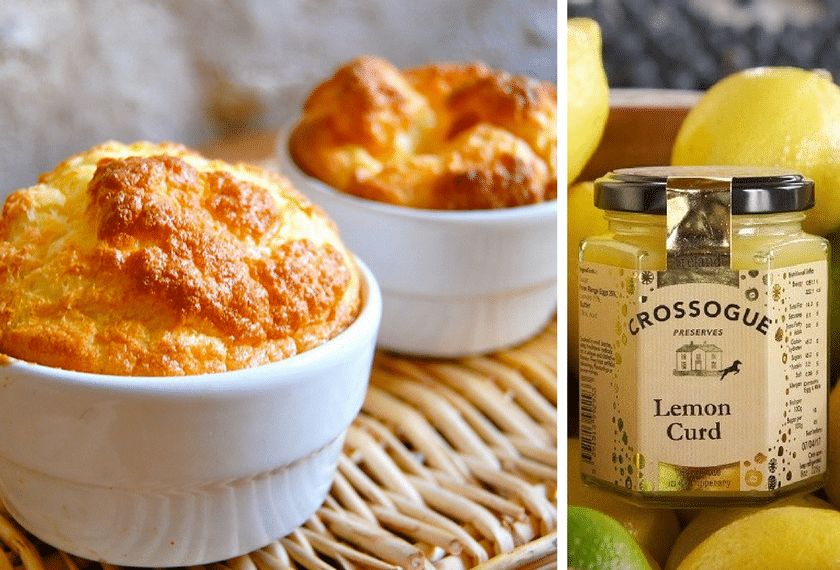 Ingredients
10g melted butter (to grease)
5 tablespoons caster sugar
30g butter
1 tablespoon plain flour
½ cup milk
4 eggs (separated, at room temperature)
2 tablespoons lemon juice
120g Crossogue Preserves Lemon Curd
Method
Preheat oven to 200°C. Place a large baking tray in lower half of oven.
Grease six 175ml ramekins with melted butter.
Sprinkle with 2 tablespoons sugar to coat.
Melt butter in small, heavy based saucepan over medium heat until foaming.
Add flour and cook, stirring with a wooden spoon for 2 minutes until mixtures bubbles. Remove from heat.
Gradually stir in milk and return to heat, stirring until mixture thickens. Remove from heat and transfer to a large bowl.
Stir in remaining sugar, 2 egg yolks and lemon juice. Set aside to cool.
Beat 4 egg whites until peaks form. Using a metal spoon, stir ¼ of the egg white into the lemon mixture. Fold in the remaining egg white.
Spoon the lemon curd into each of the ramekins. Pour the lemon mixture on top, leaving 1cm below rim. Tap the base of each ramekin to remove air pockets. Smooth the tops.
Place ramekins on hot baking tray. Bake for 15 minutes or until light golden brown and puffed. Serve with cream.

You may also like
Simnel Cake

Ballymaloe House is home to the cooking dynasty of the Allen family, so you know you are in for a gastronomic treat when you dine here. This elegant country house has all the elements you will need to enjoy a relaxing full of great hospitality and of...

Traditional Roast Beef Dinner

The suburbs of Cork City are home to a little secret. Located near Douglas, just a short drive from the centre of the Rebel City, Maryborough Hotel and Spa is set in a private estate of mature grounds and gardens. You can sense the 300 years of history...