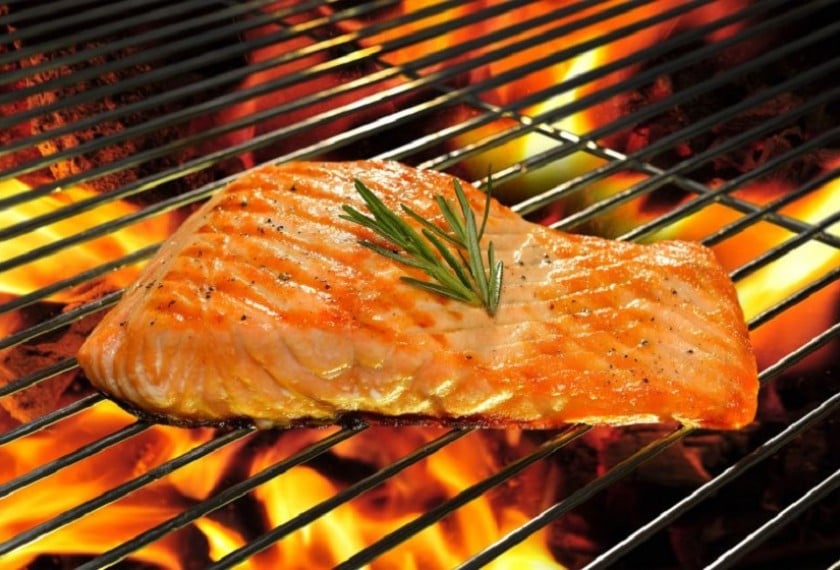 Ingredients
2 slices per person or 1 big darn of Burren Hot Smoked Irish Organic Salmon, plain
1/2 cup peanut oil (or toasted sesame seed oil)
4 tblsp. soy sauce
4 tblsp. balsamic vinegar
4 tblsp. scallions, chopped
2 cloves of garlic, minced
3 tsp. brown sugar
1 1/2 tsp. ground ginger
2 tsp. red pepper flakes
1/2 tsp. salt
1 tsp. sesame oil
Method
Place the smoked salmon slices or pieces of darns in a medium-sized, non-porous casserole dish. In a separate medium bowl, combine all the ingredients for the sauce and whisk them together well, and pour over the fish. Cover the dish with cling film, and marinate the fish in the refrigerator for 4 to 6 hours.
Prepare an outdoor grill with coals about 5 inches (10 cm) from the grate. Double up tin foil and stick some holes into it with a knife to let the smoke through. Place the tin foil onto the grill, and the salmon slices / darns on top, and heat them up gently. The salmon is already "cooked", so all you need to do is heat it up to bring out all the flavours.

You may also like
New Season Irish Carrot Cake

International Guest Chef Fred Cordonnier. Recipe baked by Aisling Boggan from team Good Food Ireland.

Greek Yogurt, Lemon Zest and Pistachio Pancakes

Since 1990, the Faughnan family of Dromod, Co. Leitrim have been ensuring the traditional Irish food, boxty remains a key part of Irish food culture with their Dromod Boxty food business.