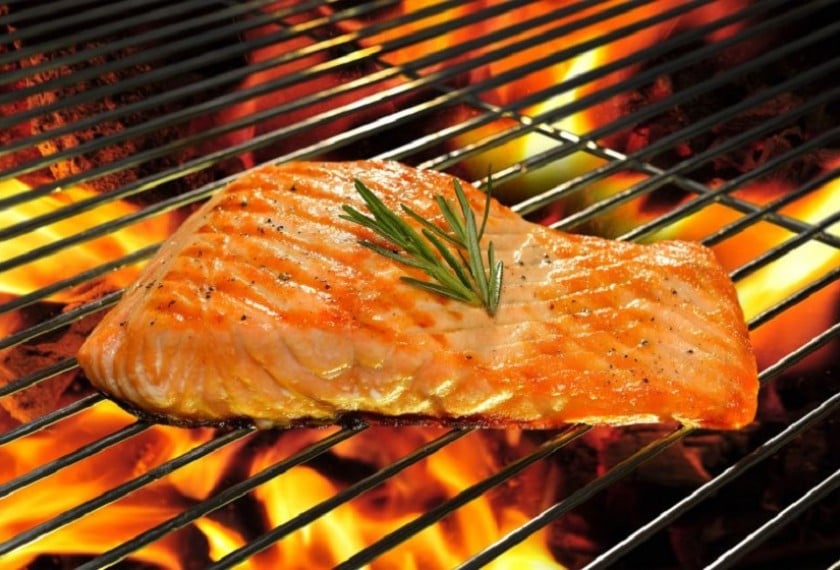 Ingredients
2 slices per person or 1 big darn of Burren Hot Smoked Irish Organic Salmon, plain
1/2 cup peanut oil (or toasted sesame seed oil)
4 tblsp. soy sauce
4 tblsp. balsamic vinegar
4 tblsp. scallions, chopped
2 cloves of garlic, minced
3 tsp. brown sugar
1 1/2 tsp. ground ginger
2 tsp. red pepper flakes
1/2 tsp. salt
1 tsp. sesame oil
Method
Place the smoked salmon slices or pieces of darns in a medium-sized, non-porous casserole dish. In a separate medium bowl, combine all the ingredients for the sauce and whisk them together well, and pour over the fish. Cover the dish with cling film, and marinate the fish in the refrigerator for 4 to 6 hours.
Prepare an outdoor grill with coals about 5 inches (10 cm) from the grate. Double up tin foil and stick some holes into it with a knife to let the smoke through. Place the tin foil onto the grill, and the salmon slices / darns on top, and heat them up gently. The salmon is already "cooked", so all you need to do is heat it up to bring out all the flavours.

You may also like
Simnel Cake

Ballymaloe House is home to the cooking dynasty of the Allen family, so you know you are in for a gastronomic treat when you dine here. This elegant country house has all the elements you will need to enjoy a relaxing full of great hospitality and of...

Traditional Roast Beef Dinner

The suburbs of Cork City are home to a little secret. Located near Douglas, just a short drive from the centre of the Rebel City, Maryborough Hotel and Spa is set in a private estate of mature grounds and gardens. You can sense the 300 years of history...