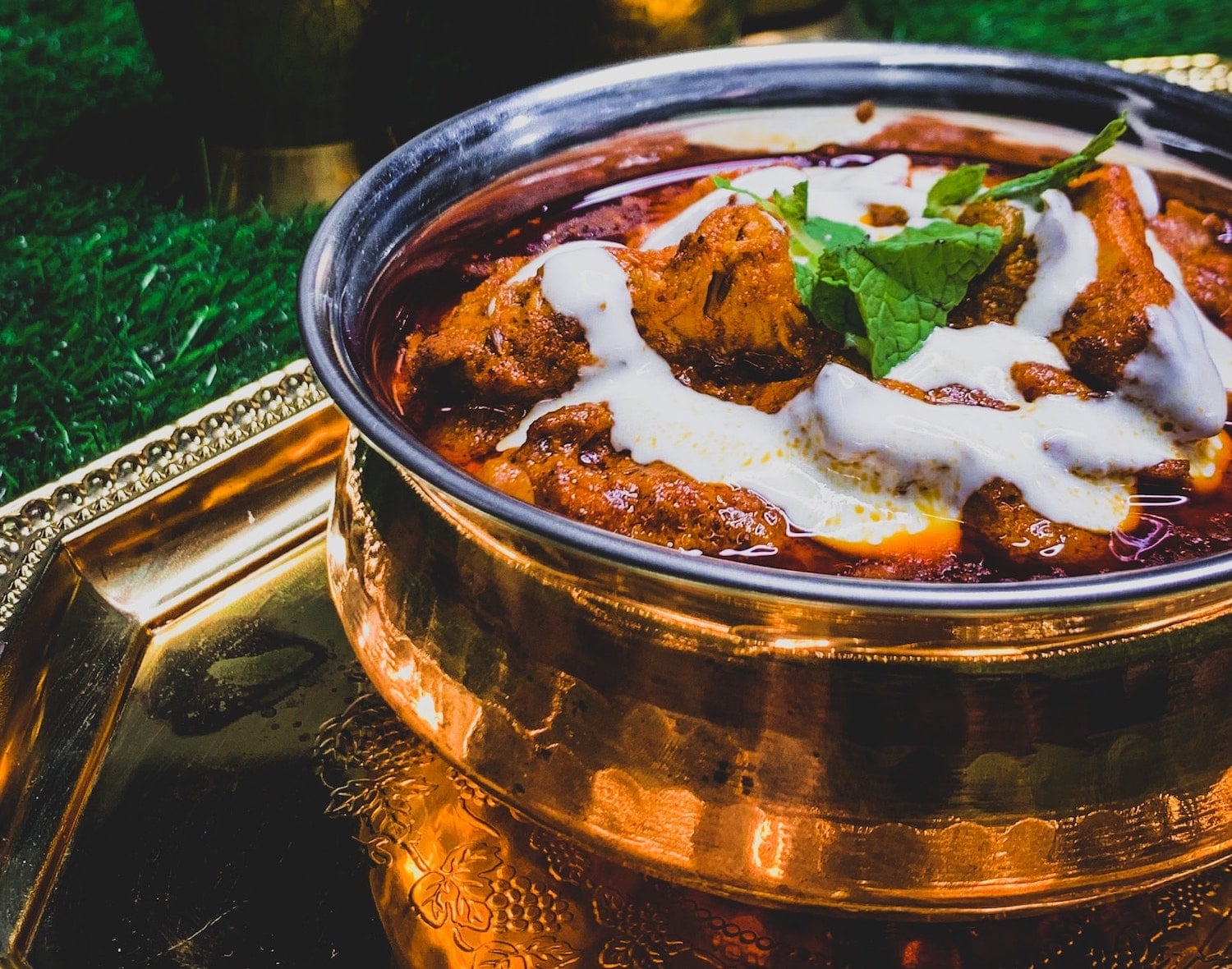 Ingredients
2 x 750g free-range young chickens, skinned, cut in half along the backbone (or 800g boned chicken thighs, halved)
For the marinade
80g full-fat Greek yoghurt

1 tbsp ginger and garlic paste (see below)

1 tbsp vegetable oil

1½ tsp salt

Juice of 1 lemon

1 tbsp red chilli powder

1 tsp ground cumin

½ tsp garam masala*
For the sauce
1kg tomatoes, halved

5cm piece of ginger, half crushed and half finely chopped

4 garlic cloves, peeled

4 green cardamom pods

5 cloves

1 bay leaf

1 tbsp red chilli powder

80g butter, diced

2 green chillies, slit lengthways

75ml single cream

1 tsp salt

1 tbsp dried fenugreek leaves, crushed between fingertips

½ tsp garam masala

1 tbsp sugar
For the ginger and garlic paste (makes more than you need)
75g garlic, peeled

100g ginger, peeled

175ml water
The extra ginger garlic paste can be stored in an airtight container in the refrigerator. If you wish to extend the shelf life of the paste replace water with oil.
GARAM MASALA INGREDIENTS
 

1 tbsp cardamom seeds (if you can't buy the seeds then buy cardamom pods and shell them)

 

1 tsp black peppercorns

 

1 tsp black cumin seeds (you can use regular cumin seeds if black aren't available)

 

1 tsp whole

cloves

 

1/3 of a whole

nutmeg

(you can break a whole

nutmeg

by placing it on a cloth and bashing it with a meat mallet or rolling pin)

 

A medium stick of cinnamon, about 5-8cm/2-3 inches, broken up into 3-4 pieces
Buy A Voucher
Method
 To make the ginger and garlic paste, blitz the ginger and garlic with the water in a processor. 
 Make small cuts all over the chicken pieces to help the marinade penetrate. 
Mix all marinade ingredients in a deep ovenproof dish. Smear chicken with marinade, cover and refrigerate for 10 minutes.
Preheat oven to 220C/425F/Gas 7. Cook the chicken for 13-15 minutes. You may need to turn the pieces after eight to 10 minutes to ensure they colour evenly. The chicken does not need to be completely cooked at this point as it will continue to cook in the sauce.
 Cut the chicken into smaller pieces. Strain off the juices through a fine sieve and set aside.
For the sauce, place the tomatoes in a pan with 125ml water along with the crushed ginger, garlic, cardamom, cloves and bay leaf and simmer for about 10 minutes over medium heat until the tomatoes have disintegrated. Pick out the larger spices, then blend with a hand-held blender and pass it through a sieve for a smooth purée. Return the puree to a clean pan, add the chilli powder and simmer for 12-15 minutes. It should slowly begin to thicken.
When the sauce turns glossy, add the chicken pieces and the roasting juices. Then add 200-250ml water and simmer for three to five minutes until the sauce turns glossy and water is absorbed.

 

Whisk in the butter, a couple of pieces at a time, and simmer for six to eight minutes, until the chicken is cooked through. Add the chopped ginger, green chillies and cream and simmer for a minute or two taking care that the sauce does not split. Stir in the salt, fenugreek and garam masala, then check the seasoning and add the sugar. Serve with naan bread or pilau rice.
GARAM MASALA
Dry roast all ingredients until fragrant and blitz together in a coffee grinder or spice blender.
Visit Our Shop

You may also like
Realt na Mara Oysters with Mignonette Sauce

Realt na Mara Shellfish was founded in 2015 by Micheál Sugrue and Emmet Casey. From their farm just outside of Killorglin Micheál and Emmet produce a range of high quality Irish Mussels and Irish Oysters. The unique environment lends itself to the...

Realt na Mara Steamed Mussels with White Wine Sauce

Founded in 2015 by Micheál Sugrue and Emmet Casey, Realt na Mara Shellfish produces a delicious range of Cromane Irish Oysters and Cromane Irish Mussels. Nutrients, taste and texture from the MacGillycuddy Reeks and the local Laune, Caragh and Maine...