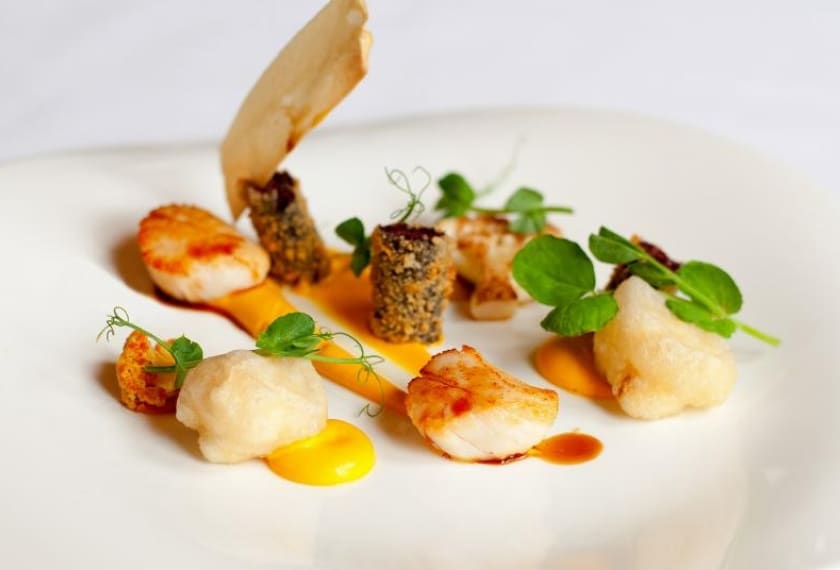 Ingredients
Buy A Voucher
8 Large king scallops
Cauliflower (A good-sized cauliflower as it's needed for several components of the dish)
Bread for breadcrumbs
Some Sorrell for serving (optional)
Ingredients for the batter
25cl lager beer
2 eggs + 3 eggs white whipped hard
200gr flour
2cl oil
Ingredients for the sauce:
2 string of fresh lavender (or dried)
25 cl of beef stock
Ingredients for black pudding croquette:
250gr of Kelly's butcher black pudding
50 gr of onion & apple puree

Method
Recipe from by Executive Head Chef Philippe Farineau from Mount Falcon Method.
For the batter:
Take a large mixing bowl and add the sieved flour with 2 eggs and the oil.
Poor the beer and whisk it well.
Add the 3 hard whipped eggs white delicately to the mixed.
Keep in the fridge until ready to use (up to 2 days maximum).
For the Sauteed Cauliflower:
Divide the cauliflower into 3 large bouquets.  For this part, take 8 small sections of the cauliflower bouquet, keeping the stems.
Pan fry it slowly in a frying pan with a dash of olive oil, butter, and a drop of water.
You should have a nice golden colour on one side then turn it and finish cooking it slowly.
You may need to add some water. Keep it Hot.
For the Cauliflower puree:
Cut half of the cauliflower and thin slices, discarding the stem this time.
Place in a saucepan with 25cl of milk, season with salt and pepper, and cover with a lid.
Cook over medium heat for about 12 minutes until tender.
Remove some of the milk and transfer to an upright blender and blend until a very smooth puree. Keep it hot.
For the Cauliflower Beignet
keep some smaller buds of cauliflower and blanch in boiling water for 30 seconds.
Refresh it straight away under cold water.
Dip the small cauliflower into the batter mix and fry it in hot oil (180 degrees) for 3-4 minutes until golden and crispy.
For the Sauce:
Boil the beef stock and infuse the lavender for few minutes.
For the Black Pudding Croquette:
Blend the black pudding and add the puree.
Pipe the mix onto a parchment paper, the size of a finger, and freeze it.
You should have about 8 pieces.
Breadcrumb the pieces when you're ready to serve the dish and deep fat fry the croquette before you serve it.
Finish the dish:
Sear 8 Large king scallops quickly in a hot pan, 2 minutes on each side.
Serve each person 2 scallops with a spoon of cauliflower puree, 2-3 nice golden crispy cauliflower beignet and 1 sauteed cauliflower, 2 fingers of deep-fried black pudding.
Additional touches: add a few leaves of the wood sorrel and a little drizzle of the lavender sauce.

You may also like
Spinach & Irish Greek Style Cheese Rolls

This delicious recipe if from McCormack Family Farm, a Father and Sons team with a taste for excellence and passion for produce has excelled in creating a range of products that is both innovative and commercial in nature.

Raspberry Fool

Irish Raspberry Fool is one of the simplest desserts, made with just 3 ingredients. All you need to do to enjoy this mouthwatering dessert from Ballymaloe Cookery School is to swirl pureed raspberries togheter with fresh whipped cream.