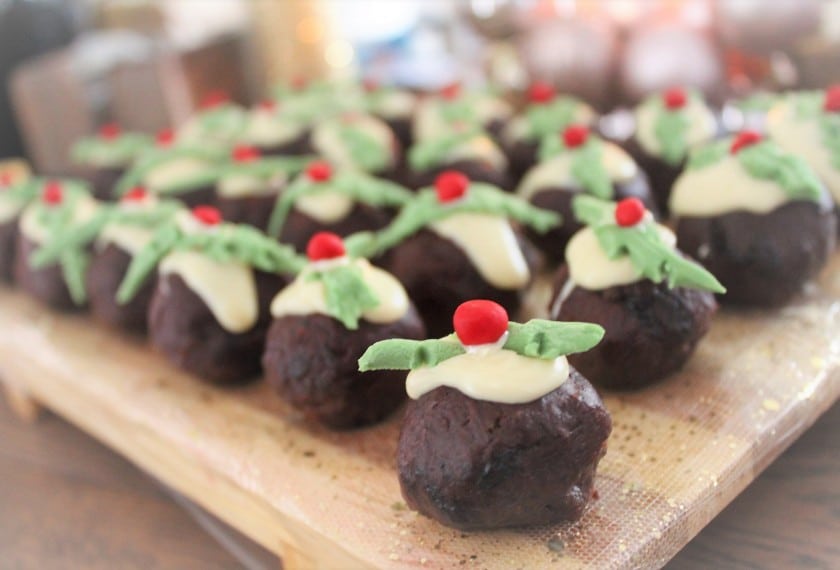 Ingredients
For the Shortcross Mincemeat:
250g raisins
375g currants
100ml Shortcross Gin
1 lemon zested
½ lemon juiced
300g shredded suet
250g dark brown sugar
85g chopped mixed peel
½ small nutmeg grated
1 large Bramley apple peeled and chopped
For the Bon Bons:
125g best quality dark chocolate
350g Shortcross Infused Mincemeat
60ml Shortcross Gin
2 tbsp Golden Syrup
100g white chocolate
Red Royal Icing
Green Royal Icing
Method
Soak the raisins and currants in the Shortcross Gin and lemon juice for 1 hr until plumped up, then drain and set the gin aside. Mix all the ingredients together then pour in the gin when everything else is well mixed. Spoon and press into jars. Cover and leave for as long as possible.
Line a baking sheet with cling-film or baking parchment and set it to one side.
Melt the dark chocolate in a heatproof bowl above a pan of simmering water, or in the microwave gently – checking and stirring regularly.
Crumble the prepared Shortcross Gin infused mincemeat into a bowl, add the additional 60ml Shortcross Gin and golden syrup and stir briskly till all is incorporated.
Pour in the melted dark chocolate and stir again.
Allow mixture to chill in the fridge for ten minutes. Pinch out small little pieces of the mixture in roll in your hands to make small balls of mixture.
Place onto the lined baking sheet. Once all the mixture has been used, place the bon bons in the fridge again for another ten minutes.
To decorate, melt the white chocolate then let it cool for about 5 minutes. In the mean time, mould the red and green icing into holly (pictured)
Using a teaspoon, drip a little of the white chocolate on each bonbon, then arrange the holly on top.
Chill again – if kept cold the bon bons will last for a few weeks!
Happy Bon-Bon making!

You may also like
Simnel Cake

Ballymaloe House is home to the cooking dynasty of the Allen family, so you know you are in for a gastronomic treat when you dine here. This elegant country house has all the elements you will need to enjoy a relaxing full of great hospitality and of...

Traditional Roast Beef Dinner

The suburbs of Cork City are home to a little secret. Located near Douglas, just a short drive from the centre of the Rebel City, Maryborough Hotel and Spa is set in a private estate of mature grounds and gardens. You can sense the 300 years of history...