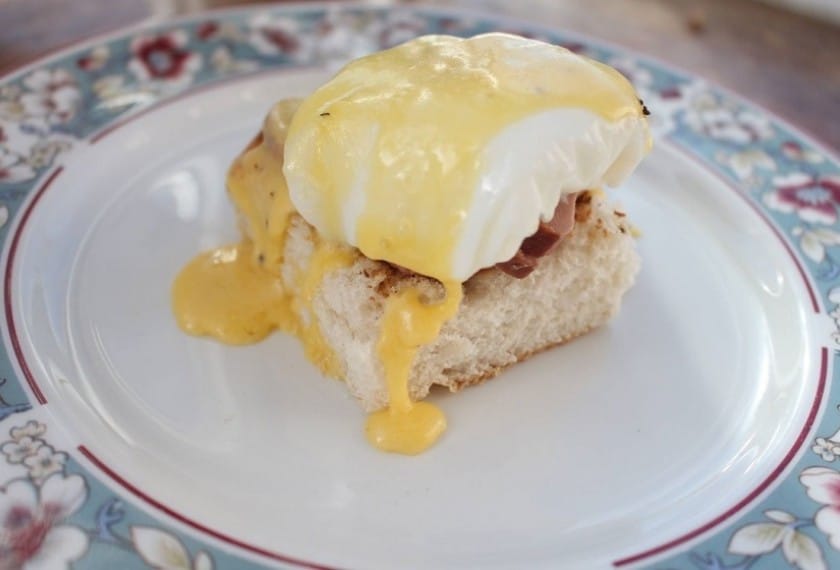 Ingredients
100mls hollandaise sauce
1 egg
4 slices of Skeaghanore Duck Smoked Duck Breast
1 slice of brioche/ blaa bun/ gluten free bread
For the Hollandaise sauce:
4 egg yolks
20mls white wine vinegar
220g of melted butter
Salt and pepper to taste
Tarragon if you wish
Method
Hollandaise: (this makes about 400ml of sauce)
Bring a pot of water to the boil
Separate your 4 eggs into white and yolk
Place the egg yolk, white wine vinegar, salt and pepper into a heat proof bowl
Turn off the water and place the yolk mix over the boiled water
Whisk your egg yolk until it lightens slightly in colour
Slowly add the melted butter whisking the whole time – if there is no one there to assist you, add a little at a time in stages then whisk thoroughly between each addition
Once all the butter is added, sieve the mix into a clean heat proof bowl and leave sit over the hot water, mixing every couple of minutes so it does not lump
Benedict:
Preheat your grill to a medium to high heat
Poach your egg to how you like it – running/hard poached (make it easy, place the cracked egg into some cling film, and place in the water – perfect egg everything)
Toast your choice of bread, once you've toasted your bread, lay the smoked duck on top
Drain your poached egg and place on the smoked duck and generously pour the hollandaise sauce over
Place underneath the grill until golden brown, you can add some cracked black pepper or some parsley to finish

You may also like
Simnel Cake

Ballymaloe House is home to the cooking dynasty of the Allen family, so you know you are in for a gastronomic treat when you dine here. This elegant country house has all the elements you will need to enjoy a relaxing full of great hospitality and of...

Traditional Roast Beef Dinner

The suburbs of Cork City are home to a little secret. Located near Douglas, just a short drive from the centre of the Rebel City, Maryborough Hotel and Spa is set in a private estate of mature grounds and gardens. You can sense the 300 years of history...