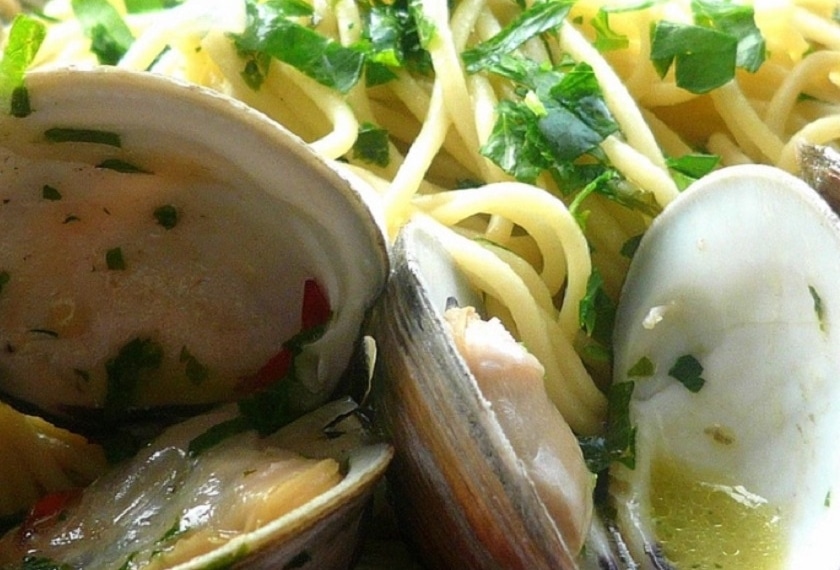 Ingredients
2 tablespoons finely chopped fresh flat-leaf parsley
1 tablespoon plus ¼ cup olive oil
Kosher salt and freshly ground black pepper
4 large garlic cloves, thinly sliced
¾ teaspoon crushed red pepper flakes
¼ cup dry white wine
2 pounds littleneck clams, scrubbed
12 oz. Spaghetti
Method
Heat ¼ cup extra virgin olive oil in a large pot over medium heat. Cook garlic and red pepper flakes, stirring occasionally, until garlic is softened, about 2 minutes. Add wine, bring to a boil, and cook until reduced by half, about 2 minutes.
Add clams and increase heat to medium-high; cover pot. Cook, shaking pot occasionally, until clams have opened, 5–8 minutes (discard any that do not open). Season with salt and pepper.
Meanwhile, cook pasta in a large pot of boiling salted water, stirring occasionally, until al dente. Drain, reserving 1 cup pasta cooking liquid.
Add pasta and ½ cup pasta cooking liquid to clams and toss to coat. Add fresh flat leaf parsley. Cook, tossing and adding more cooking liquid as needed, until sauce coats pasta, about 2 minutes; season with salt and pepper.
Serve spaghetti and clams topped with fresh flat leaf herbs. Toss again.
Plate up and buon appetite!

You may also like
New Season Irish Carrot Cake

International Guest Chef Fred Cordonnier. Recipe baked by Aisling Boggan from team Good Food Ireland.