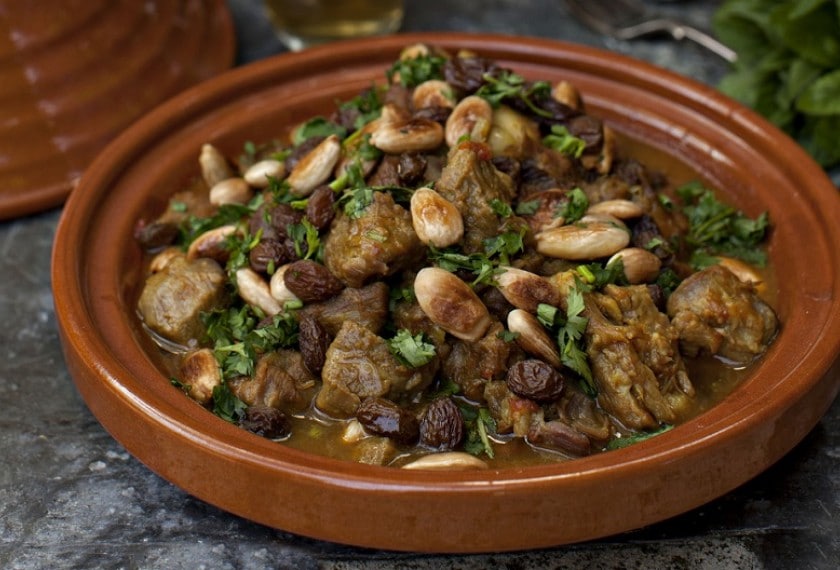 Ingredients
1.3-1.6kg lamb shoulder, cut into 3cm chunks
30g unsalted butter, melted
2 tabsps light olive oil
300g chopped Spanish onions
3 cloves garlic, peeled and finely chopped
1 tsp turmeric
1 tabsp fresh ginger, finely chopped
2 whole tinned tomatoes
350ml chicken, lamb, veal stock or vegetable stock
170g raisins
1 tabsp honey, or more to taste
Toasted almonds
70g whole blanched almonds
2 tsps sunflower oil
Method
Oven temp: 180°C, 350°F, Gas 4. Heat the butter and the olive oil in a casserole pot and add the chopped onions. Season with salt, cover the pot with a lid and cook for about 10 minutes over a medium heat. Remove the lid and add the chopped garlic, the turmeric and the ginger. Continue cooking for another few minutes and add the meat. Season the lamb and toss over a high heat until the lamb changes colour. Add the chopped tomatoes and the stock, adding a little extra, if necessary, just to cover the meat. Bring up to the boil, place a lid on the pot and then transfer to a preheated oven. Cook the lamb for 45 minutes. Remove the lid and add the raisins. If the meat is looking a little dry, add in some extra stock.
Return the pot to the oven and continue cooking for a further 30-45 minutes or until the lamb is meltingly tender. Add the honey and mix into the sauce. Taste and add more seasoning if required and a drizzle more honey if you would like some extra sweetness. The tagine may be cooked in advance and served the next day but the almonds should only be added just before serving otherwise they lose their crunch.
To toast the almonds
Heat a frying pan. Add the sunflower oil, followed by the almonds. Toss for a few minutes until the almonds become very lightly toasted.
Note: you may cook the tagine on the hob rather than in the oven. Be sure that that it is only at a gentle simmer and give it a stir every so often to make sure that it is not sticking at the bottom. Not all hobs go as low as simmering point. A heat diffuser, which can be purchased in a kitchen shop, is a great gadget if you wish to cook something more gently.

You may also like
Simnel Cake

Ballymaloe House is home to the cooking dynasty of the Allen family, so you know you are in for a gastronomic treat when you dine here. This elegant country house has all the elements you will need to enjoy a relaxing full of great hospitality and of...

Traditional Roast Beef Dinner

The suburbs of Cork City are home to a little secret. Located near Douglas, just a short drive from the centre of the Rebel City, Maryborough Hotel and Spa is set in a private estate of mature grounds and gardens. You can sense the 300 years of history...