Discover and explore the beauty of the West of Ireland with a country house escape to Carrygerry Country House. The intimacy, the great food, and the warm welcome that you receive in Carrygerry Country House will leave you refreshed & reinvigorated for the next stage of your Irish Journey. Carrygerry is an ideal location and gateway to explore the local attractions such as Cliffs of Moher, Aillwee Caves, Ennis, Galway, Bunratty Castle & Folk Park, King Johns Castle, Limerick, Adare to name but a few. You'll be treated to a stunning dining experience in the Conservatory Restaurant, along with enjoying Read More
---
WHAT'S INCLUDED
2 Nights' Accommodation
Complimentary Tea/ Coffee and homemade cake on arrival
Full Irish Breakfast each morning
Dinner on 1 Evening
---
About Our Member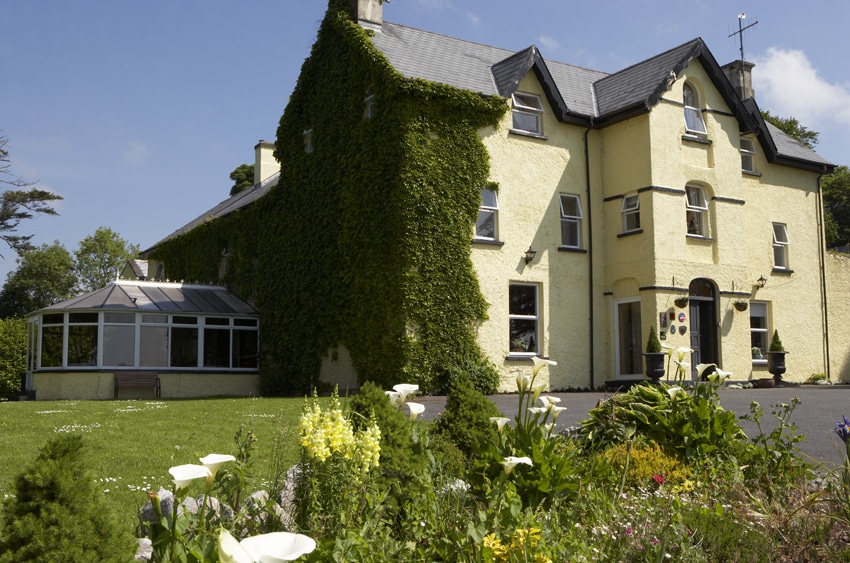 Carrygerry Country House & Restaurant is a charming old-world country house built in 1793. It comprises 11 stunningly appointed bedrooms, a beautiful Conservatory Restaurant, and a Function Room to cater for weddings or corporate events.
Located just outside Newmarket-on-Fergus in the scenic County Clare the charming hotel is family-owned by Niall & Gillian Ennis for the last 18 years and they have built it into a "Must Visit" destination for lovers of great food and amazing hospitality.
Niall's homemade jams and Seafood Chowder have regularly won national food awards so make sure that you grab some before you leave. You won't regret it.
As Carrygerry is only 10 minutes from Shannon Airport, it is an ideal location to explore the local attractions such as Cliffs of Moher, Aillwee Caves, Ennis, Galway, Bunratty Castle & Folk Park, King Johns Castle, Limerick, Adare to name but a few.
---
Leave review
WHAT OUR CUSTOMERS HAVE TO SAY
There are no reviews yet. Be the first one to write one.
---
KEY INFORMATION
Free Parking, Free Wi-Fi.
Complimentary bottled water in the bedrooms.
Check-in at 2 pm and check out at 12.00 noon.
10 minutes from Shannon Airport.
20 minutes from Ennis Train Station.
25 minutes from Limerick Train Station.
This Offer is Exclusive to Good Food Ireland® and must be redeemed directly with the hotel through advance reservation using your Good Food Ireland® unique e-Voucher code at the time of booking and is subject to availability.
In light of Covid-19, please be sure of our commitment to keeping you safe.
Offer available from Thursday to Sunday, May 2021 until 21st Dec 2021. Dinner available Friday & Saturday 2021. Subject to Covid-19 restrictions.
Must be 18 or over to purchase or use this offer.
Suitable for
Directions
From Shannon Airport:
When you leave the airport security you come to a small roundabout, go straight through. Then you come to a large roundabout, go straight through this and then you come to a 3rd roundabout, take the 1st exit for the Newmarket-on-Fergus to drive up this road 100 yards and you will come to another roundabout, here take the 2nd exit for Ballycally (there is also a sign for us 'Carrygerry Country House').
Come up this road and you will a see a large factory on your left called Lufthansa Technik, drive past this and up the hill, the road will narrow, continue on until you come to a T junction, turn right and we are a quarter of a mile down this road on the right.
You will see Carrygerry House in the distance, a large 3 story yellow house.
View on Maps
Booking Cancellations & Refunds
To Make Your Booking
When you have purchased your Special Offer you will be issued with a confirmation e-Voucher with its own unique code. Your reservation must be made directly with the Member, quoting this unique code, at the time of booking. Advance booking is required and is subject to availability and cannot be used in conjunction with any other offer. Your confirmation e-Voucher will also include contacts details for the Member to make your booking or if you need further information about the experience or have any specific questions. Remember, at all times we are here to help you with booking our range of experiences and offers, so don't hesitate to Get In Touch with us.
Cancellations
If for whatever reason you, unfortunately, need to cancel your booking, you can do so up to 48 hours or more before the day of the experience. Inside 48 hours, we cannot offer a refund as our Members have been busy preparing for your visit. To request cancellation, you must Email us directly in advance [email protected] and provide your booking number and name. Failure to do so will, unfortunately, render your e-Voucher null and void and is non-refundable.
However, if you cancel within the cancellation timeframe the monetary value of your e-Voucher may be used for any other Experience or item available on the Good Food Ireland® Online Shop. Your e-Voucher will be valid for up to 5 years from the date of purchase.
Dietary Restrictions
Members will be delighted to accommodate dietary restrictions and food allergies, including vegetarian and gluten-free options. Please be sure to outline yours at the time of booking, so our Members are aware and can prepare for your visit.
Contact the Host Member
Once you have made your booking you can always contact the Host Member directly if you need to know further information about the experience or have any specific questions. Remember, at all times we are here to help you with booking our range of experiences, so you can contact us by filling out the form on our Let Us Help Page and we will get back to you either on the day or the next working day.
The Host Member's specific contact information including telephone number, location and directions to the experience will be provided on confirmation of your booking.
Alcohol
Some experiences may include alcohol in the total booking price for guests of legal alcohol age. However, it may also be an optional add on for some experiences. If so, the price will be clearly visible on the experience profile page.
Safety & Security
All Approved Members of our Collection have been visited by our Team and certified for the highest standards and criteria. We are all aware of the importance of your safety. In light of Covid-19, please be sure of our commitment to keeping you safe.
---
Nearby Experiences
Experiences

Accommodation

Dining

Cook & Shop

Meet the Makers
---