Overview
Finch & Berry is an artisan boutique dessert company specialising in producing handcrafted desserts. One of their seasonal house specialities is chocolate-covered strawberries. Finch & Berry is a small startup business operating from a home-based registered kitchen. The inspiration for the business name and logo comes from the colourful Finch bird and Strawberries being the hero of the product range
---
Meet the Maker
Finch & Berry is an exciting startup family business that is taking the Irish Strawberry to the next level. Kate is the creative talent in the business, displaying exceptional imagination and an impressive attention to detail.
Kate researched the individual dessert market, taking inspiration from the Parisian pastry shops. She quickly learned that taste, colour and decoration were important. In this Instagram era and using the principle that people buy with their eyes, Kate looked at the Irish marketplace and identified that nobody was using strawberries as a base for an individual dessert treat. And thus:
'The chocolate-coated decorated strawberry dessert was born'
Upon gazing at these delicious dessert creations you'll be bowled over by the level of care and attention that goes into each and every individual product. Vibrant pinks, purples and turquoise are mixed with top quality and conscientiously sourced chocolate to create an exceptional decadent fresh fruit dessert. Strawberries are also decorated with fine gold leaf, chocolate flowers and biscuits.
A key ingredient is the quality freshness and size of the lush Irish strawberry. 
Finch & Berry also produce a delicious range of cakesicles. These boutique cakes include a cheesecake filling covered in the finest of chocolate that's decorated in a range of vibrant colours, edible flowers and jewels. Each order contains a mix and match of cakesicles that feature different individual designs and decorations.
Finch & Berry produce a gifting box of unique handcrafted Irish treats, the treats are designed to the customer's requirements. These are then produced and assembled on the day of delivery.
Each order also includes a handwritten note to the recipient, a truly special and bespoke high-end gift to present to loved ones.
Finch & Berry carry out their own deliveries in the Dublin area and use the services of a specialist delivery service described as a white-glove service. These elegantly packed creations are available in a variety of sizes 12 – 30.
The range of products are as follows:
Chocolate covered Irish Strawberries (seasonal) decorated in a variety of ways.
Chocolate covered Irish Strawberries (seasonal) decorated in a Tiffany Blue theme.
Edible bouquets created with luxurious chocolate-covered strawberries, fresh flowers and décor.
6/12 Classic Cakesicles.
6 Chocolate bar Cakesicles
6 Geometric Cakesicles.
Mini Picnic Cakesicles.
6 Unicorn Cakesicles.
Finch & Berry offer a personalisation service for gift boxes which has proven very popular for weddings and family celebrations. This bespoke gift is truly exceptional and is often the centrepiece of the customer's special occasion.
Having experienced and sampled the Finch & Berry range first hand we can say for certain the whole experience was absolutely delicious, a perfect balance of taste and presentation resulting in a high quality product.
The entire range of Finch & Berry products can be easily ordered direct from their online shop.
---
Sustainability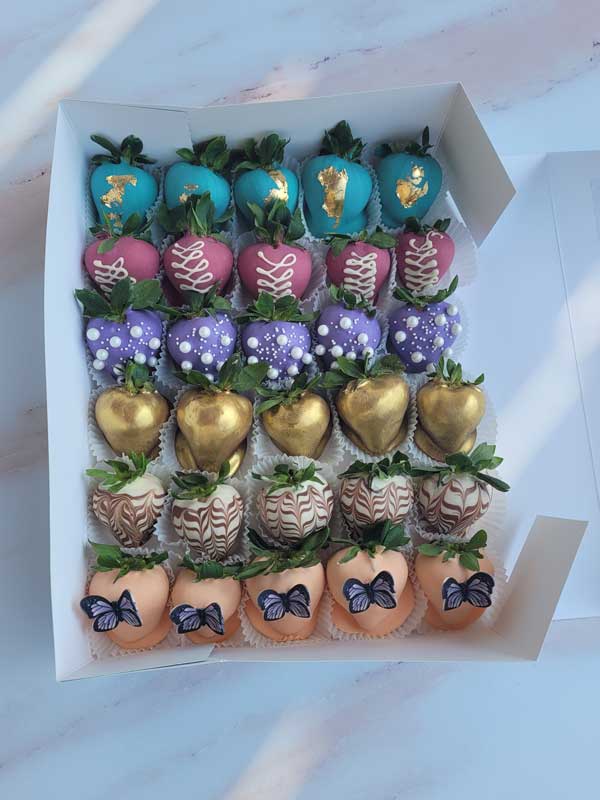 Sustainability and biodiversity play a major factor in Finch & Berry
1.Strawberries are delivered in 100% recyclable crates, rather than plastic punnets. Finch & Berry have specifically switched to this more environmentally conscious option.
2. They use Callebaut and Belcoalde chocolate, which is 100% traceable, members of the rainforest alliance, support fairtrade cocoa farmers and Finch & Berry are provided with sustainability certificates.
3. Packaging – box, strawberry cases, ribbon, and cards are 100% recyclable.
4. The branded ribbon is made by a family business in Dublin and they have provided a sustainability certificate as well.
5. Special boxes they use for our edible bouquets are extremely durable and fully reusable. Customers love to use them for flowers, jewelry, etc. once contents have been consumed.
6. Water-efficient fixtures are utilised for washing the strawberries and cleaning our work units and storage.
7. Biodegradable cleaning supplies are used for all cleaning purposes.
8. The business is fully digital when it comes to the operations (accounting, admin, order processing, etc.) – resulting in no paper waste.
9. Light timers are used in their storage rooms in order to conserve energy.
---
Leave review
WHAT CUSTOMERS VALUED AND ENJOYED
There are no reviews yet. Be the first one to write one.
---
Nearby Experiences
Experiences

Accommodation

Dining

Cook & Shop

Meet the Makers