Good Food Ireland® Approved Since 2021
We stand over our recommendations. With exacting selection and regular review processes we ensure a rewarding local Irish ingredient led experience. You can count on it!
Overview
McCormack Family Farm, a Father and Sons team with a taste for excellence and passion for produce, has excelled in creating a range of products that is both innovative and commercial in nature. This business was started back in the 1980s by Dad, Eddie McCormack and he has put his hefty experience of selling other people's produce into selling his own instead. Previously, Eddie was a salesman; his role was finding potential customers for the harvested crop once it was ready to sell. Eddie came to understand the business and his customers, so he decided to give it a go for himself and grow his own produce.
---
Meet the Maker
The farm and facility are located near the Hill of Tara in the rich farming heartland of Co Meath, where there is rich fertile soil and a farm with family values and a hunger for excellence. 
Eddie's son Stephen joined the family business once he had graduated from Warrenstown Agricultural and Horticultural College. Together they have evolved the business from a labour intensive vegetable business into a highly organised and specialised Herb and Salad Leaf business.
Eddie's other son Padraig returned to the business some years ago. Padraig gained experience working with international businesses and developing skills in strategy and supply chain management. 
McCormack Farm is a purpose-built facility with Bord Bia approval and Origin Green standards. There is a constant drive for innovation and a next-level outlook by the entire team, spearheaded by Stephen. 
When we visited the farm, the Technical & Quality Control Manager Mark gave us an insight into the drive and commitment behind the business stating; "It's definitely Stephen, he is always looking ahead, he is the motivator and is always looking for  – continuous improvement". There is a culture here that is obvious from the moment you turn into the facility. There is a clear investment back into the business with a drive and hunger to be the best. 
The McCormack range is all about fresh top-quality greens served on your plate. They grow herbs, micro herbs, edible flowers and the most beautiful rocket and baby spinach that will elevate any fresh salad you whip up. We took a splendid tour of the new Spinach field and it would fill your heart to see the soft carpet of green velvet under a bright blue sky. Eating plant-based food is becoming mainstream but there's nothing ordinary about this farm or the McCormack family. 
There is a highly serious side which is the commercial future of where the market is for this kind of produce, where it is headed and how to stay ahead within a very competitive food industry.
Import Substitution or the desire to eat local homegrown ingredients is growing in people's minds but also in consumer behaviour – we have really bitten down now on wanting to know where our food comes from and the distance it has travelled. Stephen has pioneered the new range of Micro Herbs that rival any imported product from France, Italy, the UK and beyond.  McCormacks have the local & Irish solution to this massive wave of interest in Micro Herbs. The varieties are amazing and the quality is exceptional across the entire range. 
McCormack Farm produce is available all over Ireland through local wholesalers and retailers – lookout for the new Season Spinach. 
This farm truly is the next level in Irish Food and we are delighted to welcome McCormack Farm into the Good Food Ireland® Collection. 
---
Sustainability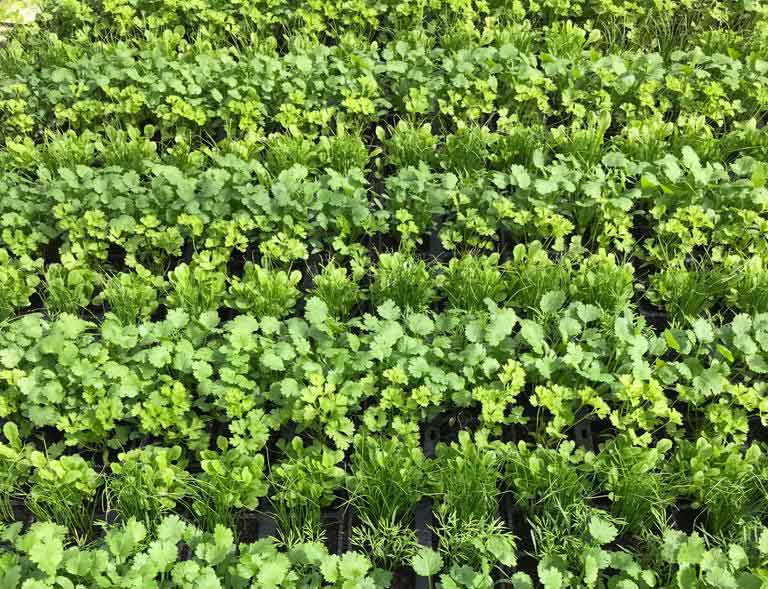 Sustainability and biodiversity play a major factor in this impressive family farming business. McCormacks have their own bees and the hives are minded and cared for as part of the family values on the farm.
Stephen speaks very passionately about the inclusion of bees on the farm declaring, "The bees are central to work here in the glasshouse, we need to look after them if they are going to look after us. Outside we plant 2 meters in from the hedgerow to protect the wildlife and this protects the ecosystem around the borders and hedges. This means we do lose a serious amount of growing space but the bigger picture is the biodiversity must be maintained and we take this very seriously"
---
Leave review
WHAT CUSTOMERS VALUED AND ENJOYED
There are no reviews yet. Be the first one to write one.
---
Nearby Experiences
Experiences

Accommodation

Dining

Cook & Shop

Meet the Makers