Good Food Ireland® Approved Since 2006
We stand over our recommendations. With exacting selection and regular review processes we ensure a rewarding local Irish ingredient led experience. You can count on it!
Overview
Myrtle Allen was a real culinary heroine without whom the food culture of Ireland would not be the way it is today. And Ballymaloe Country House – the elegant, East Cork country home she shared with husband and their children – is where it all began. You don't really get a sense of just how important this place is on the Irish food scene until you make the pilgrimage. Then it all slots into place and you begin to understand exactly why this is the bosom of real Irish cooking. Despite its fame, guests at Ballymaloe House are looked after like lifelong friends and this really is a relaxing getaway
Read More
---
Dining
Ballymaloe House is home to the cooking dynasty of the Allen family, so you know you are in for a gastronomic treat when you dine here.
Ballymaloe House has its own walled garden which provides a pick of seasonal vegetables and the folk at Ballycotton supply the fresh fish and shellfish that grace the menu. Cork's local beef, pork and lamb also play a starring role in dishes as does a marvellous selection of Irish farmhouse cheeses.
Food is organic, local, seasonal and sustainable where possible and is skillfully prepared and creatively served in the glorious surrounds of the Ballymaloe House Restaurant.
€€€€€
The food at Ballymaloe House showcases the best Irish country house cooking with an emphasis on fresh home grown produce. Breakfast, lunch and dinner are served in the main restaurant which is a wonderfully elegant space filled with natural light thanks to the large sash windows.
Dinner at Ballymaloe House Restaurant is a lavish affair, usually consisting of six courses which begins with a soup, a salad or sorbet, followed by a second course which might feature local seafood and fresh fish, seasonal vegetables and pâté and terrines. Main courses include locally reared meat and poultry and the catch of the day and the vegetarian option features walled-garden produce, which varies depending on the season. The feast continues with a fantastic Irish cheese and biscuit selection, which is served from a trolley and showcases some terrific cows, goats and sheeps cheeses. But wait, there's more! Make sure you save room for treats from the traditional dessert trolley. Take your pick from a fruit fool, compotes, tarts, mousses, possets and meringues, as well as homemade ice cream. The exquisite dining experience is rounded off with coffee and herbal infusions served with petit fours.
On Friday evenings, there is a seafood hors d'oeuvres buffet featuring the best Irish seafood like lobster, oysters, mussels and crab as well as the hotel's own smoked mackerel.
On Sunday nights, there is a buffet style dinner which is served by members of the Allen family. Diners are treated to a superb selection of cuts of roast beef, lamb, pork, turkey and sometimes goose, and (depending on availability) crab, salmon, oysters and lobster.
The daily lunch is a set seasonal Farm to Fork menu and there is a seperate children's menu available, which is just as delicious and creative as the main menu. There's also a children's tea every day on a long table in the conservatory. Children really are most welcome and well catered for here.
Afternoon tea is also available and is a real treat and perfect for long leisurely dining.
As for breakfast, well, it is an unforgettable bountiful feast. Make sure you come hungry and enjoy porridge, made with Macroom stone-ground oatmeal, Bircher muesli made with apples from the garden, seasonal fruit compotes and home-made yoghurt from the cookery school. The traditional Irish soda breads and spotted dogs, Ballymaloe brown yeast bread and scones are all baked fresh first thing every morning and they can be loaded up with jams made from the hotel's own fruit, such as rhubarb and ginger or gooseberry and elderflower. The traditional cooked Irish breakfasts feature Ballymaloe farm eggs, bacon and sausages. Even the coffee is considered, and is hand-roasted by The Golden Bean, a small roastery in one of the estate farm buildings.
From morning to night, dining in Ballymaloe House is an remarkable and memorable experience.
---
Rooms & Facilities
This welcoming family home is all about relaxation in beautiful but comfortable surrounds. From the moment you arrive to the moment you leave you'll feel like this house is your home.
Accommodation at Ballymaloe House is simple and elegant and in keeping with the country house feel. A lovely personal touch are the fresh flowers brought in from the garden daily that adorn the bedrooms. The cocooning beds and calming ambience make for a peaceful slumber. Another accommodation option are the charming rooms in the lime-washed, rose-covered farm building in the courtyard.
Ballymaloe House is on 300 acres of farmland grounds and has a heated outdoor pool, gardens and vegetable gardens. Benches are dotted throughout the gardens for for guests to sit in summer and read or listen to the sounds of the farm.
There is also the Ballymaloe Shop which stocks everything and anything a keen cook needs as well as some tasty treats and artisan products.
Also on the extensive grounds is the Grain Store, which was originally a 17th century farmyard building but it has now been converted into a elegant multi-purpose venue. The Grainstore hosts a variety of musical, theatrical, film and art events throughout the year and it is also available for hire for any occasion including concerts, weddings, lectures, family events, exhibitions, workshops, classes, demonstrations, dances and other special occasions.
€€€
The calm and elegant bedrooms at Ballymaloe House come in a variety of styles and sizes. These include large and airy superior rooms, some cosy country house rooms and ground floor courtyard rooms.
All rooms a decorated in a warm, country house style with comfortable beds, beautiful fabrics and elegant furniture. The rooms feel light and bright and airy and have all the mod-cons needed for a relaxing and enjoyable stay. The bathrooms are also spacious with lovely toiletries and fluffy towels perfect for a pampering session.
There are also some farmhouse cottages available and these are perfect for those looking for a self-catering option, for families and for those looking to bring their furry family members on holiday.
---
Experiences By Ballymaloe House
Give the Gift of Experience
With much flexibility and a remarkable range to choose from, a Good Food Ireland Gift Voucher offers a unique and authentic experience.
---
Sustainability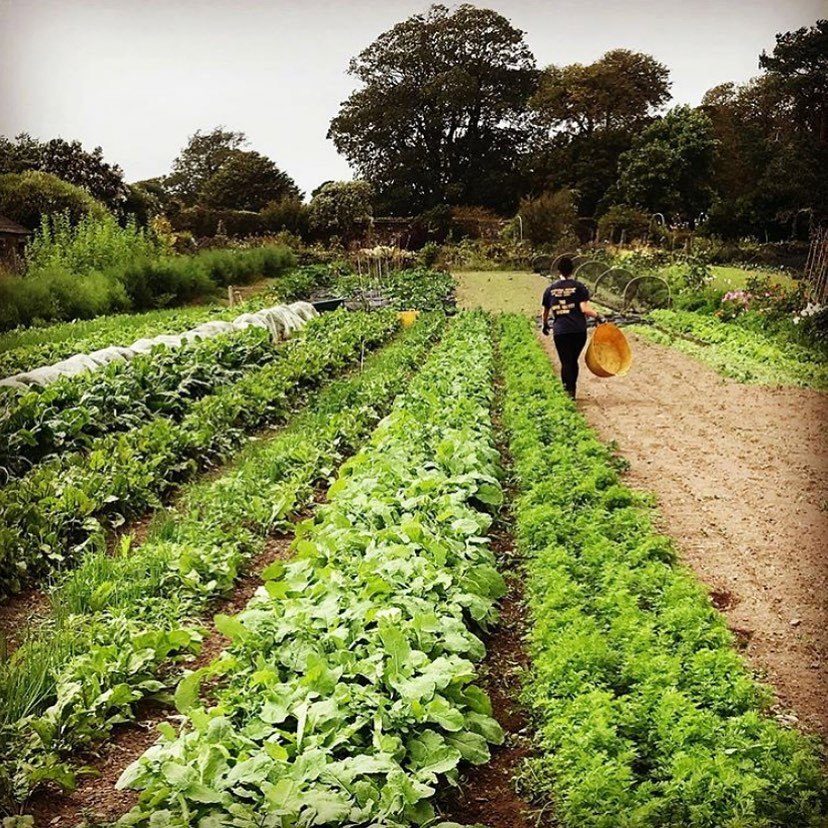 Sustainability is at the heart of everything that Ballymaloe House does and the establishment supports many local producers in the area. Ballymaloe House is committed to reducing its environmental impact and helps promote health and wellness with its annual Good Living Day as well as other events celebrating house and home, health and wellness, gardening and sustainable living.
---
Leave review
WHAT CUSTOMERS VALUED AND ENJOYED
There are no reviews yet. Be the first one to write one.
---
Nearby Experiences
Experiences

Accommodation

Dining

Cook & Shop

Meet the Makers