Good Food Ireland® Approved Since 2021
We stand over our recommendations. With exacting selection and regular review processes, we ensure a rewarding local Irish ingredient-led experience. You can count on it!
Overview
Breaffy House Resort is located on the edge of Castlebar in Co Mayo, this spectacular 106 bedroom 4-star resort is indeed a stunning hidden surprise. Just off the main road, you drive through the gates onto the estate where you are taken back in time and can feel the history. There is a beautiful tree-lined avenue with all the splendour of yesteryear. Your arrival at the resort is captivating with the estate grounds enticing you to start a fantastic stay.
The resort, an elegant Victorian-style manor house is set in the centre of the estate surrounded by woodland walks and lots of different and interesting activities, for example, a dedicated duck pond and duck houses to attract wild ducks, a children's play area, an outdoor tennis court, 12 beehives set in 7 acres of uncut meadow to promote a wildflower habitat, a Scandinavian BBQ hut, a kitchen garden, a helicopter landing pad, 2,3 and 5k looped walking trails and lots more to check out. This family-friendly resort is managed by a dedicated team of hospitality professionals led by General Manager Wilson Bird. There are so many things to do for all guests from delicious gourmet food and wine breaks, romantic spa breaks, relaxing breaks and fun-filled family-friendly holiday breaks.
Read More
---
Dining
Having arrived at the resort, you can not help but be impressed by the commanding south-facing patio, with vast facilities, for a very comfortable outdoor dining experience.
There are a number of dining and entertainment options at Breaffy House Resort. The business of Food, Wine and Hospitality is centred around the customer experience. Guests can look forward to a warm welcome and a truly Irish flavour and twist to their stay.
The recently renovated Mulberry restaurant takes its name from the unique and ancient Mulberry 800-year-old tree outside the front doors of the resort. This begins your divine journey of food in the resort knowing every care has been taken on every level and detail.

Breaffy House Resort has the essence of what a resort is, with a full complement of facilities onsite, meaning the guest does not have to leave the property.
There is fabulous innovation in outdoor space with The Scandinavian BBQ Hut, a new outdoor dining experience. This is operated on a pre-booked basis allowing visitors to host their own 'Outdoor Dining Experience', ideal for family and corporate gatherings.
Breaffy House Resort is full of surprises, one of the resort's unique selling points is the 'The Breaffy Resort Private Wine Cellar'. This is an exclusive bespoke private wine cellar, located in the basement area of the hotel. This area was the old gun room of the original manor house.
This private space houses a collection of classic French and International wines, visitors can expect to find Decanter Gold Medal award-winning wines included in the collection.
The private cellar area can be pre-booked and used for a private family occasion, corporate entertainment or business announcement occasion. This unique space is ideal for a small gathering, a wine tasting and reception food can be pre-booked.
€€€€
This exciting dining space has recently undergone an extensive refurbishment. Soft leather booths are designed to welcome you for a delicious meal in comfort with a group of friends or family. Warm mood lighting gives it an intimate atmosphere which is ideal for a romantic date night.
A unique aspect of the Mulberry Restaurant is that the restaurant kitchen is open for guests to see the theatre of cooking and the preparing of the dishes for service. This comes in the form of a Chef's Table which seats 18. A perfect dining experience for food lovers, fascinated with the intricacies of a busy kitchen.
Customers can expect to experience the kitchen buzz and be enchanted to meet Executive Chef Dean Diplock when he checks in with restaurant diners from time to time. Dean has developed a network of local food producers that he showcases on his creative and exciting menus. Dining options include two gourmet menus, one priced at €65 and the other priced at €45, bought of which include a variety of tasty dishes produced using local ingredients.
---
Rooms & Facilities
The 106 rooms at the 4 Star Breaffy House Resort include a selection of room types offering visitors a lot of flexibility to meet their requirements. Classic rooms are set as double and double + single. Ideal for family requirements the resort has a number of double + single with the possibility of additional beds and rooms with bunk beds for children.
The guest room choice also includes a number of junior suites, superior deluxe and signature rooms. A unique selling point of the Breaffy House Resort Signature rooms is that in addition to the en-suite facilities there is a 'Roll top Bath' located in the bedroom area.
Visitors booking a signature room should check out the Spa in room Butler Service which includes a number of 'Soak Packages' which can be booked. This brings the Spa Relaxation Experience to your very own bedroom… AMAZING. For very special occasions the hotel offers a Bridal Suite, The Moet Suite and The Presidential Suite.
€€€
The guest rooms at Breaffy House Resort are very comfortable and so inviting. The resort has experienced a 'Top to Toe' makeover and the standard of comfort and décor is excellent. All the amenities you could want for a relaxing break can be found here. There is something to suit all tastes depending on the occasion and budget.
Rooms at Breaffy House Resort range from classic rooms, signature rooms and family rooms to junior suites and even the very special bridal suite.
Room service is offered at the resort with most of the resort rooms having garden or woodland views.
---
Sustainability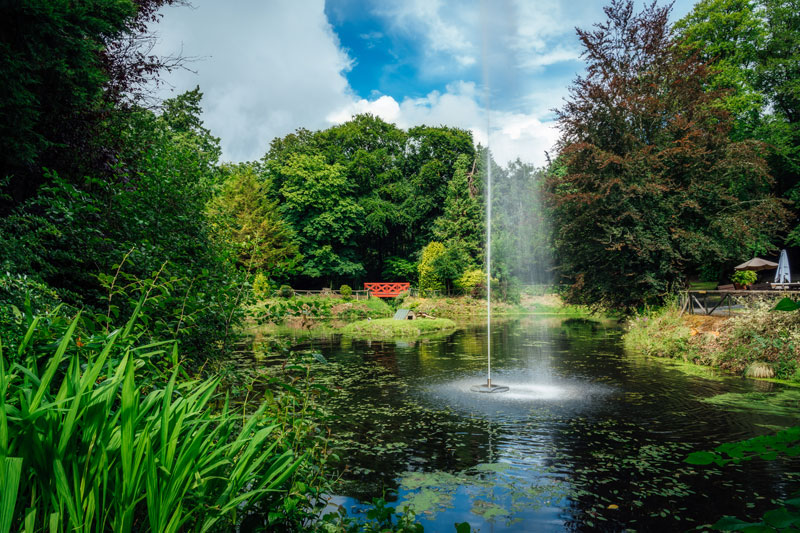 The team at Breaffy House Resort are committed to responsible governance with a focus on reducing and operating a single-use free environment. They are in full compliance with environmental legislation, regulations, standards and codes of practice applicable to the hospitality industry.
Environmental & Sustainable Green Options
Breaffy House Resort takes pride in a number of Environmentally Friendly Initiatives to help promote a cleaner and greener environment. Such initiatives include:
1) Member of 'Clean the World' campaign, a hospitality-specific programme where they give discarded soap bars and plastic bottles a second life
2) Preservation of 7 acres of uncut grassland to promote the growth of wildflowers and biodiversity on the site
3) Installation of 11 beehives in association with the beekeeper's society of Mayo is supporting the creation of an environment that will help bees and in turn other fauna to thrive
4) Placement of 11 duck houses fitted on the pond island to try and introduce wild ducks to occupy the pond
5) Partnership with Connemara based Company (Co. Galway), Ri Na Mara Toiletries to promote natural and sustainable in-room cosmetics and toiletries. Ri Na Mara Irish Seaweed Cosmetics harness the power of the sea and the natural environment. They are carefully selected using natural botanical extracts. Ri Na Mara cosmetics contain no harsh chemicals, parabens, GMOs or animal derivatives
6) Installation of LED lighting and PIR control systems to limit the electricity usage
7) Use of in-house recycling centres where all their waste is separated and recycled. Staff and departments are incentivised to encourage recycling amongst the various departments. Breaffy House Resort waste management is compartmentalized into general waste, recycling, glass recycling and compostable food waste
8) Portion control and Portion size – in tandem with the food waste management policy they ensure to plate food based on reasonably sized portions so as to reduce the quantity of surplus waste
9) Onsite polytunnel where herbs, vegetables and flowers are grown for the kitchens
10) Installation of a well water system that produces their own water which is tried and tested by HSE and an independent water testing company
11) Upgrade to the heating system from fossil fuel-dependent over to an electrical heat pump-based system reducing the carbon footprint of the property
12) Breaffy House Resort mulch our grass thereby eliminating the need for fertilizers and chemicals in the grassland areas
13) A move away from chemicals in weed control to more sustainable and environmentally controlled practices
In addition, they have a number of Environmentally Friendly Specific Initiatives for Guests
1) Towels – Towels on the floor means please replace them, towels on the rail means you wish to use them again
2) Lighting – Room are equipped with LED lighting.
3) Recycling – They aim to recycle as much as possible and provide appropriate bins.
Local community and social responsibility.
Breaffy House Resort work with the local schools and sports organisations assisting with fundraisers and providing work placement positions in the business from time to time. As a priority, Breaffy House Resort always recruits in the local area to fill their vacant positions.
---
Leave review
There are no reviews yet. Be the first one to write one.
---
Nearby Experiences
Experiences

Accommodation

Dining

Cook & Shop

Meet the Makers