Good Food Ireland® Approved Since 2021
We stand over our recommendations. With exacting selection and regular review processes, we ensure a rewarding local Irish ingredient-led experience. You can count on it!
Overview
Amongst the rolling hills and nearby lakes of Killarney, you'll find a prime example of great Irish hospitality in the form of Killeen House & Rozzers Restaurant. This charming boutique hotel has been in the expert hands of the Rosney family since the early 1990s. Today, dynamic mother and daughter team, Geraldine and Michelle Rosney are at the helm, giving their treasured visitors that famous warm Irish welcome. Killeen House dates back all the way to the Victorian period. The hotel retains much of its stunning Victorian style, however, the exterior has evolved as a stylish hotel with every comfort a guest could need. This talented family have truly created that little slice of heaven in the Kingdom of Kerry.
Read More
---
Dining
Great hospitality and a quality food offering go hand and hand at Killeen House. A splendid food & drink offering rooted in local ingredients has always been a top priority for the Rosneys and this can be savoured in each and every bite that you enjoy in their wonderful Rozzers Restaurant.

Light bites and a pre-dinner drink are also available from The Hole-In-One Bar. Golf fans will soak in the amazing selection of golf memorabilia. An ode to the area's strong connection with this favourite leisure pastime.
€€€€
Rozzers Restaurant at Killeen House Hotel is known far and wide as a destination restaurant and it has a fabulous reputation for providing its diners with a fantastic food & drink experience that will leave you wanting more. Over the years Rozzers has received many accolades, the most recent of which is 'Best Dining Restaurant in Ireland' as voted by TripAdvisor customers.
Executive Head Chef Paul O'Gorman leads a talented team of chefs in the kitchen, all of which are dedicated to providing quality food in a delightful way. This quality is matched with the hospitality service paid to customers from the moment they arrive.
Rozzers' setting also lends to its magic. The restaurant is set within views of the hotel's stunning gardens along with views of the nearby Macgillycuddy Reeks, Ireland's highest mountain range.
Rozzers Restaurant also has that timeless classical atmosphere that is so amazing. Tables are dressed with crisp white linens while each place setting is marked with a restaurant cover plate. Glimmering wine glasses are set and waiting for that first sip of wine as you anticipate your meal. The whole offering sets a classy tone that is a prelude to the dining experience to come.
During our visit to Rozzers Restaurant, we had the pleasure of chatting with Executive Chef Paul who had just received a delivery of fresh fish, this of course influenced what we would sample from the menu when dining later on that day.
Michelle Rosney was kind enough to guide us through that menu and suggested the house speciality – Open Ravioli with Seared Scallops and Prawns, served with a delicate Leek, Courgette and Garlic Cream Sauce. This was a showstopper of a dish, presented as a deconstructed Ravioli, with an excellent flavour that matched its beautiful presentation.
For the main, we decided to try out their Medallions of Monkfish served with a shellfish Paella, and once again we were blown away by the taste. The cooking skills and knowledge of the menu on show were exceptional in every way.
It comes as no surprise that Rozzers Restaurant has gained so many top accolades.
Local food plays a major role in the food and drink offering at this restaurant. Ingredients are sourced from local suppliers where possible. Furthermore, Killeen House has started to develop a kitchen garden on the grounds. This is designated to grow and supply some of the fresh herbs, salad and vegetables required in the kitchen.
Great food, local ingredients and exceptional hospitality combine to provide guests with an amazing experience at Rozzers Restaurant.
---
Rooms & Facilities
From a selection of rooms designed for every comfort to lovely gardens, Killeen House Hotel provides everything you could need for a relaxing getaway break in Co. Kerry.
€€
Killeen House Hotel includes 15 classic rooms and 8 Championship rooms for you to choose from. All guest rooms feature ensuite facilities. A stand out feature of each room is top quality plush beds that will give you the best night's sleep.
Bathrooms also include top-spec power showers to loosen those muscles while rooms are also designed with elegance and style, in keeping with the overall atmosphere of the hotel.
Room service is also available, guests can order off the all-day menu or from the dinner menu. Sounds like a fabulous indulgent overnight experience!
---
Sustainability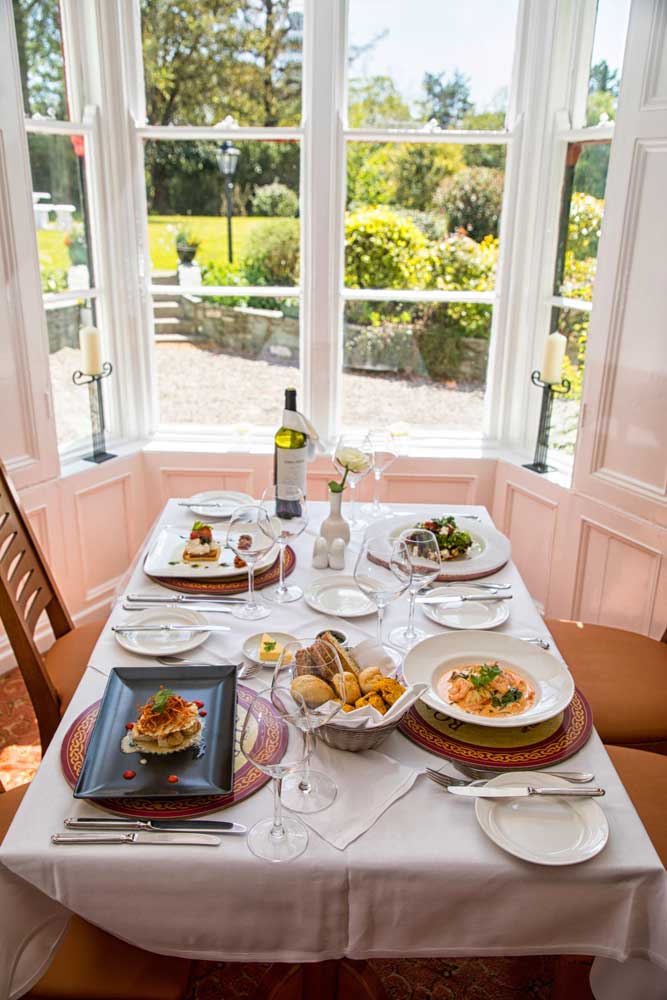 Killeen House Hotel has a robust attitude to sustainability, much of the produce they use in their restaurant is sourced locally where possible.
Furthermore, they have developed a kitchen garden on the hotel's grounds. Herbs, salads and vegetables are grown here to be used in the restaurant's kitchen, this dramatically reduces the food miles for the business.
---
Leave review
There are no reviews yet. Be the first one to write one.
---
Nearby Experiences
Experiences

Accommodation

Dining

Cook & Shop

Meet the Makers