Good Food Ireland® Approved Since 2021
We stand over our recommendations. With exacting selection and regular review processes, we ensure a rewarding local Irish ingredient-led experience. You can count on it!
Overview
Kilronan Castle Estate and Spa is one of the finest restoration examples of a magnificent Gothic manor, for more than 300 years this estate remained in the Tenison family before falling into disrepair in their absence. This amazing property was passionately brought to the market as a luxury hotel by the Hanley family in 2006.
As you make your way through the Roscommon countryside the landscape is dotted with lakes. As guests arrive at the property you enter through a set of medieval gates leading you through a tree-lined avenue along the edge of Lough Meelagh revealing the stunning Kilronan Castle and Spa.
The castle hotel seamlessly mixes the elegance, sophistication and tradition of the past with the luxury and comfort of the modern era. This makes Kilronan Castle Estate & Spa one of the most luxurious castle hotels in Ireland to stay in.
Kilronan Castle's location and surroundings include breathtaking views as well as peace and quiet which makes a break at Kilronan Castle feel like time is standing still. This luxurious hotel is a popular choice for weddings and offers clients a fairy-tale Irish Castle experience.
Visitors arriving at Kilronan enter into an impressive double-height reception hall this impressive space is matched with a regal interior atmosphere. This warm and cosy atmosphere is complemented with a friendly Irish welcome. Guests staying at Kilronan Castle are treated to luxurious castle accommodation that includes four-poster beds and antique furniture while dining at Kilronan Castle is one of the finest dining experiences in Ireland.
Read More
---
Dining
The dining experience is a major selling point of Kilronan Castle and Spa. The gastronomic delights are created and led by Executive Chef Daniel Willimont.
The food focus is built on ingredients grown on the estate in the restored walled garden, foraged in the Estate woodlands, sourced from local producers and dishes made from scratch in house. This exceptional food experience is matched with excellent service in a very special setting overlooking Lough Meelagh.

Visitors to Kilronan Castle have a choice of dining options from fine dining in the Douglas Hyde Restaurant, private dining areas, casual bites and afternoon tea in the Castle Drawing Room or the stylish Palm Court room and alfresco dining in the Tunnel Café. Kilronan Castle has a dedicated function and events centre, the Castle is a popular choice for family weddings.
The Tunnel Café.
Operating on a seasonal basis (May – Oct.) the Tunnel Café presents visitors with an outdoor alfresco dining option, located to the front of the Castle.
€€€€
The Douglas Hyde restaurant offers guests a delicious fine dining experience for dinner and breakfast.
This wonderful dining area offers visitors 3 different areas the ambience and décor of the high ceilings and the panelled walls are in keeping with the castle atmosphere and fittingly named in honour of Ireland's first president and Roscommon's most famous son.
The cooking skills and techniques on show are top-notch matched with excellent front of house service skills and menu knowledge.
The day we inspected chef prepared a show stopper 7-course tasting menu to showcase what customers can expect. Every course was a gastronomic experience. Diners in the Douglas Hyde restaurant can choose to dine off the a-la-carte menu or the 7-course tasting menu. There is a paired wine recommendation with every course on the tasting menu.
Private dining options are available for guests requiring a private area
---
Rooms & Facilities
Kilronan Castle offers a range of Castle suites and bedrooms, classic rooms and family rooms in total 85 guest rooms and some self-catering accommodation on the estate.
€€€€
All rooms are finished to a high standard, whether it's four-poster beds and under-floor heating, or antique furniture and flat-screen TVs, Kilronan Castle seamlessly blend the 18th-century elegance this medieval castle is famous for, with features the 21st century is famous for.
From a classic room to a castle-top suite, whichever of our 85 rooms you choose, Kilronan Castle will ensure your bedroom has everything you need to enhance your happiness, offering one of the finest Castle Accommodation properties in Ireland.
---
Sustainability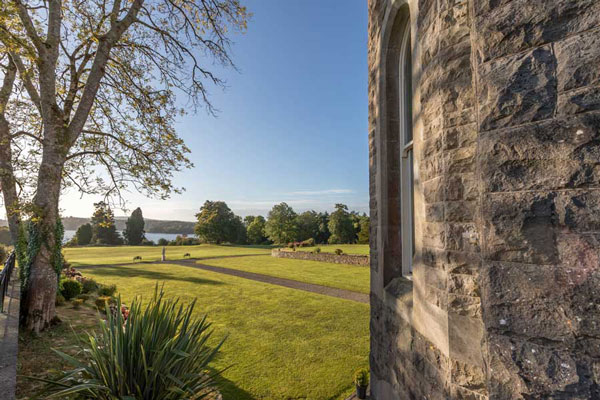 The team at Kilronan Castle are committed to responsible governance with a focus on reducing and operating a single-use free environment, are in full compliance with environmental legislation, regulations, standards and codes of practice applicable to the hospitality industry.
BUSINESS OPERATIONS:
Kilronan Castle is committed to improving its environmental performance through:
• Energy Efficiency. The hotel source its heating and domestic hot water from a state-of-the-art woodchip burner, delivering an energy-efficient and environmentally friendly heating system supplementing the use of fossil fuels.
• Water conservation.
• Waste Minimization.
• Recycling.
• Pollution Prevention.
• Local sourcing. In addition to sourcing food ingredients from local suppliers, Kilronan Castle has restored the estate walled garden with a view to supplying the kitchen with an all-year supply of herbs, vegetables, fruit and edible and table flowers.
• Sustainably Sourced Materials.
Currently, the business is working on a composting and reuse plan in the kitchen garden.
Employee Actions:
Through the implementation of a green team, communications and training all the team at Kilronan Castle are made aware of the impact that each team member has on achieving the business environmental objectives by monitoring business practices and working to identify opportunities to make a positive change.
Local community and social responsibility.
Kilronan Castle works with the local community for their recruitment needs and has a policy of working with the local schools offering work placement opportunities.
---
Leave review
There are no reviews yet. Be the first one to write one.
---
Nearby Experiences
Experiences

Accommodation

Dining

Cook & Shop

Meet the Makers