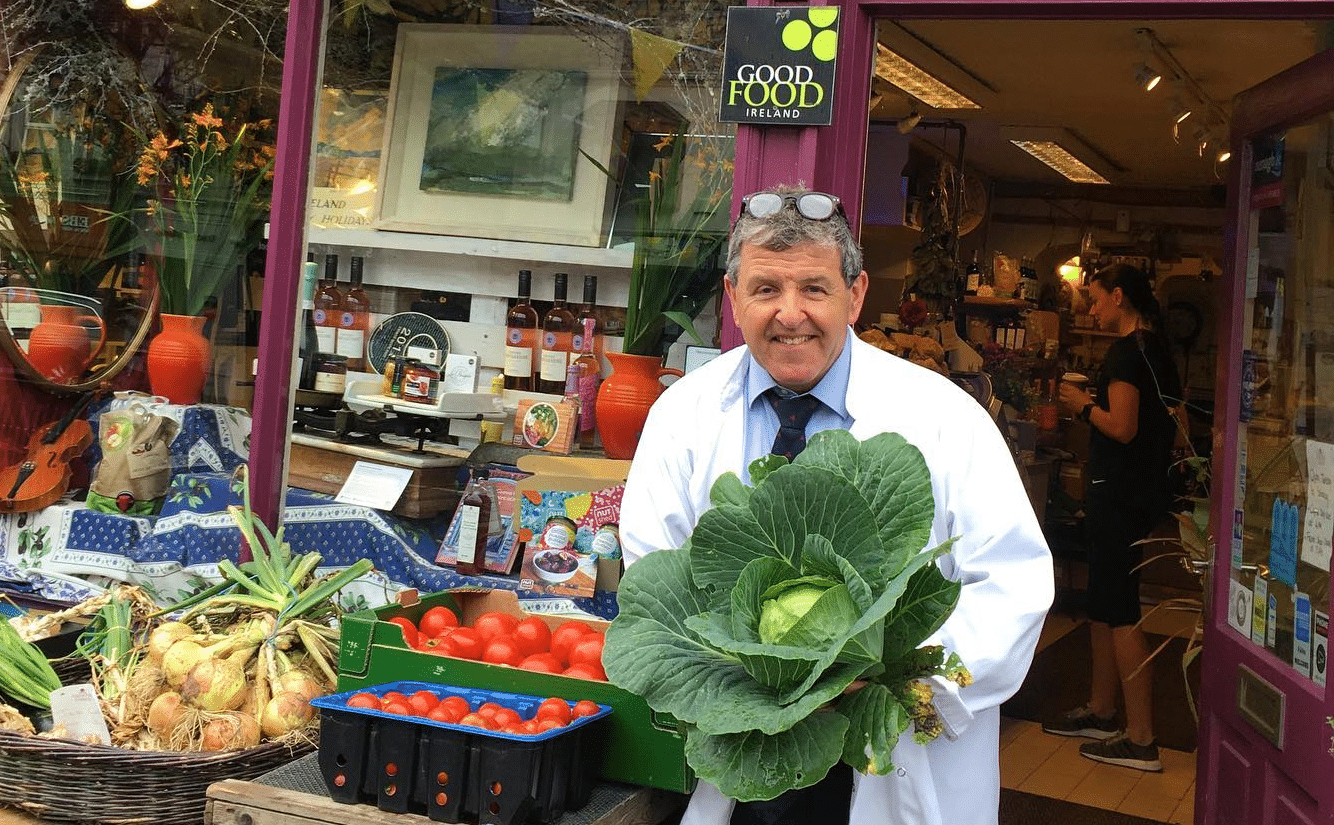 This time round in our series which gives a glimpse into the lives of our busy members, we talk to Peter Ward of Country Choice shop and Cafe in Nenagh, Co. Tipperary. Peter has been a grocery shopkeeper since he was a young man, so his job is his life at this stage! When he's not in the shop in Nenagh, he's to be found at Country Choice at the Milk Market in Limerick or working at various markets and events alongside his daughters  Eliza and Evie of the unique and innovative Country Choice on Tour hot food stall. If that's not enough to be getting on with, this stalwart champion of  Irish produce is an informed, passionate and inspiring voice for Good Food Ireland, Slow Food Ireland and other food bodies, speaking at various food conferences and gatherings across the country.  Here he tells us about some of the details of his working day. 
Visit Our Shop
When and How Do You Begin Your Working Day?
My day could start at around 5 am, long before the customers ever arrive in the shop, when I am out of bed and getting ready to leave to prep the food we need for the day. I never leave the house without breakfast. Normally a bowl of porridge and two fried eggs and then walk the dogs before I go. I could be working all day and sometimes into the evening, but by about 4.30 pm most days I am ready for bed or at least a nap in my van!
How Did Your Passion For Shopkeeping Begin?
I've been a shopkeeper since I was 23 years old. It's an all-consuming passion. I am a food slave, an indentured servant to myself, chained to the oars and forever must row! Working with food is like the tide, when the tide is high you just hold on tight and say 'this too shall pass and then you will have calm days too.
What gives you the most satisfaction From Your Job?
Seeing my children prosper as they enter the same type of life. They have a personal conviction for this job. You must love it as a way of life because there isn't enough money in this business, so you have to have enjoyment as well. When I see my children working or work alongside them,  I do so with great pride. Also, I love sitting around a family table with them, watching them getting enjoyment from each other's company over the simplest of food. Eating together as a family is one of the great learned skills of life,  not just for celebrations, but an opportunity for conviviality that can happen every day.
The other thing that gives huge satisfaction is when we have people coming from abroad to seek us out because they have heard about us before they get here. Like today, we had 11 tourists from Jerusalem just walk in the door. We also recently had two families from Barcelona who had heard of us before they arrived and wanted to come here. That sort of thing is brilliant.
Which Part Of Your Job Do You Like The Least?
Convincing customers that good food is worth spending money on. That's the most difficult thing I do every day. I was working in the kitchen one day and I was called out to the cafe to speak to a man who challenged the price of a ham sandwich. It was our home-baked ham on our own soda bread and he said it was a bit pricey for 'only a sandwich'. I just said to him 'I cooked your ham in the middle of the night and I baked your bread at dawn. Is it unreasonable that you would pay me a fair price for that?'  He saw what I meant when it was explained that way.
What Advice Would You Give Someone Looking to Run a Food Shop?
Exhaust every other route in your life before you go into this business! What I mean by that is do everything you can and want to do before you go into food as a career, because this business can take off like a wild horse, and you just have to hold on tight!
If You Weren't A Shopkeeper What Else Would You Like To Be?
In a world where Country Choice is running itself smoothly, I would love to have an antiquarian bookshop, with a fat labrador under the counter. That's my dream.
Are You A Technophile or Technophobe?
I have been dragged kicking and screaming into social media by my kids! I hate gadgets. I can't even turn on a tv! I am a radio and newspaperman who is not excited by gadgets and modern technology in the slightest.
How Do You Manage the Work/Life Balance?
That's a huge challenge because I have never managed to segregate my private and working life. I can't separate the two. So I have to get the sociability and conviviality aspect from my work. It has to incorporate all my needs. My wife Mary also works with me and does a lot of our preserves, pickles and dressings, so we are both tied to the business. The enjoyment element for me comes when I can go out and meet my peers, other people in this business who I admire and like to see on a social level. My daughters seem to do a better job of the work/life balance, they seem to be able to manage both aspects of their lives better than I can.
How Do You Relax When You Get Time Off?
The people we do business with are our friends. So every adventure we have outside the shop is a food adventure. Mary and I have never managed to get a proper big holiday together in 34 years of marriage! But we do go to Italy for short breaks to visit small artisan producers who supply our oils, Parmesan cheese and other things for the shop. We both love food travel. We are currently experimenting with shop closures at less busy times of the year, to give ourselves a chance to get away a bit more often.
What are the challenges you face every day in a shop and cafe situation?
We face phenomenal challenges every day, be they economic, business, or staffing issues. Every day in this job is like a circus. It doesn't matter if you have 20 customers or 200, you still have to run around with the elephant.
What Is Your Guilty Pleasure?
Visiting food markets and eating my way around them! It's lovely to watch other people at work in this business and be glad it isn't me behind the counter for once.  Although sometimes if I see someone really busy I feel I like I should give them a hand!  My other favourite thing to do when I get time off is going to book auctions. I also get pleasure from taking time away from the political side of food.
What's Your Favourite Good Food Ireland Place To Visit?
Chapter One
. I absolutely love it. I want my funeral dinner to be there. You get such a celestial feeling when you walk in the door.
Buy Gift Voucher