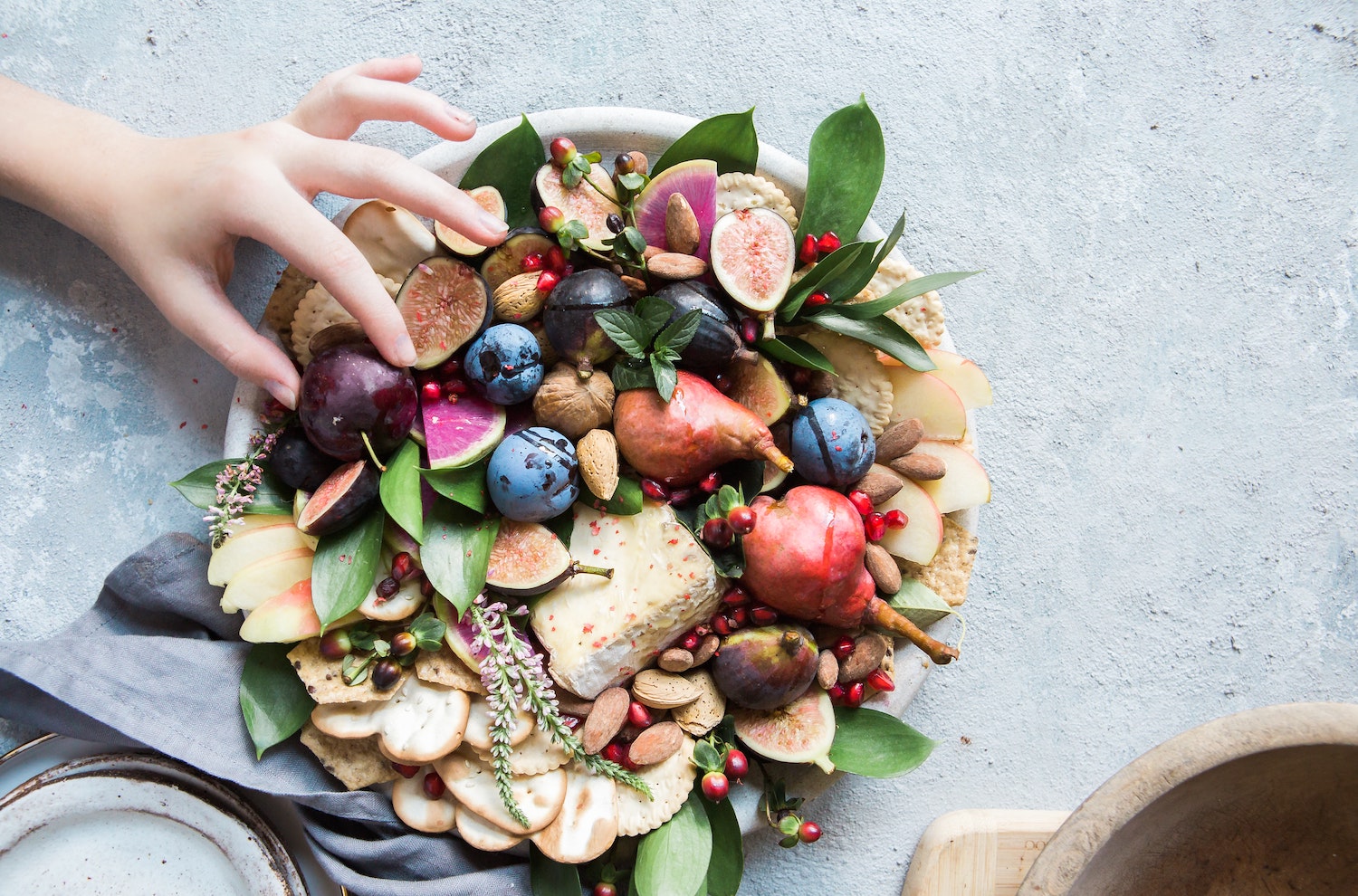 It's only September, but the rain and misty weather has ensured it already feels like the time of year when we should be cosying up in front of the fire,  for a bit of quiet time with some nice food and wine.
For some reason, all last week in the Good Food Ireland office we were craving cheese. Like little mice stocking up for the winter, all we wanted was to nibble away on some rich home-produced Irish cheese and perhaps a few crackers. Maybe it's nature's way of saying we need a bit of good dairy protein inside us now,  ready for the cold months to come.
This is traditionally when all dairy cows came out of the fields and went indoors for the winter to 'dry out' ready for calving, so fresh milk was scarce for a short time. That was compensated for by a store of homemade cheese. We concluded that our need for cheese was just our ancient inner voices telling us to do what's natural for the time of year.   That's our excuse anyway! Modern dairy farming now means that calving is staggered, so although the cows do still go indoors for calving as autumn turns to winter,  there is still a fresh milk supply all year round.  So we can have the best of both worlds.
Good milk makes great cheese. As luck would have it, we have a wealth of cheesemakers in the Good Food Ireland family. Every type and style of cheese is produced within our ranks. From mature hard cheeses to creamy soft ones, blue cheese and sheep and goat's cheese.  Here's a rundown of cheeses made by Good Food Ireland members, and what you can do with them…aside from eating them just as they come!
Ardsallagh goat's cheese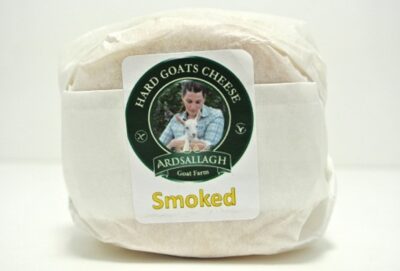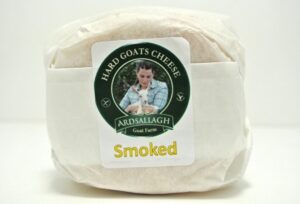 From the north cork farm of Jane Murphy. The original soft young goat's cheese from pasteurised goat milk has been made here on the farm for 30 years. Use it in baked cheesecake mixes, where its mild fresh taste really works. Also comes coated with fresh herbs, pepper and spices, oatmeal and honey, perfect for savoury snacks and tart fillings.  A seasonal roulade version with cranberry is great as a festive treat at Christmas. Ardsallagh Hard Goat's cheese is more mature and can be grated.  Its piquant Parmesan-like taste works well in Italian dishes. Smoked Ardsallagh Hard Goat's cheese works brilliantly in the mix for homemade pork meatballs.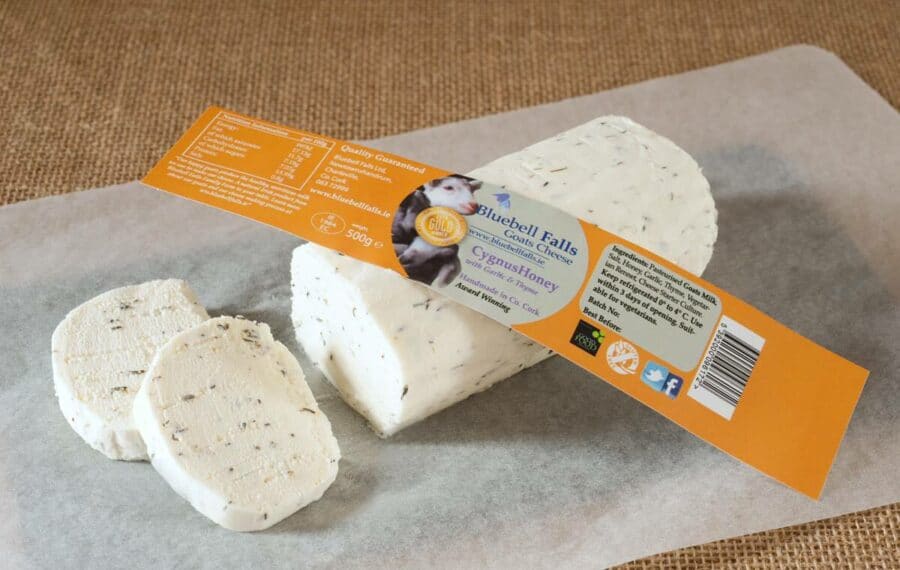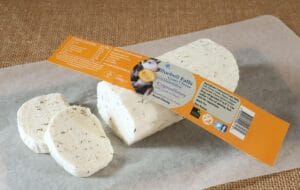 Made in Co. Cork. A beautiful soft young fresh goat's cheese which works well on a cheeseboard, or use it in cooking, as a base for flavoursome dips, to fill vegetable tarts, topped with roasted veggies, and for spreading on croutes for canapes, topped with smoked salmon, olives or slivers of charcuterie.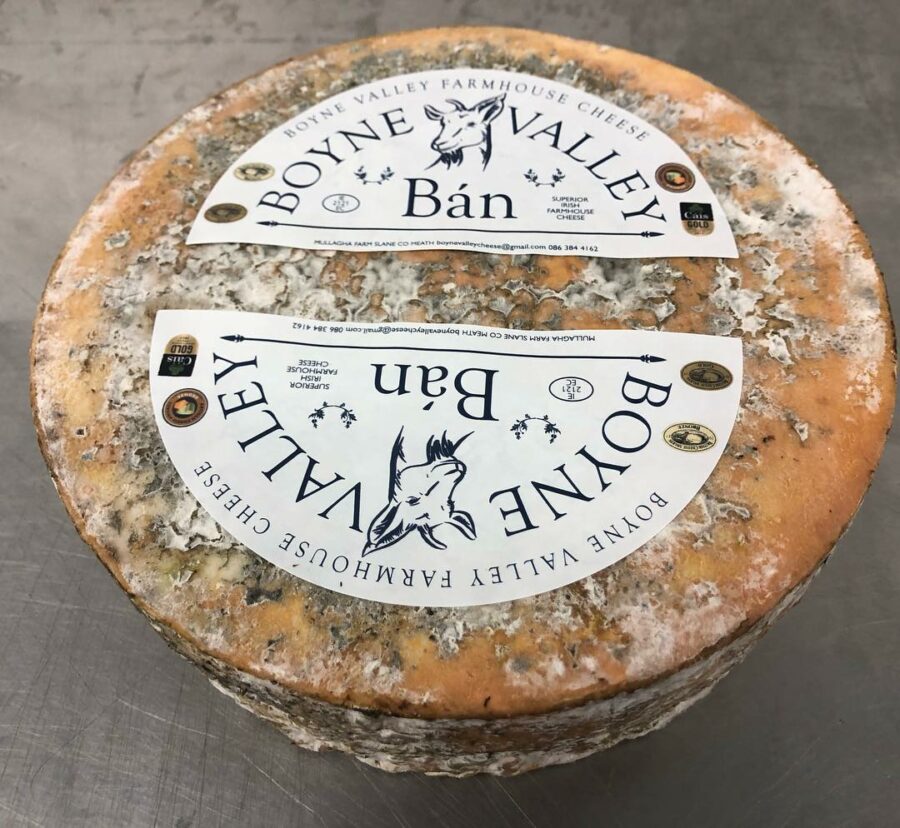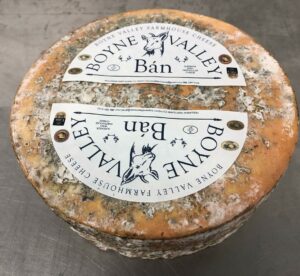 Ireland's Boyne Valley is a rich and fertile region where livestock has been farmed for thousands of years, from the days of  Ireland's earliest settlers.  Michael Finnegan farms his goats here on lush grass, to produce this unique hard blue cheese. Try it as it comes, where its delicious earthy flavours will delight. Michael recommends it melted on steak or a homemade burger, or used as a stuffing for big field mushrooms.
Cooleeney Farmhouse Cheese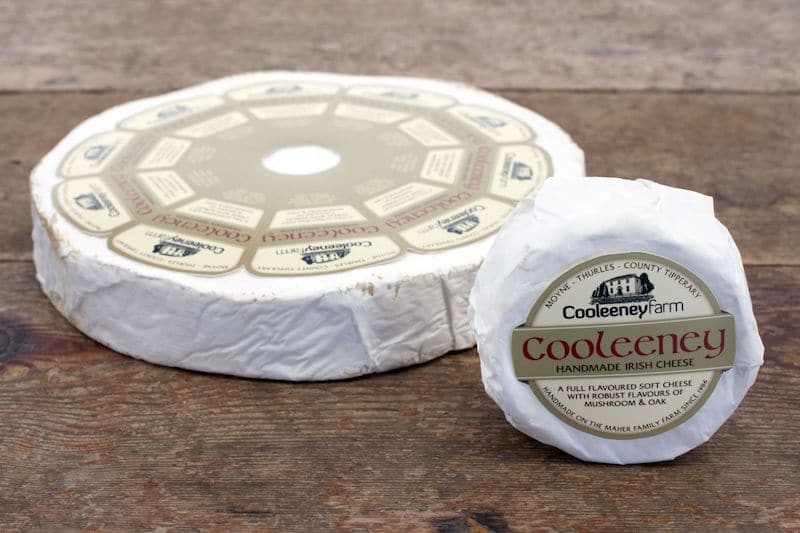 From Tipperary, produced by the Maher family. Cheeses in the range include
Original Cooleeney Farmhouse Cheese, made from raw (unpasteurised) cow's milk from their own herd. A magnificent multi-award-winning mould rind soft cheese.  Marry it with sourdough bread and cranberry chutney for a simple but satisfying snack. Small whole Cooleeney cheeses are perfect for baking in the oven.
Dunbarra, a pasteurised cow's milk semi-soft mould rind cheese, in plain, garlic or herb flavours. All good for melting over burgers.
Gortnamona. Soft Goat's cheese from a neighbouring herd. Mild and creamy with delicate mushroom flavours. In large wheels, small whole cheeses and logs. The log is particularly good for cutting thick slices to grill for canapes or first courses served with salad.
Tipperary Brie is Ireland's answer to one of France's most popular cheeses. Made from pasteurised cow's milk. A creamy soft cheese that needs time out of the fridge before serving on the cheeseboard to allow flavours to develop. Also, coat wedges in breadcrumbs and deep fry briefly, then serve with cranberry sauce or redcurrant jelly in the traditional French way.
Daru. A semi-hard goat's cheese with natural dusty rind. This is the one for sandwiches or eating with crackers and fruit.
Gleann Oir.  A pasteurised semi-firm goat's milk cheese with mottled rind and small holes in the cheese. Full of flavour. Scatter chunks over salads or onto pasta and pizza.
Maighean. Another rare find. This is a raw cow's milk cheese with a soft crumbly texture. Make this the star billing of a cheese plate.
You'll find heaps more recipes on the Cooleeney website!
Corleggy Farmhouse Cheese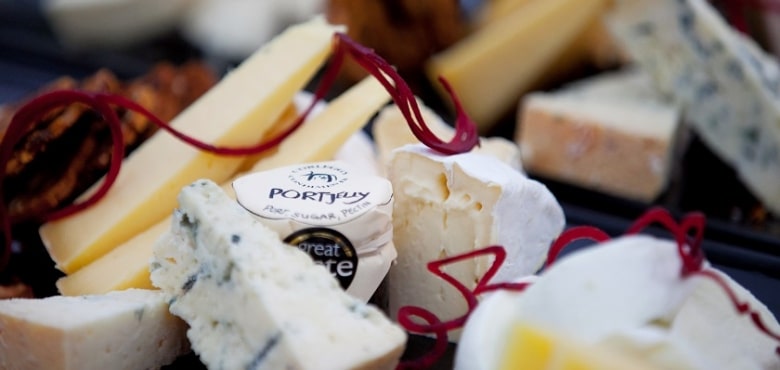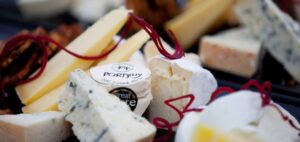 Made by legendary award-winning cheesemaker Silke Croppe, in Co. Cavan.  A collection of goat's, cow's and sheep's milk cheeses made in small batches from raw fresh milk.
Original Corleggy is a typical Irish goat's cheese that is naturally sweet and creamy from eating lush grass in the pasture. Best enjoyed as it comes,  from 2 to 4 months of age.
Corleggy 'Kid'  is a soft handmade raw milk cheese, taking its name because it is a young soft goat's cheese shaped in a traditional log. Smooth and creamy at 2-4 weeks old. Use this in tarts and salads.
Cavenbert is Silke Croppe's version of the French classic, and what a job she has done. Made from raw cow's milk. Great flavour considering it is aged just two weeks in the dairy. A beautiful soft gooey cheese when left a room temperature for 20 minutes before serving.  Presented with a ribbon around it, because it is a gift of gorgeousness!
Drumlin raw cow's milk cheese, hard cheese matured 2-3 months when it develops a rounded nutty flavour. Comes in plain or garlic, cumin, and beechwood smoked. Divine speciality cheeses to lift a cheeseboard or use in cooking.
Creeny Sheep's Cheese is a hard raw milk sheep's cheese with a crusted rind. Comes in small or large cylinders. This cheese is naturally salty because the sheep nibble the grass right down to the bare earth, so the milk contains natural salty minerally notes. Limited summer production only, so enjoy it as it comes with crackers, and taste the real flavours of Co. Cavan.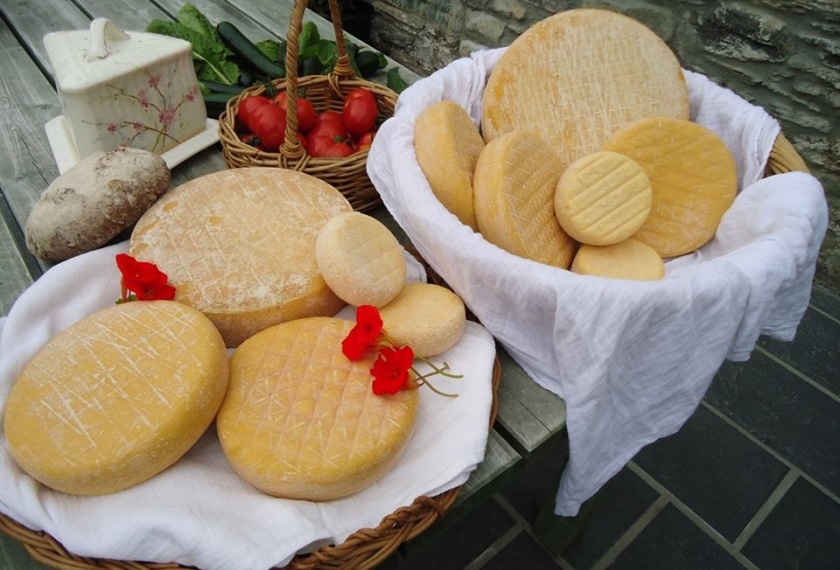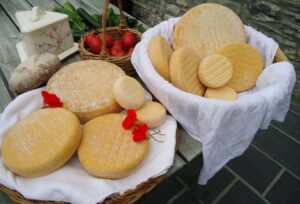 Made by Jeffa Gill on the Sheep's Head Peninsula in Co. Cork since the mid-1979. One of the original farmhouse cheeses of Ireland. Still made in the same way today. Styles include:
The original Durrus, a semi-soft washed rind cheese best enjoyed at between 5-8 weeks of age. Great on a cheeseboard, for nibbles with fruit, or in deli-style sandwiches with salad greens and charcuterie.
Durrus Og, a young cheese best at 2-4 weeks old. This one you will eat by the wedge! Try it also in a pasta sauce, added at the end to give richness.
Durrus Smoked, smoked by a local artisan in Castletownshend West Cork. The subtle smokiness adds a distinctive taste to the creaminess of the cheese. Try it in a risotto of autumn squash,  where the smokiness adds a special quality to the flavours.
Dunmanus, named after the nearby bay. A semi-hard raw milk cheese is good for up to a year old. Put this proudly on the cheeseboard with some chutney and let them at it!
Farmhouse Cheese


Made from the milk of the herd of Eamonn and Patricia Lonergan in Co. Waterford. The traditional Knockanore is a cheddar style cheese, in red or white versions. Plain is a semi-soft and versatile all-rounder with a lovely creamy texture. Plain red is matured for 12 months so it takes on a fuller character with a harder texture. Knockanore also comes in flavoured versions of Garlic and Chives and Garlic and Herb, good for cheese sauces. Smoked Knockanore is smoked over oak, to give a subtlety smokey earthy taste.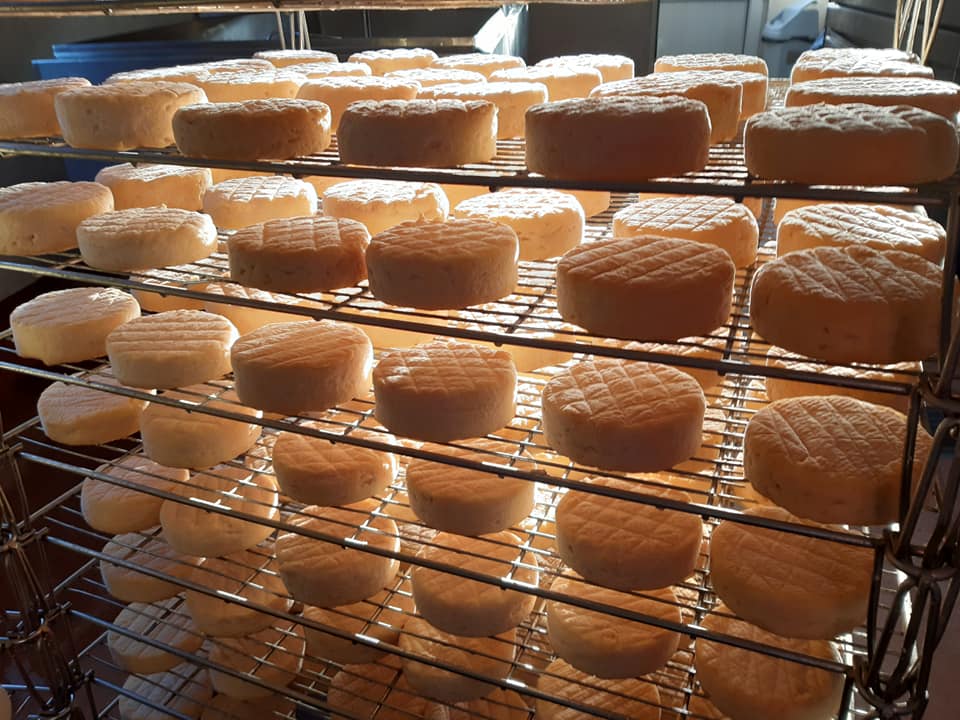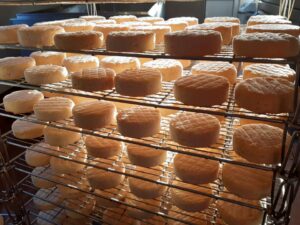 Credited with being Ireland's very first farmhouse cheese. Made by Veronica Steele in 1976, from the milk of the small dairy herd her husband Norman farmed in Eyeries on the Beara Peninsula in Co. Cork. Introduced to the world by Myrtle Allen at Ballymaloe House. Multi-award-winning, now being made by Veronica and Norman's son Quinlan. Still made in the exact same way it always was, in a tiny cheese room outside the back door of the farmhouse where Quinlan grew up.
Take it out of the fridge 20 minutes before serving as it comes on the cheeseboard, where its tantalising aroma will beckon you to eat it. Also good in cooking, for melting in omelettes or topping pasta, and as the Milleens website recommends, adding in chunks to buttery mashed potatoes. A meal in itself, but you can also serve with grilled meats.
Mossfield Organic Cheese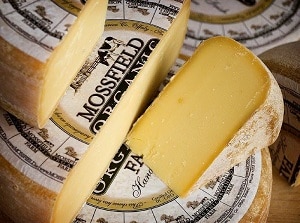 Made by Ralph Haslam in Birr, Co. Offaly. Several kinds of cheese in this longstanding and award-winning range made from the organic milk of the Mossfield herd:
Slieve Bloom, a creamy cheddar type cheese good for anything where cheddar is called for Mossfield Mature, full of flavour, ripened for at least 8 months. A good cheeseboard cheese.
Mossfield Young, use this has a delicate flavour and creamy texture, great for melting. Also comes flavoured with garlic and herbs, tomato and basil or Cumin Seed. All good for melted cheese dishes or baked cheesy pasta.
The Little Milk Company


A collaboration between ten dairy farmers from Munster and Leinster, and some top Irish cheesemakers, produces a unique range of organic farmhouse cheeses, especially for this brand.
Organic Irish Brie is an award winner. Mild and creamy when young, maturing to a full-on mushroom earthy taste as it gets older. Eat with crackers or bake the minis in the oven to melting wondrousness.
Mild cheddar is semi-hard, maturing in six months to a full cheddar flavour. A great melter for cheese on toast or on burgers.
Brewers Gold is a speciality soft cheese made from cow's milk with a beer washed rind. Absolutely divine as it comes. It needs nothing except some bread or crackers and a glass of wine.
Mature Cheddar is a raw milk classic cheddar style, matured for up to 12 months. Firm and creamy but with full-on cheddar flavours. Use it on a Ploughman's Platter with good home-baked ham and crusty bread as a very satisfying autumn lunch.
Vintage Cheddar is a raw milk cheese matured for up to 18 months to give a powerful blast of piquant peppery flavour in the mouth. Get the port out for this one.
Organic Blue made from pasteurised un-homogenised farm milk, has creamy paste with veins of blue mould running through.  A classic moist and creamy blue cheese, great with roasted pears in an autumn first course, melted on fillet steak, crumbled on salads.
Cream Cheese with Sweet Red Pepper or Basil Pesto is a little tub of creamy deliciousness, topped with Mediterranean style toppings, great for dunking your bread or using as a dip for raw veggie crudites.
To learn more about the Artisan Cheesemakers and other food producers see our list of members.