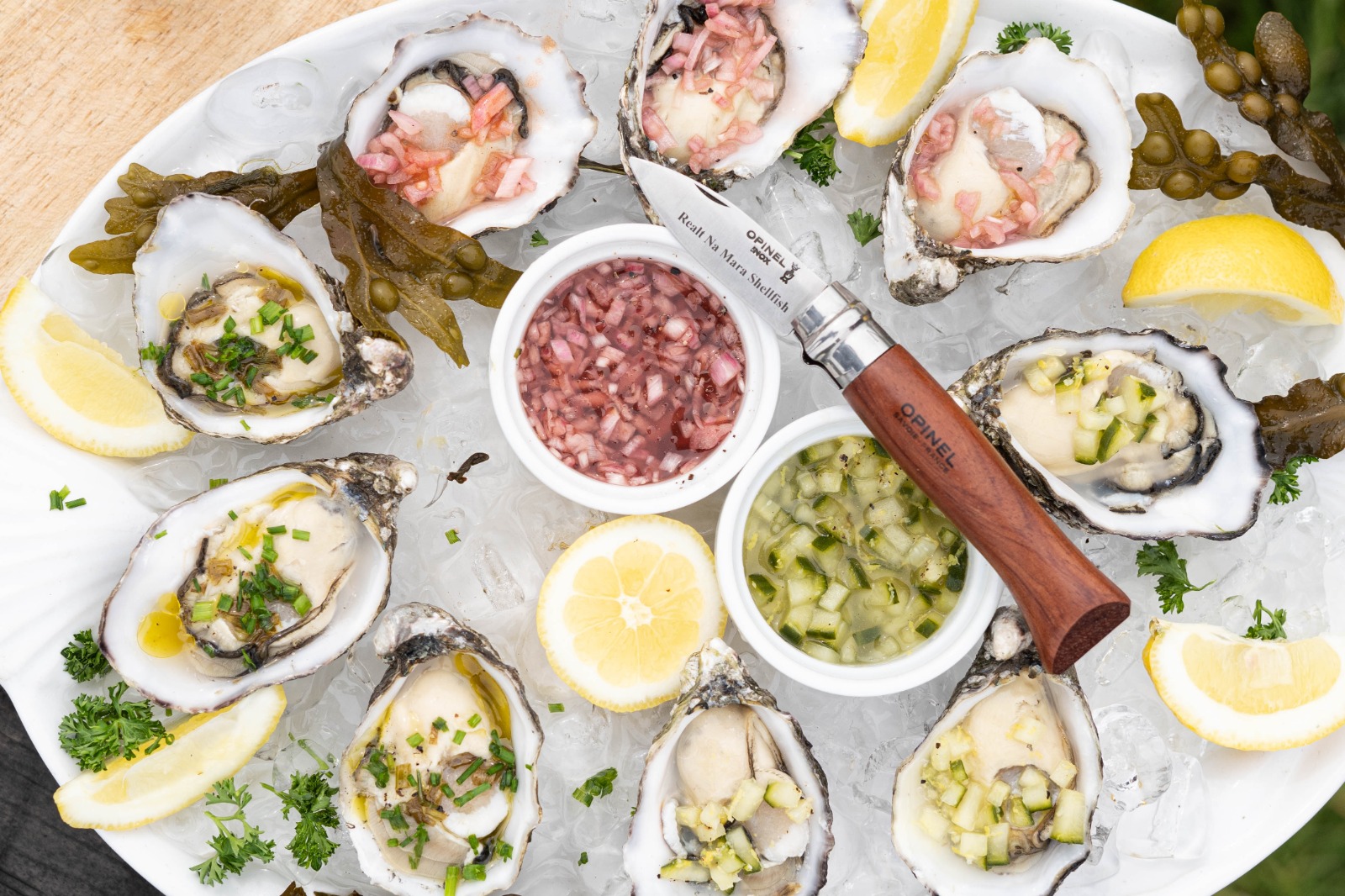 We're talking oysters! These shellfish are a love/hate thing. If you love them, you really love them! So presuming you do, here's a little bit of info you might find interesting.
If you want to be seasonal about your oysters, September is the month to do it! According to trusted food advice which dates back centuries, oysters should only be eaten in months with an 'r' in them. This advice was given primarily because the summer months of May, June, July and August are breeding seasons when wild native oysters are not in their best condition. 
The growth of the oyster farming industry now means you can get farmed oysters almost all year round, weather permitting harvest. But September is still celebrated as the month of the native oyster – the oysters that grow wild on our coastline. Ostrea edulis, or European Flat Oyster, is easily recognisable by its rounded flat shell. This is the oyster prized for its flavour and quality by those who really know their oysters! And September is the month that hails the start of the native oyster season.
Oysters may now be the province of the well-heeled, but they were once considered the poor man's food. They were found free on the shoreline and available to anyone who wanted to harvest them. Colchester in Essex, UK  is a place famed for its native oysters, as is Whitstable in Kent.
Galway is considered to be the home of Irish native oysters and has an annual four-day festival dedicated to them. Watch out for more news on the Galway Oyster Festival, beginning 23rd September 2022. Ireland's native oysters come from well managed wild oyster fisheries.
Just so you know the difference, farmed oysters, Crassostrea angulata, known as Gigas, Portuguese or Pacific Oysters, are very different in shape to natives. They have pretty, frilly edged,  elongated shells and can be enjoyed any time of year.  They have good flavour, served au naturel or with trad accompaniments like Tabasco sauce, finely chopped shallots and lemon juice.  Carlingford Lough, Roaringwater Bay, West Cork, and Dungarvan Co.Waterford are particularly famed for top quality farmed oyster production.
Oyster Producers and Places to BUY fresh oysterS:
Realt na Mara Shellfish, Outside Killorglin, Kerry
K O'Connell Fish Merchants, The English Market, Cork
Mary's Fish Galway, Galway