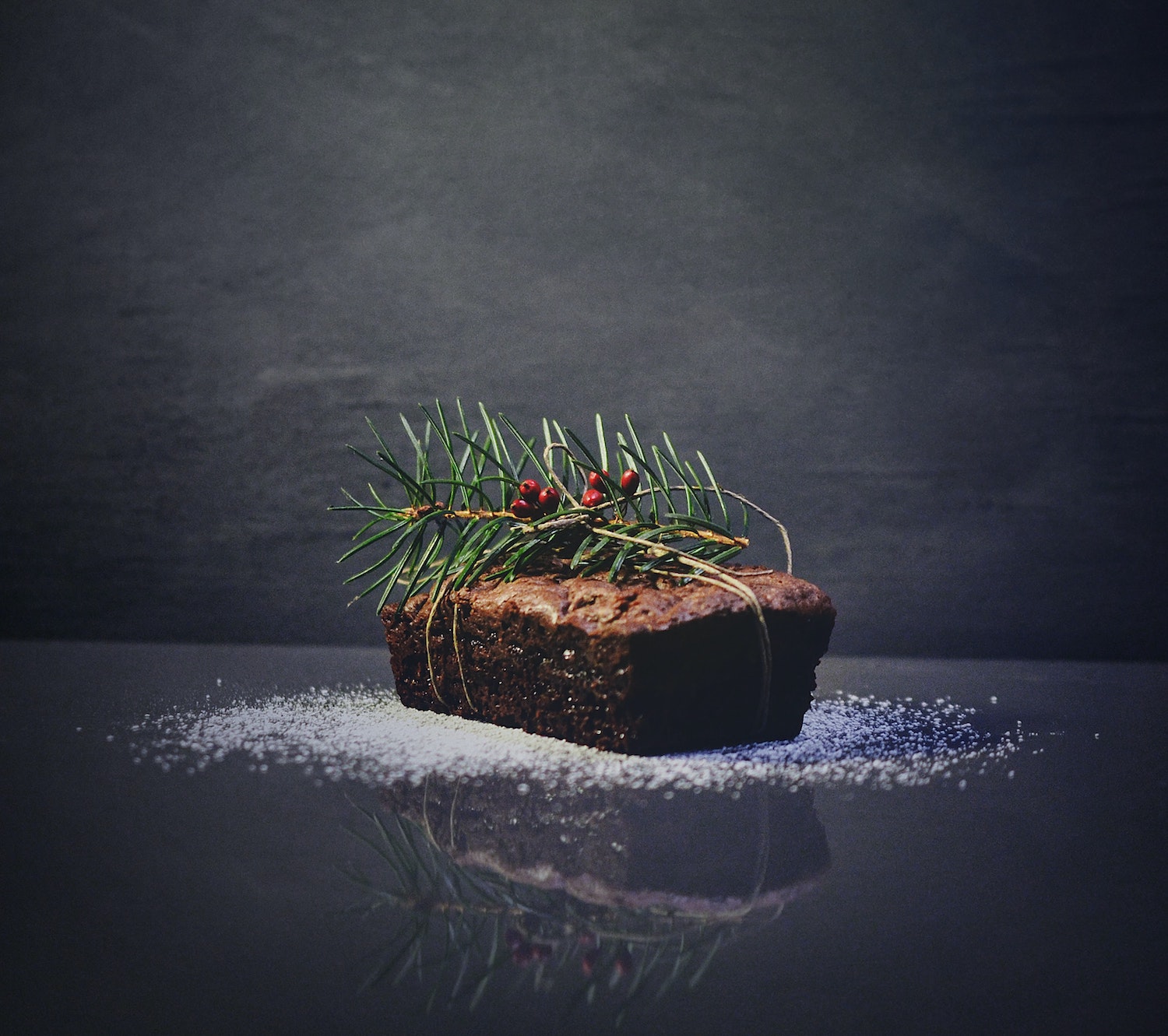 Generally, Christmas cakes are made a month or two in advance, to allow the flavours to mature. But it's still not too late to create a delicious last-minute homemade cake.
Visit Our Shop
Christmas cake is heady with flavour. It's usually made from a favourite recipe peculiar to the baker. Fruit can be as simple as currants, raisins and sultanas and tiny pieces of candied orange and lemon peel. The cook may add coloured green, read or Maraschino glace cherries, crystallised pineapple, apples and ginger. Glace melon or jewelled chunks candied lime, lemon and orange peel, cut to your own preference, may even find their way in there. Semi-dried apricots snipped into pieces, add colour and sweet/sharp bite. You might throw in a few nuts, for crunch and texture. Walnuts, Brazils or hazelnuts are all good. Spices can include allspice, ground ginger, ground nutmeg and ground cloves, or even some fragrant ground cardamom if you want to be different. Any of the above combos are completely down to the personal choice of the cake maker.
Follow our tips for a full-flavoured and beautifully presented homemade cake, with only eleven days to go. 
(For a quick, no-nonsense recipe, try The Merrion Hotel's Porter Cake)
ADDING FLAVOUR BY 'FEEDING' YOUR CAKE
Christmas cakes are notoriously laced with booze. Most bakers will add a favourite tipple to their recipe. It might be sherry, whiskey, brandy or even good old Irish stout. It's this tipple with which the cake is 'fed' after baking. Feeding' might sound like a weird term to apply to a cake. How do we feed something that's meant to feed us?
Once you have your cake made, this time-honoured practice of adding extra alcohol will help get the flavours rocking in even the most last-minute effort.
How to feed your cake:
Feeding starts when your cake is baked.

Remove it from the oven and let it cool in the tin. Turn it out. Pierce small holes in the top of the cake with a skewer, pushing the skewer into the cake but obviously without breaking it up! 

Space the holes evenly apart. Spoon over 1-2 tbsp. of the alcohol of choice, making sure you distribute it around the holes. 

With a short notice cake, repeat every couple of days, using around a tablespoon each time, so it's not just tasting of pure alcohol, but will have a nice little buzz.

Keep your cake wrapped in greaseproof in an airtight tin till ready to ice.
QUICK DECORATING
For a traditional look:
Employ some good quality ready-to-roll marzipan, and icing, for decorating the top only.
Firstly, dust your hands and rolling pin with icing sugar.

Roll out the marzipan on a clean surface. A marble or granite worktop or large board is the ultimate. Failing these, a clean smooth worktop or large chopping board.

Cut a circle to fit the cake. Brush the top of the cake with melted apricot jam and lay the marzipan circle over.

Press it down gently, smoothing it out with the flat of your hands to maintain an even surface. Wrap in greaseproof paper.

Normally, marzipan needs a couple of days to dry out before icing a whole cake.

But for a top iced cake, leaving it overnight in a larder or cool place will certainly help matters.
When you are ready to ice your cake:
Dust hands and rolling pin with icing sugar.

Knead the block of icing a little till it softens enough to roll.

Roll out on a clean surface dusted with icing sugar, to a circle big enough to cover the top of the cake, with a bit extra just draping over the edges.

Lay the icing on the cake and smooth it out with the flat of your hands, to make an even surface. You don't really want fingertip indentations!

Trim the edges neatly if necessary.
Simple decorations:
These include holly leaves with berries made from excess ready-to-roll icing (you will need green and red food colouring for this).

Keep it classy by dotting the top of the iced cake all over with tiny silver and/or gold edible balls. This gives a graceful frosted looking finish.

Use the icing trimmings to cut snowflake patterns and layer these on top of the cake – covering just one side or around the edge – you can get as creative as you like! Overlap them slightly for texture.

Frosted fresh fruits also look good. Choose seasonal figs and clementine wedges brushed with egg white and dusted with caster sugar before popping on the cake.
Ditch the icing altogether in favour of a cake decorated with glace fruits and/or nuts:
Brush melted apricot jam over the top of the cake to stick the fruit on.

Keep it as simple as glace cherries and whole nuts (Brazil nuts or almonds are good) arranged in a circular pattern on the cake.

Seasonal crystallised orange and lemon slices with nuts make a fragrant citrus topping.

Get fancy with coloured glace cherries, crystallised pineapple and melon pieces tumbled on top. Sprinkle with shelled pistachios to finish.
Pop your cake on a cake board or a big decorative plate.
If using a cake board, remember to stick the cake to the board with melted apricot jam, brushed on the board where the cake will sit.
Finally, wrap a big complimentary coloured ribbon around the cake.
Choose seasonal red or green for traditionally decorated cakes.  

Gold or silver chiffon style ribbons are elegant for a cake decorated with silver or gold balls or simple white snowflakes.

A tartan ribbon or natural/coloured strands of raffia work well with rustic cakes decorated with glace fruits.

Make sure you have enough ribbon/raffia to make a flamboyant bow to finish.
Written by: Good Food Ireland
Buy Gift Voucher