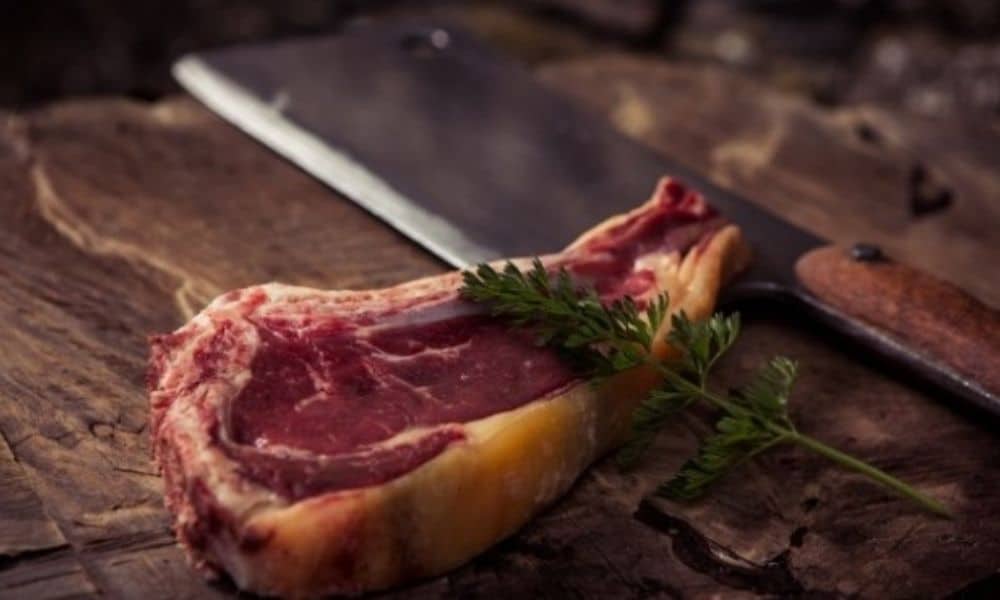 There's something comforting in knowing where the ingredients on your plate originated. It inspires confidence and assurance that you are feeding yourself and your family the best nourishment you can afford. 
Visit Our Shop
Ireland's cuisine has long been based on its farming heritage. In the old days, typical small 'mixed' farms reared a wealth of livestock altogether. From cows and beef cattle to pigs in the fields, with hens, ducks and geese running around the farmyard. A small garden or field may have provided potatoes, cabbages and other vegetables. The farming life of long ago was a hard life with backbreaking work, often done by hand. But at its heart lay good food, produced in an honest way. The produce of the farm made meals which were fully accountable to their source. The farmer and his family, and those who bought his excess wares, knew exactly where their food had come from.
Modern farming has seen a more focussed view on raising just one type of livestock – dairy cows, beef herds, pigs, sheep or chickens now being the most popular. Farms have grown bigger and more open plan, to allow for this system to work. Diversification on the farm has become a rare thing. Food imports lead to a bigger choice of ingredients to play with. This means that the meals we now create at home can come from far and wide. We can trawl the supermarket aisles for everything from green beans from Kenya to strawberries from California, lamb from New Zealand or Kangaroo meat from Australia. We are no longer reliant on the local farmer down the road. Nor do we have the same sense of security in knowing how our food was produced. 
THE NEW WAVE OF IRISH FARMING
The Farmer's Market, Country Market and Farm shops movements in Ireland have done their part to encourage the purchase of fresh seasonal ingredients produced by local growers and farmers. Now we can also look to the new wave of smaller farmers who are doing things the old-fashioned way. Producing ingredients that come to the table with love, devotion and dedication to farming and livestock husbandry. True farm to fork eating is back again.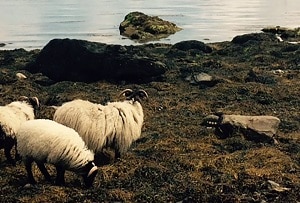 Calvey's Achill Mountain Lamb is 'Heather sweetened – Seaside Seasoned', so the family motto goes! On Achill Island on the Wild Atlantic Way, the Calvey's are farming their own 100% purebred strain of the early Mayo Blackfaced Sheep since 1856, and ewes are descendants of the original flock probably imported from Scotland in the 1800s. These agile creatures can handle any terrain. They wander up the mountains, over steep hillsides and even down to the beach. 
Achill Mountain Lamb is reared completely free of boundaries, in a method called 'wild grazing', which is completely uninfluenced by the farmer and gives distinct tastes to the meat. A diet of wild mountain grasses, fragrant heathers and alpine herbs is complemented with salty seaweeds from the shoreline. Hence that phrase captures the diverse and complex flavours of the meat. You can order your Achill Mountain Lamb direct from Calvey's on their website. It will be butchered, portioned and packaged and delivered directly to your door.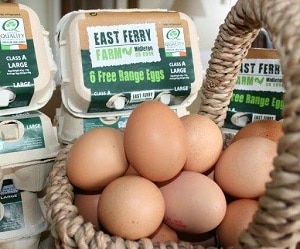 East Ferry Free Range Farm is owned by the Fitzsimmons family, who have lived in East Ferry, Midleton, County Cork for generations. Robert Fitzsimmons' mother started the ball rolling in farming terms when she produced a flock of 700 turkeys each year for private sale. She also produced chickens for Ballymaloe Cookery School and Ballymaloe House, and Declan Ryan's former restaurant Arbutus Lodge. As a young man, Robert started keeping hens for egg production until regulations forced him to change tack a number of years ago and focus on the poultry side.
His natural inclination towards poultry farming and love of the great outdoors has created a farm where all the birds are produced in a free-range environment. They are slow-growing and maturing, developing flavour over several months as opposed to a few weeks, as in conventional poultry farming. The farm produces free-range chicken all year round, and geese and turkeys at Christmas. Find East Ferry Free Range birds in local restaurants and food outlets in the Cork region. Check the website for a full list of retail stockists or order direct from the farm.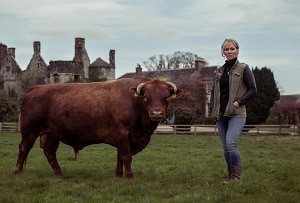 Eavaun Carmody's Killenure Dexter Gourmet herd, farmed at Killenure Castle in Dundrum, Co, Tipperary, carries on a tradition established in 1750. A Dexter herd was originally established at Dundrum House, bred by Christopher Dexter, who gave the breed its name. Now Eavaun has reinstated a 700 strong mixed herd of males and females, built up from the original Dundrum Estate bloodline, here in its home region. She says 'We have our own breeding programme here, we have a 'maternity wing', then we have the 'teenagers' and so on.
Calves remain with their mothers as sucklers for the first year which makes them strong. Dexters are dual-purpose cattle in that they produce great meat and fantastic quality milk, which we will be using for some new products in the future. Our Dexters are processed at 30 months of age by our own butcher who has his own abattoir. He dry ages the meat for between 21 and 28 days in the traditional way. I couldn't be in this business of rearing and slaughtering animals for meat if we weren't doing it conscientiously and respectfully.'
True farm to fork eating requires a farmer who is committed to providing the very best welfare and husbandry for the livestock whilst they are growing and maturing, guaranteeing a fully traceable product that reflects its production. Dexter beef is sweet and tender, taking flavours from the lush outdoor grass-fed system. The farm also produces Dexter meat charcuterie and a range of handcrafted goods from Dexter leather and bone, in keeping with the ethos of respectfully using every part of the animals reared with love on the farm.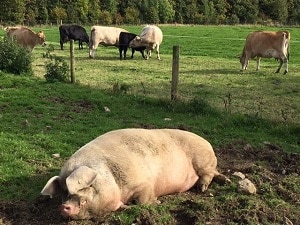 Airfield Estate in the Dublin suburb of Dundrum is a 38-acre working farm that provides a range of products for Overend's Restaurant on site. Airfield has been in the Overend family since 1894, bought by solicitor Trevor Overend as a summer house that eventually became a permanent home. Trevor Overend's two daughters grew up in the house and lived there till they passed away, the first family members to be involved actively in working on the estate and farm. Nowadays, the estate is a charitable organisation, with a Mission Statement which sets out the intention 'to inspire people to refresh their connection with food and the land it comes from.'
The farm on the estate rears its own free-range livestock, including cattle, pigs, sheep and chickens, which dine out on lush pastures to produce superlative taste. The farm gardens produce seasonal fruit and vegetables. Visitors are welcomed here every day for tours and workshops. You can see where the produce comes from then go and enjoy it in Overend's Restaurant. Farm to fork eating in all its glory!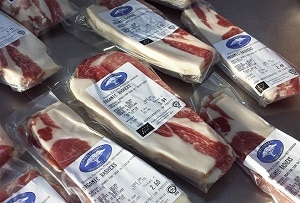 Dominic Leonard of Castlewood Organic Farm, Co. Laois, swapped city life for a more rural setting when he took over his uncle's farm in 2000. Dominic's uncle was a conventional farmer, with beef dry stock and tillage on the land. Dominic saw the potential of the farm as an organic enterprise and decided to convert. It took two years to complete the process, which he says, 'was reasonably manageable'. Castlewood Organic Farm was born. 
The IOFGA Certified Organic farm now supports beef cattle, pigs and sheep, has its own kitchen garden for seasonal vegetables and hens for free-range organic eggs. Dominic also grows his own organic feed for the livestock, with two combi-crops sown every year. One crop combines a mix of oats, barley and peas while the second mix wheat and peas. This highly nutritious blend ensures Castlewood Organic animals get the best of fully traceable organic feed from the farm during the winter months.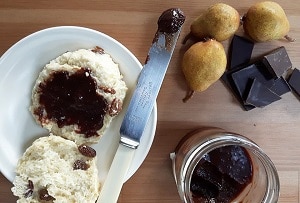 After slaughtering in a local abattoir, all the meat is processed by Dominic on the farm. 'We prepare our own meats and make all our beef, lamb and pork burgers here. All our meats and burgers are available in the shop.' he says. In recent years, Dominic's farming enterprise has grown with the inclusion of a quaint tea and organic farm shop, which Dominic runs with his wife Alison, who's a dab hand in the kitchen, producing the most delicious homemade preserves and freshly baked bread.
Make sure to stop by this wonderful place if you're visiting the area. Castlewood Organic Farm is closed at the moment but will re-open to the public in March, Friday-Sunday.
Buy Gift Voucher