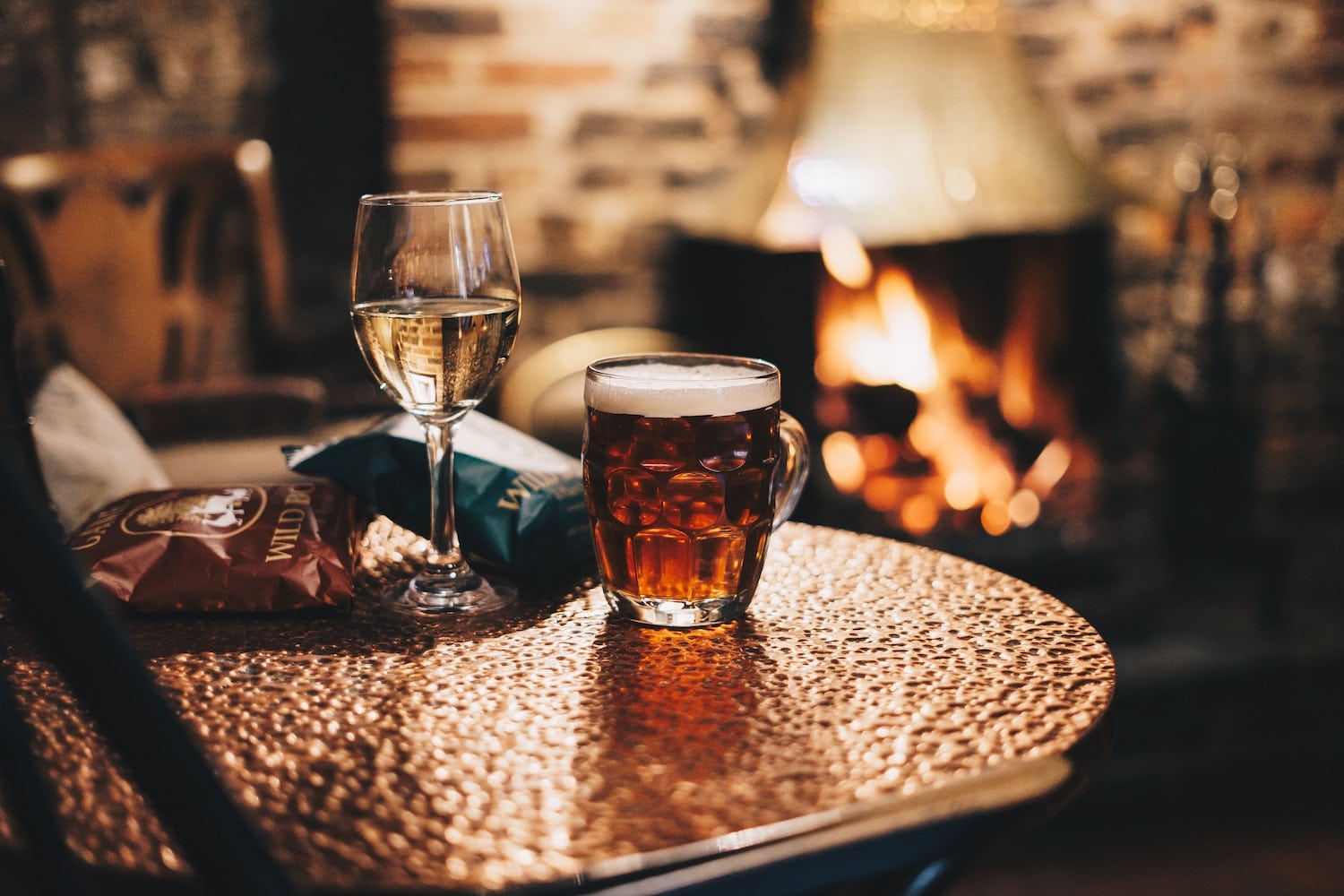 What makes a cosy Irish pub?  Is it the warm welcome when you walk in? Perhaps the friendly bar staff waiting to serve you?  Or the sound of chatter over the clatter of knives and forks. There's the rain on the windows and the welcome glow of the turf fire. The expert pull of the creamiest pint of stout. A newspaper for the crossword on a quiet afternoon.  The craic and the banter that comes with the sound of the fiddle on a lively night. All this and more makes an Irish pub just so, well, Irish.
On your travels around Ireland, you probably want to experience the atmosphere that makes Irish pubs famous all over the world. A browse through this list of cosy hostelries will reveal all their magic, plus the bonus of a fireside feast of fab homemade food, waiting to be enjoyed.  As they say in these parts…sure, what more would you be wanting?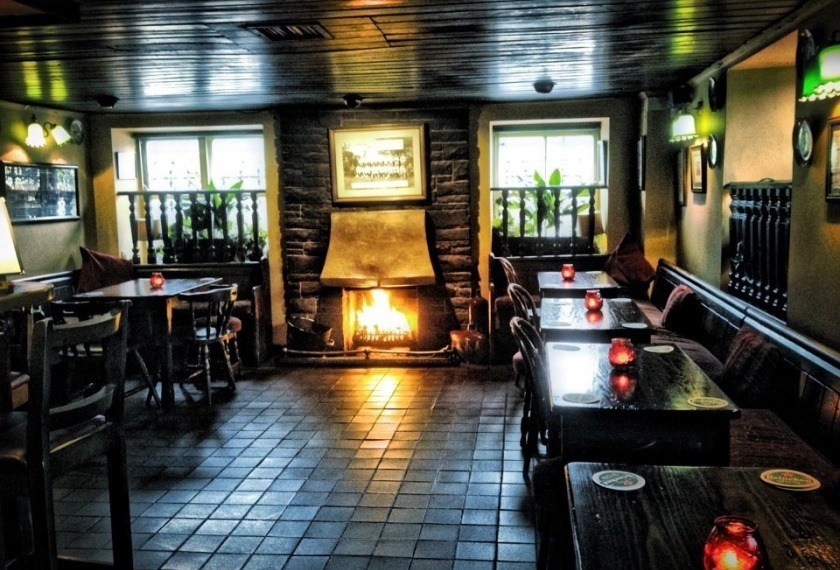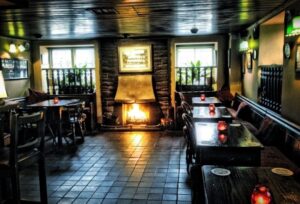 Run by brothers Duncan and Richard Blair, Blair's Inn is a family pub with a proper Cork welcome.
Richard works in front of the house, while Duncan is the whizz kid in the kitchen. As a result, the pair pull off a mighty double act, with some fantastic pub food, matched with a selection of beers and stout on draught, plus Irish craft beers and a full offering of Irish whiskeys, other spirits and wines.
Settle yourself down in front of the roaring fire and tuck into great pub food with Duncan's special twist.
He uses the produce of Cork to its full extent, showcasing the county in meats, fish and vegetables. This time of year, the glow of the lights through the little windows out front is enough to bring the weary traveller out of the cold and into the warm welcome of this cosy pub.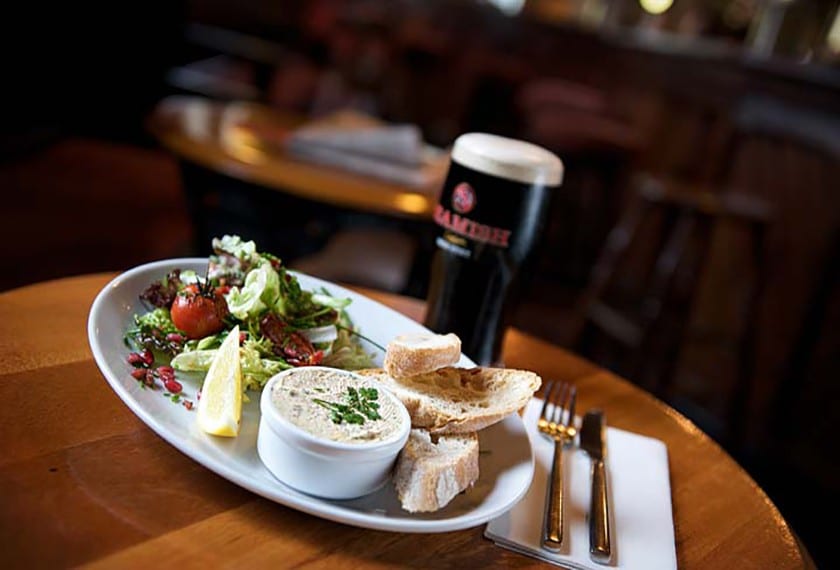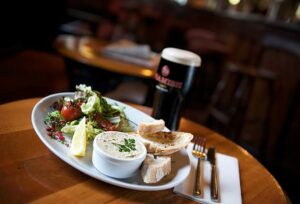 Cronin's Pub enjoys a superb spot with waterside views in the town of Crosshaven, located on Cork harbour. Summer brings crowds from the sailing fraternity and the Royal Cork Yacht Club in the town.  Things are a little bit quieter this time of year when you get a real sense of the old fashioned personality of this family pub, located in a building dating back to the 1800s.
Cronin's was originally the Kenefick Hotel, opened by the Kenefick family in 1892. The building was bought in 1970 by Jo and Denny Cronin, who ran it as a bar in one of Cork's popular holiday destinations of the day. Their son Sean inherited the bar and ran it and with his Dutch wife Thecla, whose great cooking skills gave the pub a name as a super lunchtime destination. It is now in the hands of Sean and Thecla's children Joleen and Denis, with Denis inheriting his mum's cooking flair to become a chef.  Joleen is a photographer and graphic designer who has brought a new slant to the pub, via events like film screenings, exhibitions and the now-famous Red Head Convention of which she and Denis, like true Irish redheads, are founders!
You can't get more traditional than the inside of this pub, which has a roaring fire in the fireplace and walls adorned with artworks and photos of local scenes from times gone by. The big wooden bar is the right place to perch with a pint. Or grab a table by the fire for some pub fare off the menu. At lunch, dig into the pub's famous Nude Oysters or fresh steamed mussels from nearby Oysterhaven plus Beer Battered Fish and Chips.
Dinner moves up a notch with beautiful seafood dishes served in the Mad Fish Restaurant in the pub and a bar food menu in the bar area.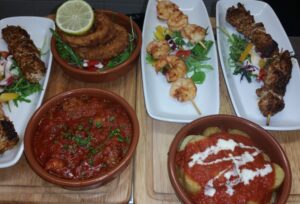 'We're your typical rural Irish pub, on a crossroads with a community centre and the church', says Luke Flanagan, who owns and runs Flanagan's Gastro Pub with his wife Caroline. Luke is the fifth generation of the family to run this establishment, originally Flanagan's shop opened in the mid-1800s by Luke's Great Great Grandfather. 'My father made it into a pub in 1965', says Luke. And so it remained for many years, a little country hostelry, providing an important place of gathering for social interaction for the local community.
Luke took over in 1994, continuing to offer the same friendly family service that had gone before. But he has now added a new dimension, in the superb gastro pub menu offered from midday to 9 pm Wednesday to Sunday.  Settle yourself at a table by the warm wood burning stove, then browse the menu of fresh Mayo fish specials, warming pies and slow-cooked meat dishes. Cosy is the right word here. A little taste of rural Ireland awaits.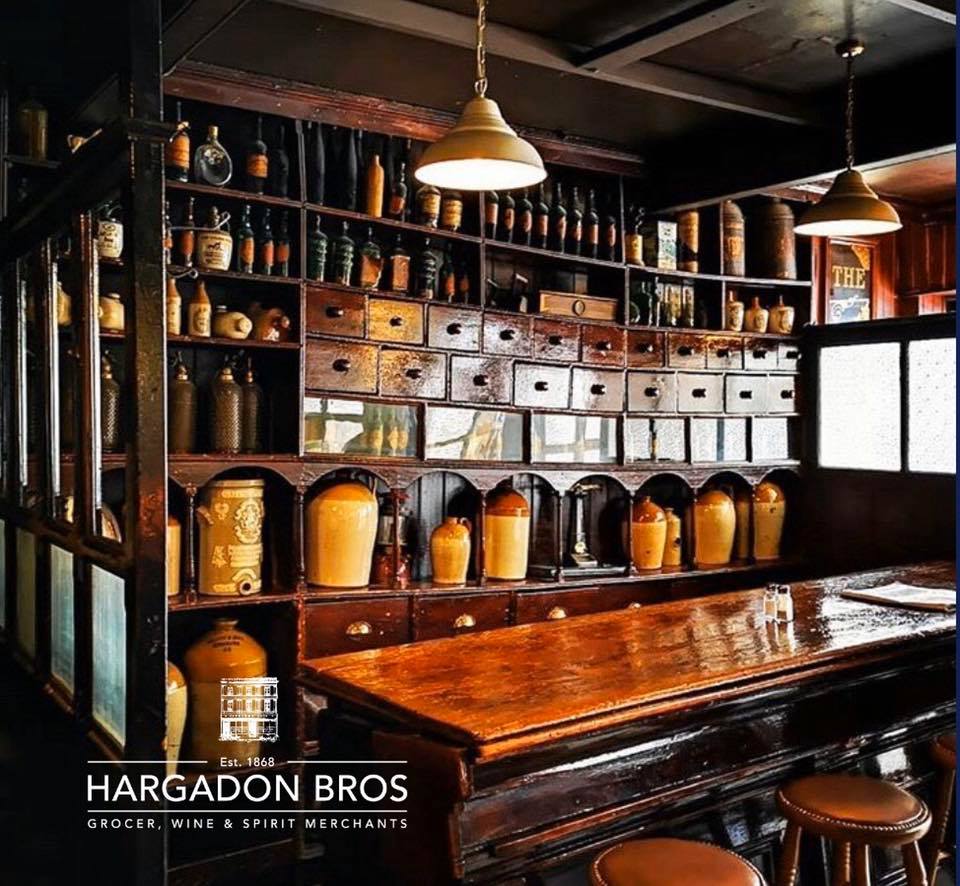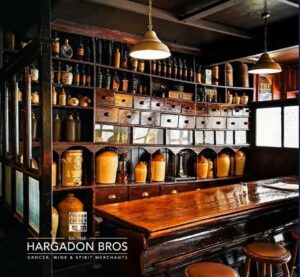 Back in the mid-1800s, when Hargadon's first opened, it was a well-loved, local hostelry with a truly unique quality. Despite the prevalence of music bars and the myriad traditional musicians in the country, Hargadons remained a 'quiet' bar, dedicated to its position as a genuine sanctuary. Despite that policy being relaxed in the last years, Hargadon's is still one of those rare finds of a pub that remains free of television and devoted to traditional pastimes of conversation and storytelling. Add good food to that mix. Walk into Hargadon's and you walk into an era of yesteryear.
Nothing much has changed in the cosy snug lounge, where locals sit at the bar for a pint and a chat. All the original furnishings and fittings of this old bar are intact. It's like a little museum to the traditional Irish pub. To the rear, intimate booths are perfect for dining with friends and having a chat amongst yourselves. Food includes superb Sligo specialities like fresh Atlantic Oysters, Killary Harbour crab, local lamb and beef. Cosy, quaint and absolutely unique. That's Hargadon's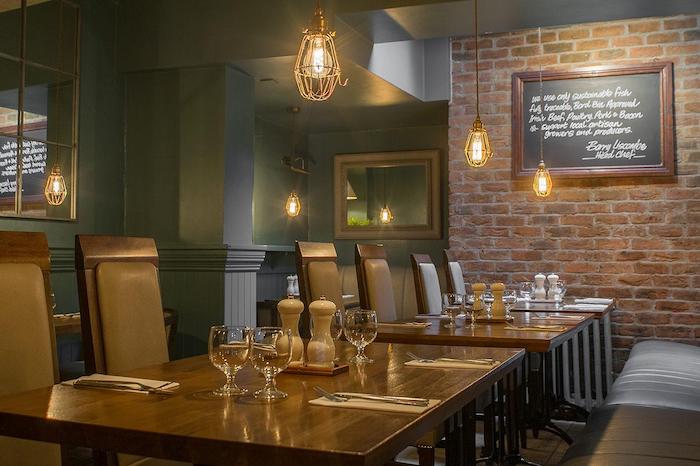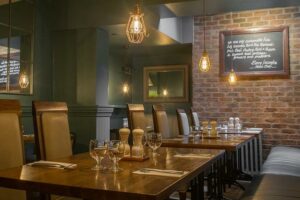 In recent years, Hartes of Kildare on the square in Kildare Town has become known as a gastropub restaurant par excellence with a recent new cookery school, under the supervision of multi-award-winning Head Chef Barry Liscombe.  At the other side of the entrance to the restaurant in this traditional old building lies the bar. A cosy little spot, where you can watch the sporting event of the moment on tv with your pint, or have a chat with your companions while enjoying any of the dishes from the menu.
Hartes Bar is an informal spot with all the typical personalities of a cosy Irish pub.  It gets very lively when Leinster or Ireland are playing in the rugby, as owners and bro-in-laws Paul Lenehan and Ronan Kinsella are big rugby fans. A fantastic atmosphere,  with plenty of telling the players out loud where they got it wrong! Every spectator is an expert, you know!
In food terms, impeccable sourcing produces a delightful menu cooked with style, grace and expertise by Barry and his team.  Ronan is also a craft beer lover and has worked with a local brewery to craft his own beers for the pub.  Faultless food, great beers and a fine Irish welcome on the mat in this old market town.
Larkin's Pub, Garrykennedy, Co Tipperary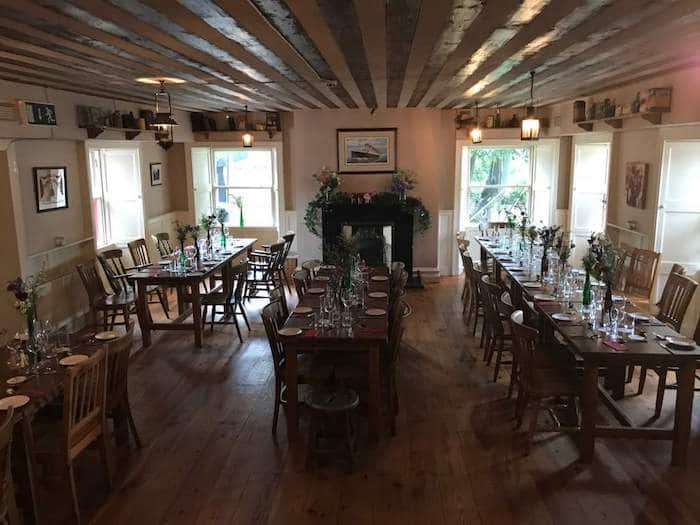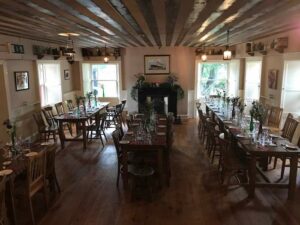 Worth making the drive out from Nenagh to Garrykennedy to visit this picturesque little pub on the banks of Lough Derg. The village location is as typical and idyllic an Irish scene as any you'll see.  Larkin's, owned by Cormac and Maura Boyle, is over 300 years old.  Just the sort of country pub for which Ireland is famous. Larkins is one of those rare gems.
Its traditional thatched roof, old white-washed walls and little red-painted cottage sash windows sum up a time gone by. Once inside, you get a sense of the history of this pub, with its cosy feel and friendly service.  Three centuries of hospitality reside in these walls.  The oldest part of the pub is just inside the front door, a cosy snug with a few tables, an open fireplace and an original flagstone floor.  The main bar is home to traditional Irish music and dance on several evenings each week.  Larkin's food is legendary.  Choose from daily specials like a good old fashioned plate of Bacon and Cabbage to the best seafood and local Tipperary produce like Inch House Black Pudding during the day. In the evenings, the Larkins Steak Burger is famous, topped with local raw milk Derg Farmhouse cheese. Or go for an eclectic south Indian curry, Seafood Pie or Roast Duck, among other mains which often appear.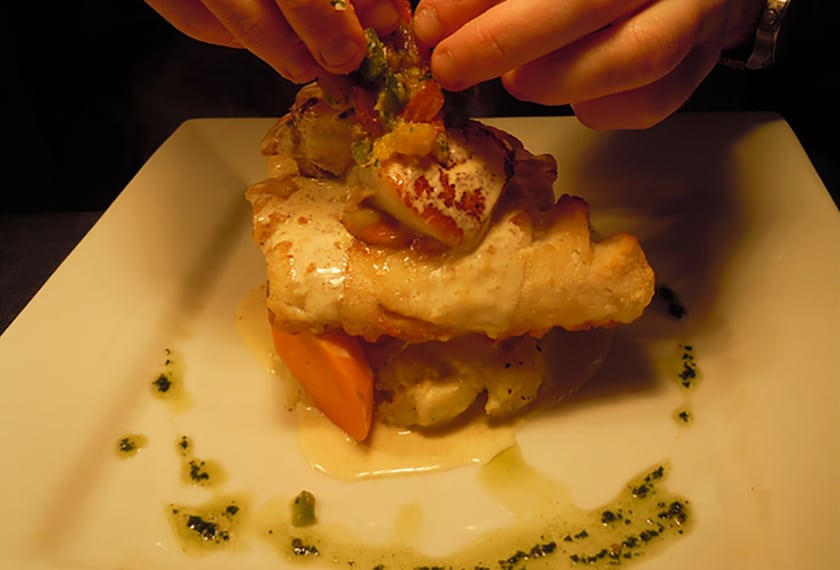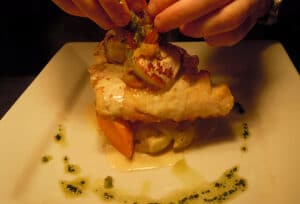 Murph's Tavern occupies a prime waterfront location on the inlet to Cork Harbour, in the quiet hamlet of East Ferry to the east of Cork city.  In summer, yacht spotting is as enjoyable as the food and ambience served up to locals and sailing visitors. This time of year, the warm stove beckons and the cosy ambience of the bar area is a comfy place to sit and admire the view. Murph's is owned by a dynamic brother and sister act in Michael and Laura Cashman.
Michael is Head Chef while Laura manages the front of the house. Michael was instilled with a love of using the local produce of East Cork while training and working with TV Chef and Ballymaloe Head Tutor Rory O'Connell. Fish is a speciality here, arriving daily and prepared and filleted by Michael.  You'll also enjoy organic local veggies and local farm reared meats.  Pull up a stool at the bar and you'll get all the chat from the staff as you tuck in!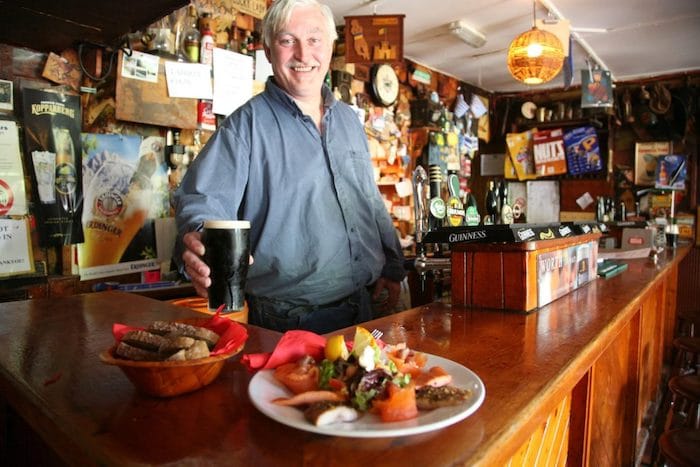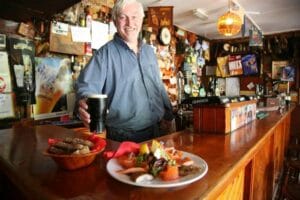 In the Co. Clare village known for finding love nestles this little gem. In the Curtin family for three generations, The Roadside Tavern is a characterful, 150-year-old watering hole now in the hands of Peter and Birgitta Curtin of Burren Smokehouse fame. Step inside the cosy lounge and take a step back in time. The low ceilings and traditional polished wooden bar are still intact. Walls are adorned with pictures of musicians, that have played here on many a lively night. The turf fire burns bright and you get the sense that many a West of Ireland tale has been told while sitting around those flames.
Grab yourself a pint of stout or ale brewed by Peter Curtin in the pub's own  Burren Microbrewery on site.  Then browse the menu provided by Kieran's Kitchen at The Roadside Tavern.  Burren Smokehouse specialities like hot smoked organic salmon are served on old fashioned Colcannon.  Local meats from the Burren region are sourced at the butcher in the village. Stay till the night draws in and you might find an impromptu trad music session springs up.
The Roadside is known for highlighting local musical talent. So someone with a fiddle, a squeezebox or a tin whistle may just stroll in to take shelter from the autumn weather. If so, you're in for a treat!