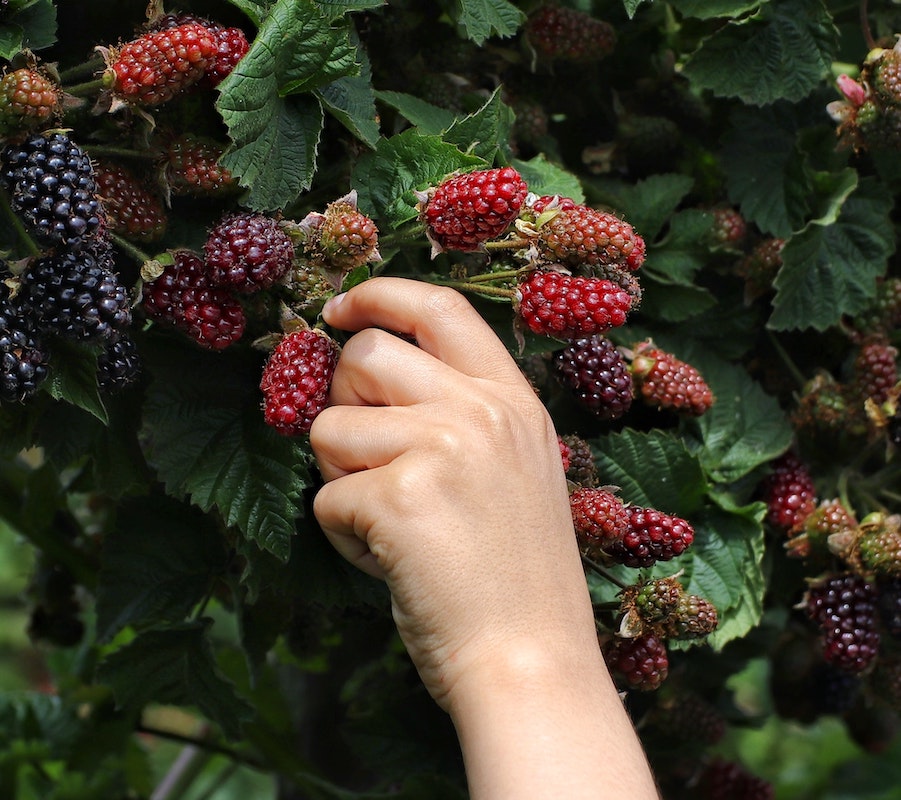 'Late August, given heavy rain and sun / For a full week, the blackberries would ripen. / At first, just one, a glossy purple clot / Among others, red, green, hard as a knot.' – Seamus Heaney
Visit Our Shop
Who doesn't relate to the opening lines of the poem 'Blackberry Picking' by Seamus Heaney? We've all been out there, searching for the first of the wild harvest, delighted to see those berries Heaney describes as glossy purple clots hiding among the unripe green and light red berries also on the branches. The essence of the Irish summer is always about finding the ultimate blackberry. The one that bursts with sweet lush flavours in the mouth and lingers long in the memory.
Late August is the time when blackberry picking starts in earnest. Whilst the scale of the crop is looking good this year, with wild brambles already heavily laden with berries, we haven't had quite enough sun to ripen them as yet. But it won't be long now.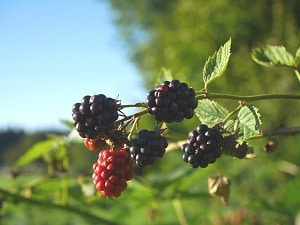 Another couple of weeks and the hedgerows of Ireland will be alive with people bearing baskets, buckets, plastic tubs and anything else that can hold the wild blackberry harvest. Picking blackberries on a fine summer evening is an activity everyone in the family can get behind. A bonding event. When the work is done, everyone will return home, hands and lips streaked with purple juice, with perhaps a few brambles scratches borne as war wounds along the way. Freshly picked berries will be ready to serve with thick Irish cream just as they come, too eager pickers ready to sample the fruits of their labour.
Then there will be those berries that are quickly snaffled away by mum to make jam. Blackberry picking sums up the Irish summer for many rural families, a fitting way to end the season with the fruits of the harvest gathered.
Top tips for blackberry picking:
1. Gloves will help to protect from the thorny branches of wild blackberry bushes.
2. Always pick from quiet lanes where fuel pollution from traffic is at a minimum.
3. Don't pick all the fruit in one place. Scatter your efforts to make sure there's enough left for the wildlife. Picking blackberries is a great excuse for a good walk!
4. If there are small ones present, make sure they are kept supervised and out of the way of any traffic, particularly the
heavy farm machines that are also traversing the country lanes this time of year.
5. Don't pick from private land unless you have permission to go there.
6.  Depending on how far away from home you are, it's wise to take some emergency first aid, just in case someone gets a particularly bad scratch that needs attention on the spot. Antiseptic wipes and plasters should do it.
What to do with your blackberries: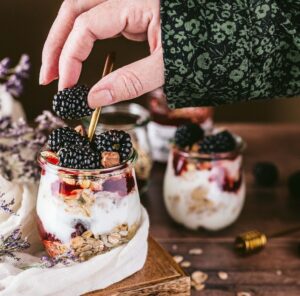 1. Make jam. This is the best and easiest way to preserve the tastes of the Irish summer through the winter months.
2. Pop a few blackberries in with apples for an Apple and Blackberry Crumble or this delicious cobbler recipe from The Butler's Pantry.
3. Freeze whole blackberries for use in smoothies and shakes. They can be pureed straight from frozen.
4. Try this gorgeous Blackberry and Apple Crisp dessert from Dublin Cookery School. 
5. Lightly poach fresh blackberries with a little sugar in a splash of water then use to top morning porridge, pancakes or natural yoghurt and granola.
Buy Gift Voucher