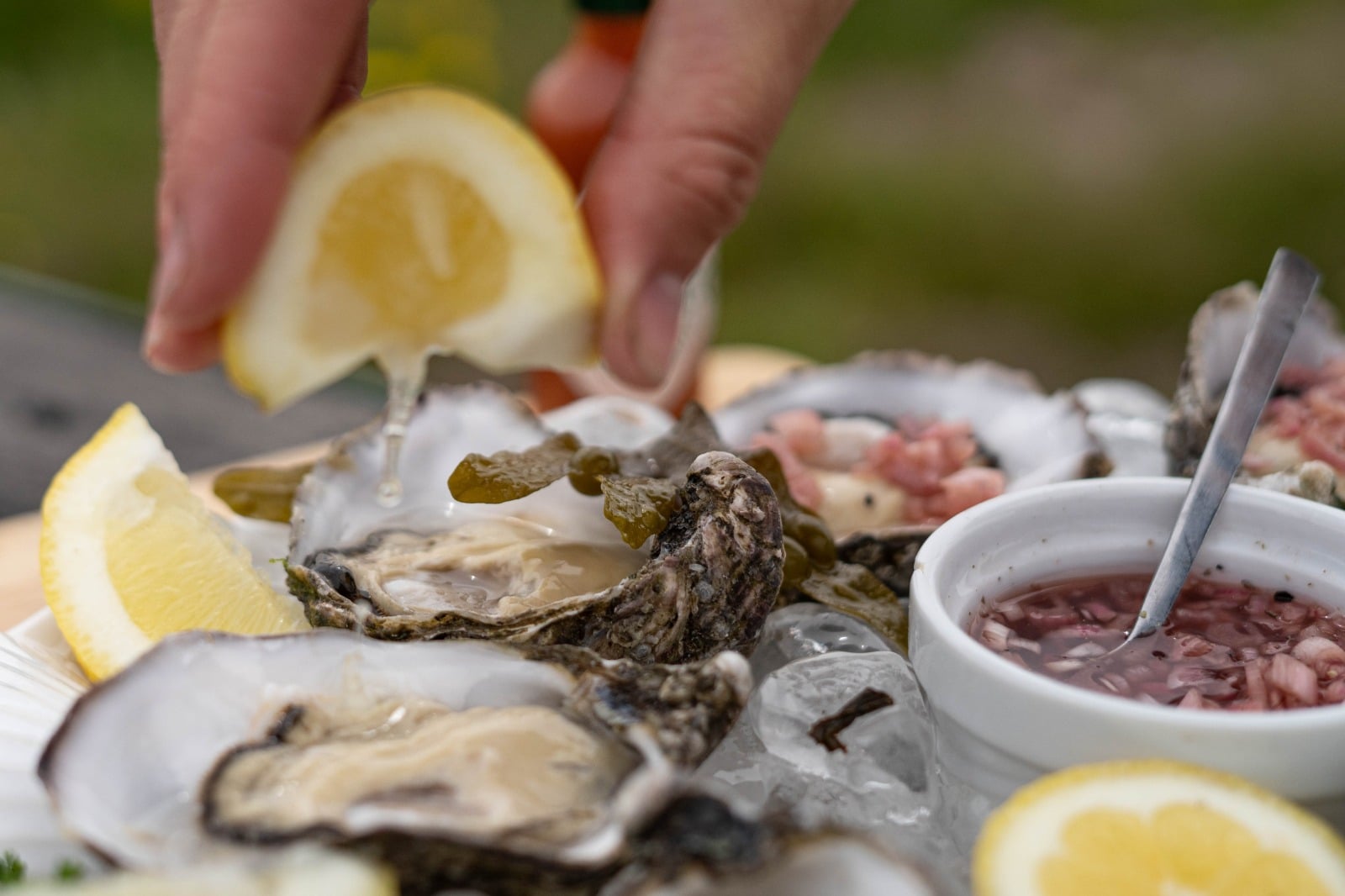 A famous rule of thumb for those who love oysters is that you should only eat them in months that have an 'r' in them. This applies to native wild oysters, which are not in the best condition in May, June July and August. Traditionally, September is heralded as the start of the native oyster season. And in Galway, this event is taken very seriously indeed!
Galway is home to wonderful seasonal native oysters, plus superb farmed oysters available all year round, grown in cultivated in-shore beds in the clean waters of the Atlantic Ocean. The people of Galway have a lot to boast about in oyster terms. They celebrate them with style this month at the famous Galway Oyster Festival. Read more about our delicious Irish Oysters.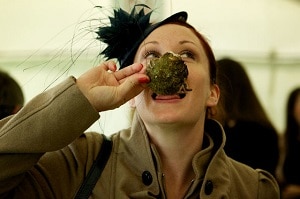 This longest-standing food festival in Ireland had a humble start. In 1954, a forward-thinking Brian Collins of the Great Southern Hotel (now Hotel Meyrick) decided he would launch a festival celebrating oysters. Just 34 guests attended that year, with a banquet at which they feasted on several dozen oysters each. Today the event is one of the best-attended festivals in Ireland, with numbers well in the double digits of thousands who tread the path to Galway. The region's famous native wild oysters are still the star of the show.
This festival has grown around the oyster theme, with lots of feasting and celebrations. Running from 22nd – 24th September, this year's festival is launched with the National Oyster Opening, attended by reigning Champion for 2016, Michael Moran, of Moran's on The Weir in Co. Galway. After that, everyone will attend the opening night party, which goes on till late.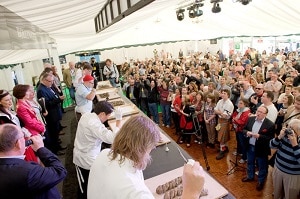 On Saturday 23rd September, things get serious as the World Oyster Opening Championships begin. The day starts with a parade of competitors to the Festival Marquee on Nimmo's Pier. A great build-up to these hotly contested championships to see who can 'shuck' the most oysters in an allotted time. International champions from China, Australia, Panama City and many other far-flung places will converge on Galway to do battle. Not an easy task to open an oyster, as anyone who has ever tried it will tell you.
But these guys and gals have it down to fine art, as they prise open the tough shells and clean the oysters' meats in nano-seconds.
Saturday evening sees the Masquerade Mardi Gras, a masked ball that goes from 8 pm till late. Sunday wraps up with a feast of Wild Atlantic Tastes during a festival family fun day. All events for this popular festival are ticketed and on sale now, with booking available online.
Check out our Galway members here.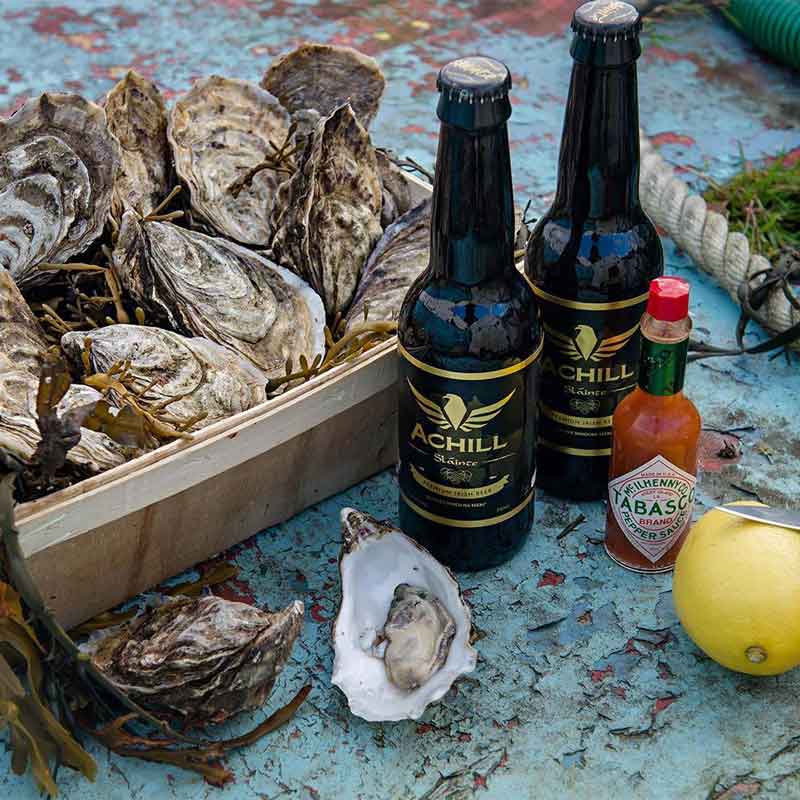 ACHILL OYSTERS
Just up the Wild Atlantic Way from Galway, Achill Island in Co. Mayo is the home of beautiful farmed Achill Oysters – the 'pearl' of this diverse and beautiful island. Achill is now joined to the mainland by a road, so it's easy to get here and try these wonderful oysters for yourself. Oyster farmer Hugh O'Malley calls Achill Island home, even though he wasn't born or raised there, nor does he live on the island full time.
Hugh comes from five generations of Achill islanders, all of who have made a living from the sea. He's now carrying on the tradition, farming oysters and creating a nationwide seafood co-operative which links Ireland's suppliers to customers at home and abroad.
Hugh arrived at this career destination via very many roads, but initially, from hearing a documentary on BBC Radio 4 which made him think he could make a living on Achill, maybe by starting a cod farm. The cod farm didn't materialise as planned, so Hugh eventually went on to a successful career in the high-tech industry. But deep down, the longing to work with seafood on his ancestral island homeland never left him. That dream was finally realised in April 2014, with the arrival of 50g of oyster stock. Things went from strength to strength, with the farm growing healthily, even when the market collapsed in 2016. Yet another twist in this fishy tale.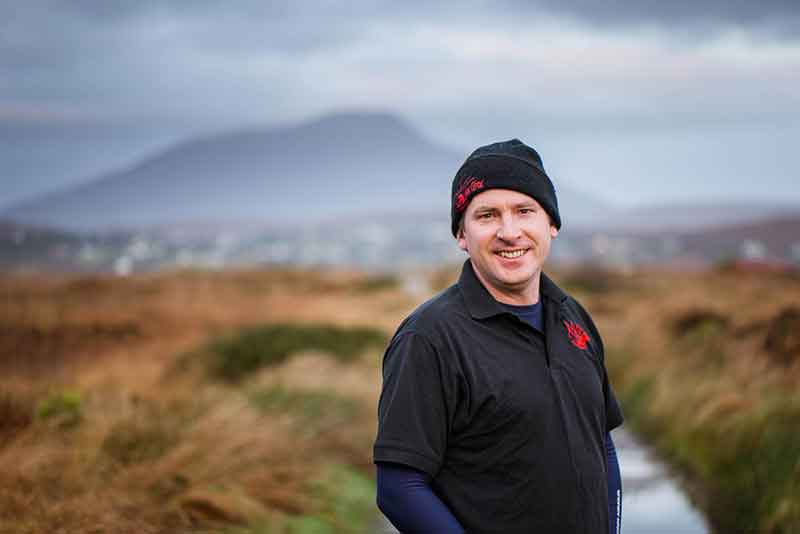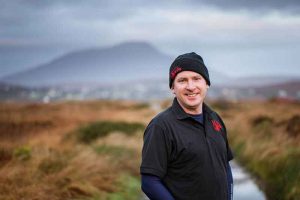 Now Hugh is focused on farming the best quality oysters in Achill waters and also combining his knowledge of technology, to create an e-commerce business solution to deliver Achill Island Oysters to market. The farm is growing once again with global pathways identified to bring these oysters to market at home and abroad, and to work with other seafood farmers in Ireland to do the same. In order to protect the seafaring heritage of five generations of O'Malleys on Achill Island, Hugh is now investing in the future. Achill Island Oysters are a registered member of Bord Bia's Origin Green programme in recognition of work on environmental sustainability.
Strict eco-friendly practices on the oyster farm include using small tractors which are fit for the purpose of tending the trestle oyster beds, grading oysters by hand, using nature to wash the oysters, tending the shoreline and using traditional road-building techniques. Quite an impressive list of considered choices in running this business.
You can order your Achill Island Oysters, plus various oyster related products on their website.
Better still, make your way to Achill where you'll find them on menus in the area, along with a local beer also brewed on the island. What a fine feast indeed!
Buy Gift Voucher