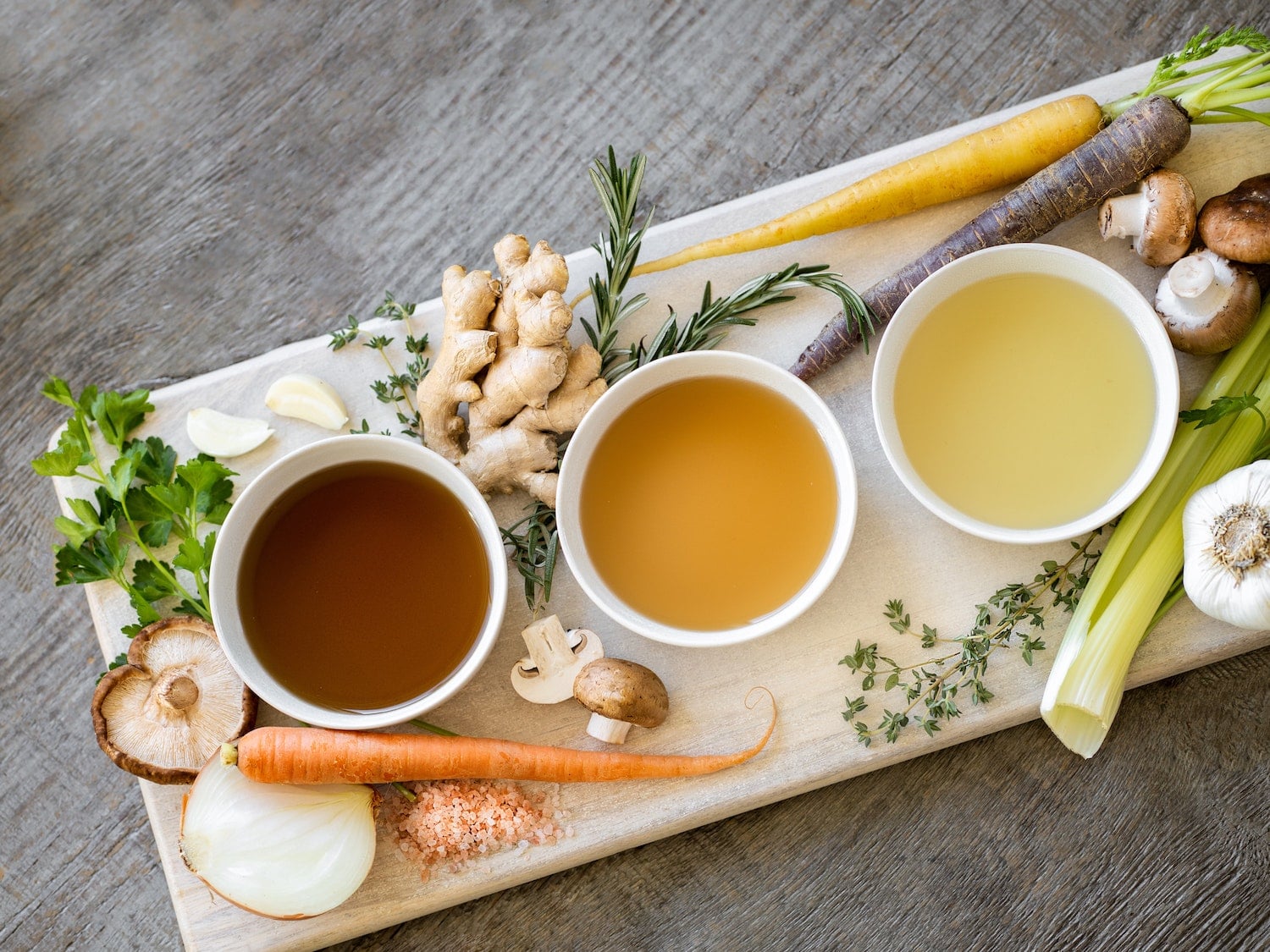 Our Good Food Ireland chefs know how valuable a good homemade stock is for adding intense flavour to soups, sauces, stews and casseroles. Be it meat, fish or vegetable stock, this cookery essential is packed with goodness and flavour.
Visit Our Shop
Making stock is the first basic skill taught to any apprentice chef. It's a lifelong skill and one he or she will carry with them forever as they progress through their career. In a professional kitchen, making stock can go from having a big pot bubbling away on the stove once or twice a week, to a fully plumbed in a large stockpot which will be in continual use day in day out, making many gallons of stock at a time. It really depends on the size of the kitchen and the requirements of the menu. At home, it makes sense to make a batch of stock in one go, which can then be portioned and frozen for later use. For all-round uses, good stocks to make at home include chicken or flavourful vegetable stock.
GOOD STOCK MEANS HOMEMADE GOODNESS
Making stock means you know exactly what's in your stock. It's also very valuable nutritionally. Stock making captures all the nutrients and vitamins in the raw ingredients! 
MAKING YOUR OWN STOCKS
There are several types of stock you can make, depending on your requirements. Each follows a similar method. Once you've made your stock, it needs to be stored quickly and safely.
How to store stock:
Homemade stock will need to be cooled and refrigerated as soon as possible after it's ready. It will last a few days in the fridge. Cover it to prevent cross-contamination between food items. When you need it, bring it to a rapid boil for a couple of minutes to thoroughly heat through before use.
For longer-term storage, it's best to portion your stock and freeze it. Divide into usable portions from 150mls to 300mls, so you can defrost as much or as little as you need for the recipe you are making. Don't forget to label so you know how much is in each portion! Another good trick is to freeze the stock in ice cube trays. An ice cube or two of good homemade stock boosts the flavour of pan gravies for any dish.
Chicken Stock
You can make chicken stock from the carcass of a roast chicken or from fresh chicken bones. If you are using a carcass, your stock will take on a mildly 'roast chicken' flavour, which can add its own personality to chicken stews, casseroles and sauces.
For a lighter chicken stock for soups, it's probably best to use fresh bones and/or perhaps a couple of cheap chicken legs, which will add to the taste without making it too intense. We highly recommend free-range chicken even for making stock, because it combines humane and natural production methods with good flavour to the meat.
Chicken Stock Method:
Heat a little oil in a deep saucepan and gently saute some chopped onion, carrot, leek and celery. You don't want to colour these vegetables, just have them beginning to soften. So keep the heat low. Add the chicken legs or bones and stir around to mix with the veggies. Add a fresh bouquet of Garni and a few black peppercorns. Add cold water to generously cover the bones – roughly about 1kg of bones will need 2.5 litres of water.
Bring the stock to bubbling briefly, then skim the surface to remove any solids that may rise to the top. Turn the heat down low to a very gentle simmer, and allow the stock to cook slowly. Skim it every so often as necessary. It will take at least an hour to extract the flavour from the meat and vegetables. But it doesn't matter if it cooks for longer. Keep an eye on it.
When ready, strain the stock through a colander into a clean pan. Bring to bubbling rapidly for 5 minutes or so, to reduce the liquid and concentrate the flavour.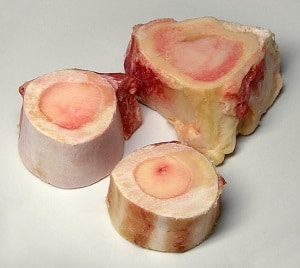 Beef Stock
Beef stock isn't widely made at home because it needs beef bones and a few beef offcuts to get a good flavour. But if you're friendly with your local butcher, he may have a few beef bones going begging! Get him to cut them into manageable sizes to fit into your pan. If they are shin bones with the marrow still inside, all the better. Shin beef trimmings are also good as an offcut for making stock. Very cheap and you can ask your butcher to cut it into cubes for you.
For good colour and flavour, you need to roast your beef bones first. Place them in a roasting tray and pop in a pre-heated hot oven for about 40 minutes, or until they have got good brown colour. Turn the bones occasionally. You don't want them burnt, just nice and brown.
While the bones are roasting, heat a little oil in your stock pan and fry the beef offcuts to brown. Add onion, carrot, leek celery and even some roughly chopped tomato or tomato skins and cook for a few moments. Add the roasted beef bones. Pour over water to cover generously – 2kg bones and meat needs about four litres of water. Add a bouquet of garni and a few peppercorns. Bring to bubbling, skim the surface, the bubble very gently for at least two hours, keeping an eye. For beef stock, the longer it simmers the better and the more flavour you will get.
Strain the stock and return to a clean pan to bubble rapidly to reduce and concentrate the flavour. The more you reduce it, the more concentrated the flavour will become. Cool your stock and store as above.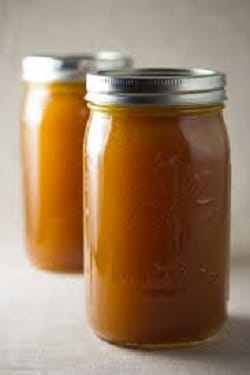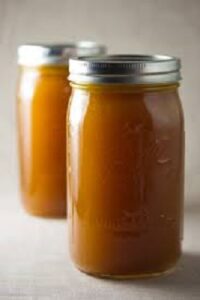 Vegetable Stock
This is the simplest stock to make and indispensable in the kitchen, even for meat-eaters! Choose veggies like carrot, onion, leek, and saute gently in a little oil till transparent but not browned. Pour over water to cover and bring to bubbling. Simmer gently for at least an hour or as long as you have time for – as with all stocks, the longer the better. Keep an eye.
Strain the stock, discard the vegetables. Cool and store as above.
Fish Stock
You need the bones of white fish like sole, brill or turbot for this. Don't use salmon or oily fish for stock. Ask your local fishmonger to save white fish bones for you. It's best not to use fish heads or anything with dark skin on which will colour and taint the stock flavour. Rinse the bones before use to remove any traces of blood.
For the stock base, fry white of leek, finely chopped celery, carrot and onion gently without colour until beginning to soften. Chopped fennel is also good in the base for fish stock. Add the fish bones and cook for another few moments. Add a few sprigs of fresh parsley and a bay leaf. Cover with water and bring to bubbling for about 20 minutes. Skim the surface as necessary. When ready, strain and discard the bones and vegetables then cool and chill or freeze the stock.
Buy Gift Voucher