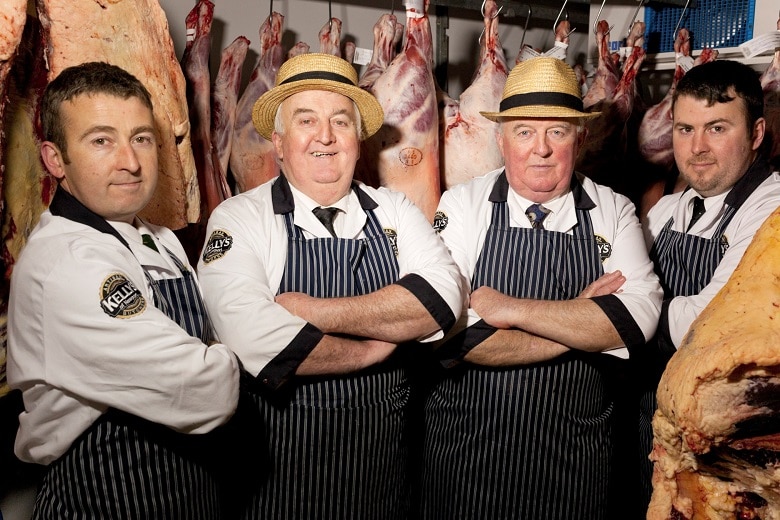 Could it have been any more exciting? We were hanging on the edge of our seats. The boys in green certainly did a great job of disposing of the mighty Bleus in their last Rugby World Cup pool game. What a victory –hard fought and well deserved. Heartiest congratulations from us here at Good Food Ireland. We look forward to the next stage of the competition with appetites whetted!
Visit Our Shop
Talking of appetites, we wondered what dishes the Irish and French share could be compared for winning ways.  Not easy, given the depth of culinary culture France has enjoyed for centuries. Ireland's food culture is relatively new compared, but we'll give it a go anyhow! Here are three dishes that spring to mind:
French Boudin Noir versus Irish black pudding
Well, the French are pretty proud of their Boudin Noir – Boudin means 'sausage' and Noir means 'black'. The French recipe that dates back centuries is a dark blood sausage that often has chunks of fat. Meanwhile, the Irish version is usually spicy in taste and normally has pinhead oatmeal in the mix to give it extra crunch.  We'd have to say that even the guilds of French Boudin Noir makers have given out awards to several Irish black pudding makers, including McCarthy's of Kanturk, and Sean Kelly of Newport.   We'd consider that to be a winner hands down!
Irish Pig's Head Brawn versus Jambon Persille
Irish Brawn is made from a pig's head. Jambon (ham) Persille (parsley)  is made from ham hocks. Both are pork-based terrines.  Brawn involves slow cooking a pig's head in stock, then removing the skin and picking off the tender meat from the bone. Next, you chop it finely and season it and add some spices – nutmeg is good – and some fresh finely chopped parsley. This is packed into a terrine dish. The pig's head cooking liquid is simmered gently to reduce it, then poured over the meat in the terrine, cooled and chilled till set. Jambon Persille is made in much the same way, except it's the ham hocks you boil. Some may find this more pleasurable than cooking a pig's head, but the reality is both dishes were invented to use every scrap of the meat of an animal reared for the table  – and both do serious justice to the pig. They both taste absolutely delicious served cold in slices with chutney – or popped on top of a hot pile of fluffy mash, when the jellied stock melts into the spuds – yummy. We declare this particularly food battle a draw!
Irish Stew versus Navarin d'Agneau (Navarin of lamb)
Both dishes are lamb based – both should use the neck of lamb chops. They take long slow cooking to tenderise but the result is worth it. An Irish stew has root veggies and sometimes barley – though this is always a bone of contention among cooks, everyone has their own version! Some even say an Irish stew should be mutton based, while the Navarin (stew) d'Agneau (of lamb)   is usually a spring dish to celebrate the new season lamb. Navarin often contains baby root veggies like carrots, little onions and turnips – again harking to the spring and the start of a new season of fresh produce. Irish Stew is an old fashioned warming stew, probably derived in hilly areas which were suitable for lamb production and not much else. It's a belly filler, a winter warmer, and economical to boot and for that, we give it top marks!
So that's a 2-1 win for the Irish! Yay!! Roll on Argentina in the Food World Cup!!
Buy Gift Voucher